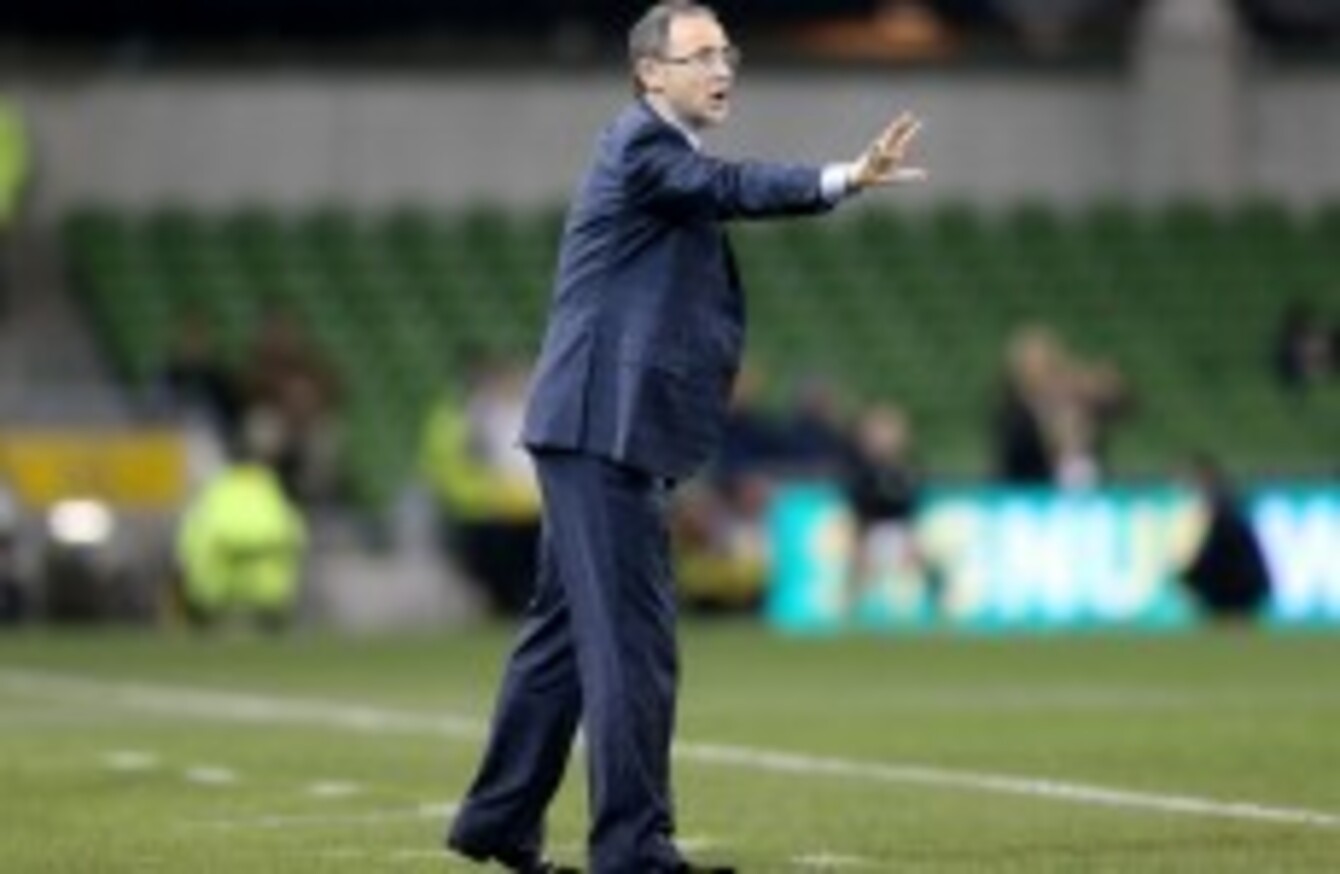 O'Neill giving instructions from the touchline.
Image: INPHO
O'Neill giving instructions from the touchline.
Image: INPHO
Starting XI
O'Neill, understandably keen to get his reign off to a winning start, went with a strong side.
Stephen Ward making his international return, Marc Wilson switching to centre-half, James McCarthy and Glenn Whelan holding in midfield and Aiden McGeady, Wes Hoolahan and James McClean tasked with supporting lone striker Robbie Keane.
The system worked relatively well with Ireland finding plenty of joy in wide areas and McClean excelling especially — even if Ward and Seamus Coleman didn't get forward as much as they could have at times.
Hoolahan, out of favour at Norwich these days, was impressive in the creative role and Robbie Keane proved his worth in front of goal for the 62nd time. However, the job he was asked to would arguably have suited someone like Shane Long better.
Changes
He waited until the 73rd minute to make any changes then chose to go with a triple substitution of Andy Reid, Shane Long and Jon Walters to freshen things up. It had the intended effect as all three were involved in the third goal, which Long put away after good build-up play, and Reid also took over from Hoolahan as the main playmaker.
Eight minutes later, there were three more introductions in the shape of Anthony Stokes, Kevin Doyle and Paul Green. With Latvia clearly tiring, the new batch worked hard to use the cameos to impress their new boss and, on another day, might have added one or two more goals before the end.
All in all, they worked out well and, while he could have made them a little earlier, O'Neill will be looking to Tuesday to give many of the players who didn't get a run.
Emotion
With Roy Keane and Seamus McDonagh discussing how the game unraveled from their seats on the sideline (the dug-outs have been removed for the rugby), O'Neill, who wore a suit and not his traditional tracksuit, stood calmly on the touchline.
There wasn't the famous leap into the air that we've seen from him over the years (he will be saving that for bigger contests) and his reaction to the goals was relatively understated.
In his post-match press conference, O'Neill admitted that he had been quite "apprehensive" going into the match, which isn't surprising given it was his first on the international stage. On the performance, he expressed his delight at the win, singling out McClean, McGeady and Hoolahan, but did add that it is early days and there is much work to be done before the start of the Euro 2016 campaign next September.
Overall
An impressive start for O'Neill and a super night for the new management team and those present. Okay, Latvia didn't put up much  a fight and were happy to roll over from the first whistle but, in the past, Irish teams have played far worse against poorer opposition.
With 37,100 fans showing up to witness what they are hoping is the start of a bright new era, the level of optimism is as high as it has been for some time.  Tuesday's game in Poznan is another chance to add to that before 2013 draws to a close.