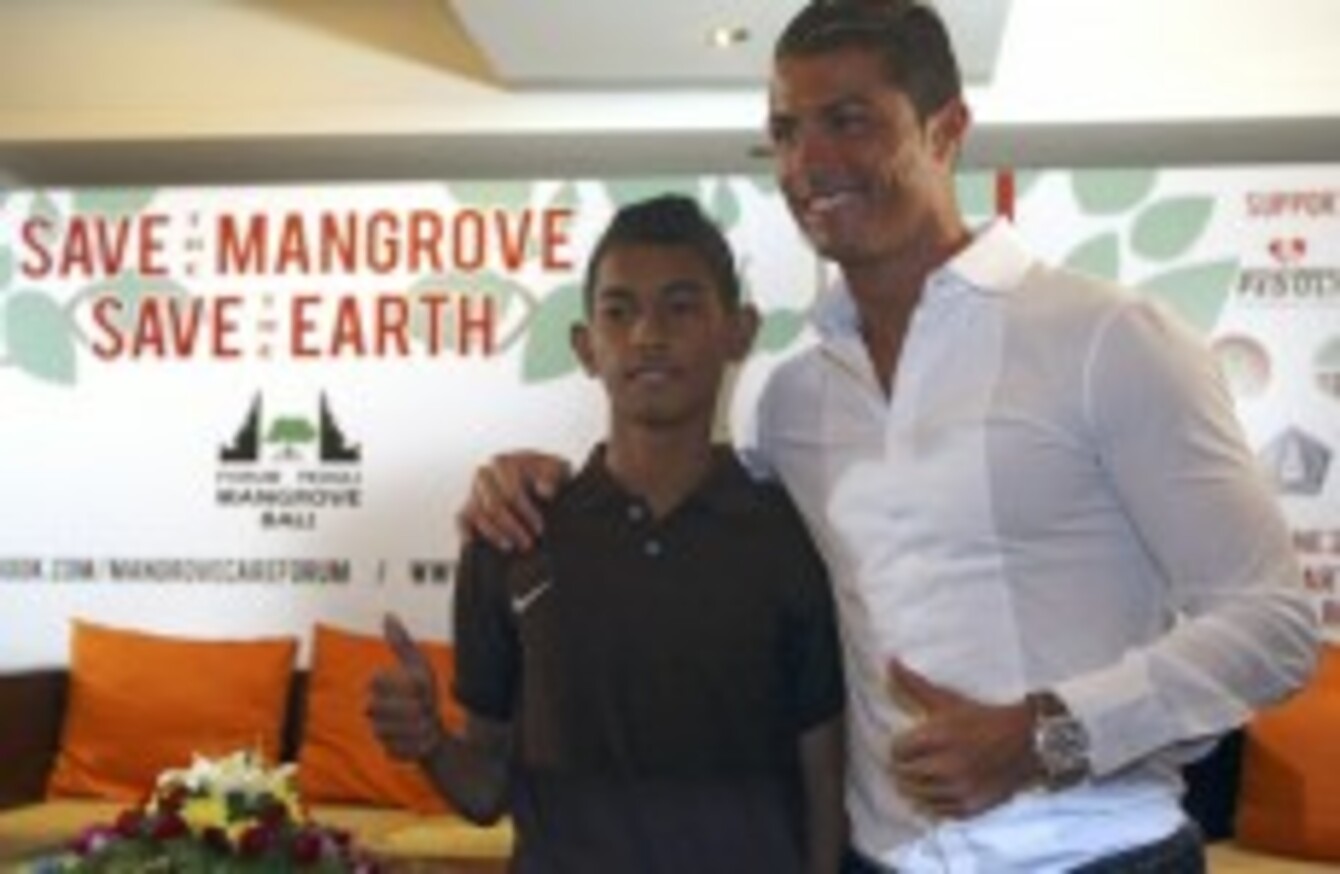 Martunis with Cristiano Ronaldo in 2013.
Image: Firdia Lisnawati
Martunis with Cristiano Ronaldo in 2013.
Image: Firdia Lisnawati
SPORTING LISBON'S SIGNING of 17-year-old Indonesian footballer Martinus has been greeted with much more celebration than usual, and rightly so as his story is truly heartwarming.
In 2004, the eight-year-old had his world shattered when the St Stephen's Day tsunami hit his hometown of Banda Aceh. His mother and two sisters were among the estimated 170,000 people killed.
Martinus was also swept up in the giant wave and carried out to sea. He had been playing football at the time, wearing a Portuguese jersey with Rui Costa's name printed on the back.
20 days later, a Sky News journalist found him — still wearing the same shirt.
The youngster had survived by floating on various items such as a mattress, a school chair and a sofa that had been pulled into the ocean during the disaster. He ate and drank anything that trickled by him in the water before eventually being found and reunited with his father in hospital.
Sky News immediately reported the story of Martunis, and he became a figure of inspiration amidst all the despair that had engulfed the Indian Ocean. His face and his story was broadcast around the world, and it wasn't long before there were people offering to help him.
In 2005, Cristiano Ronaldo travelled to Aceh to visit him and promised to pay for the young boy's education and invited him back to Portugal to visit Sporting Lisbon's ground.
"I believe that many adults would not even be able to deal with what he has gone through. We must respect him. His was an act of strength and maturity. He's a special kid," Ronaldo said at the time.
Such was the impact of his story, the Portuguese FA provided the money to Martinus' father to rebuild their home.
After many visits to the club, and meetings with legends such as Eusebio and Luís Figo, Martunis will now get to follow in their footsteps as he joins the Sporting youth academy.
As the Daily Mail report, he expressed his joy at becoming the latest youngster to be given the chance to train at the famed Sporting academy. "It's great to be here, this club makes my dream possible. I am incredibly excited about this opportunity. "Viva Sporting!" he said at his presentation.
Sporting president Bruno de Carvalho said: "Martunis will work at the academy. We will work with him also in his development as a human being and as a man."
It's a fabulous story of triumph over adversity for a young man that always dreamed of becoming a professional footballer and it shows that there is still a huge degree of decency among the sport's elite when it comes to helping the less fortunate.