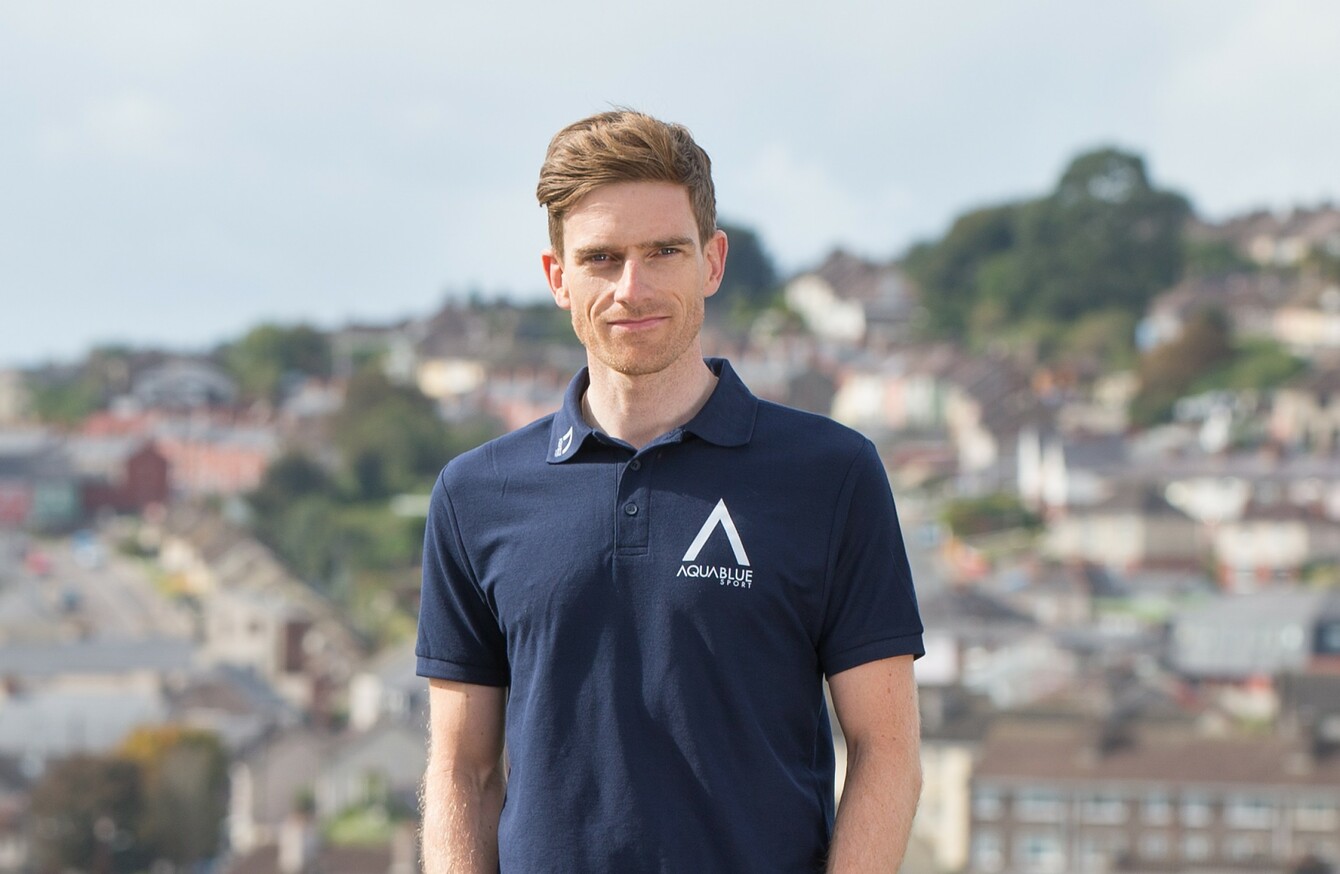 Irvine signed for Team Aqua Blue Sport last month and will ride professionally again in 2017.
Irvine signed for Team Aqua Blue Sport last month and will ride professionally again in 2017.
'YOU DON'T FULLY appreciate something until it's gone.'
Martyn Irvine uses the word perspective over and over again. The last seven months have given him a new sense of it, changing his outlook on life, work, family and sport.
In January, Irvine walked away from professional cycling after a ten-year career. He cited a series of injury setbacks as the primary reason for his love of the sport to fade. He had devoted his life to it and it — the hours of painstakingly mundane training, the make-or-break environment — became too much. He was worn out.
He packed it in at the age of 30 with no regrets. He was mentally and physically drained and when the flame began to flicker, there was nothing left for him to give. Three years after becoming a world champion, Irvine didn't want to touch a bike.
Or so he said.
But life after cycling was tough. Irvine entered the real world hoping he could leave it all behind and get on with the next chapter. It wasn't that easy.
He started the year unemployed, sitting at home hoping something would fall into his lap. Job interviews came and went and he eventually returned to work as a car mechanic having learned his trade as an apprentice before committing to professional cycling.
His daily routine had changed dramatically. Irvine's days were now spent commuting in and out of town, working long shifts and getting home late. That word perspective again.
"Everything was shit at the time, kind of crap," he tells The42. "The whole Olympic thing, I had the shit pummelled out of me, so my hand was kind of forced into retirement. The track was crap and when I missed Rio it was just miserable.
"When I quit I was happy I made the right decision because I didn't miss cycling. That was my mindset because I had just had enough of it. That pressure cooker environment, the pressure of performing to get a grant. That was the thing. I had a bad run last winter and I couldn't get a grant. Two years earlier I couldn't lose a race and all of a sudden I couldn't get a grant. I just got sick of it.
"So going back to the daily grind didn't seem like a problem. I've done it before but after a while I had this feeling. I live in Lusk and I was commuting on the train every morning. Up at 6am and not home until 7pm. Fuck it was just killing me, I was turning into a zombie.
"Life was beginning to pass me by. I carried on working and then in the last few weeks, it started creeping into my mind that I'm actually not that old. When I was on the track I was racing against all these kids and I felt like the Grandad but when I went back into the workplace I was the youngest guy. I just thought I'm not over the hill yet."
Stepping outside the cycling bubble allowed Irvine to appreciate what he had, and what he had walked away from. He describes his decision to retire as the 'best thing' he's done.
"I realised that the trade hadn't changed and it just got boring," he continues. "There was nothing bad about the last seven months but it was perfect timing for me. I got to see Grace [his wife] so much more and it sounds a bit sad but I got to go out and have dinner or a drink and order what I wanted. I wouldn't go back on it, it's been a weird seven months."
In the space of those seven months, Irvine has rediscovered his love of cycling again. If truth be told, however, he never really lost it. Perhaps disillusioned and deterred, but he just needed something to reignite that passion.
When a potential return was first muted in February, Irvine laughed it off. Speaking at the launch of the An Post Rás, he insisted there would be no comeback.
But by the time the Rás rolled around in May, Irvine was back involved. A week spent driving one of the press cars rekindled memories of a prodigious career. It was a welcome return and enough to convince him to get back on the bike.
"I'm not one to be really influenced by what others say," Irvine explains. "I laughed it all off, I probably laughed it off to you then too. Tony Campbell wanted me to race the Rás for the Irish team and I was like 'no chance'.
"I haven't really told anyone this but to be honest, once I retired I thought something [a job] would come up and suit me. Something sport related. Nothing did and I was in limbo. I just wanted to go with my gut — whatever happens, happens type thing — but I needed something. Cycling was what I knew.
"I thought about coaching but I couldn't tell anyone else what to do. I could barely coach myself! So I got back on the bike and kept myself fit. I went on rides up around Wicklow and just enjoyed it again. That no-pressure environment.
"The track just didn't appeal to me. It's just a horrible place, going around in circles but suddenly the road appealed to me. I missed that side of it. The people and the cycling family."
As spring became summer, Irvine's gentle return was becoming much more. In June, he touched base with cycling agent Andrew McQuaid to ask for his advice. Would he still be able to cut it at the top level?
"To be honest, I was thinking about a small team in the UK for next year," he admits.
But the timing was perfect. McQuaid — a former cyclist himself — pointed him in the direction of Rick Delaney, a multi-millionaire from Cork who was in the process of forming Ireland's first-ever Pro Continental team.
The wheels were suddenly in motion.
"I heard there might be something happening," he says of the newly-established Team Aqua Blue Sport. "Contract talks started in September and it all started to become something last month."
Less than a year after retiring, Irvine will be riding in the second-tier of professional cycling in 2017. He was officially announced as one of 16 riders in Team Aqua Blue Sport's ranks for their debut season and is now knee-deep in preparations for a return to the road.
"There was initially an element of doubt," he says. "But when I started to train properly I knew I could still do it so it's more of a mental thing. I'll be prepping my head for it over the next few months.
"I'm not thinking what people think of me, I couldn't give a shit what people think to be honest. I want to do good things, it's just a job at the end of the day. Forget about the critics, especially in cycling there's so many naysayers out there.
"It's kind of a contradictory thought but on the track  I always just wanted to prove people wrong. When I started track racing, they were like I have no chance. We were just the paddies with no track. Internally that motivated me, it didn't effect me but I took it on and it motivated me. It fuelled the fire.
"Hopefully I can use that same motivation again. It's the biggest Irish team we've had but small in European terms so it's that kind of underdog tag that will motivate me."
The bug has bitten and Irvine has got that competitive edge back. The flame is burning again as his decision to take time away from the sport was a temporary one, rather than a career-ending one.
Although he didn't care much, it didn't feel right for one of Ireland's most successful cyclists to bow out in such an understated fashion.
His golden moment in Minsk should be regarded as one of the great Irish sporting achievements and his feat of winning seven medals in a row at major competitions will never be matched by another individual athlete from this island.
Yet the recognition never came so returning for a final swansong offers Irvine the chance to give something back to the sport and then eventually call time on his own terms.
"I want to actually properly hang my wheels up having given the road a good run and that's what I'm looking forward to," he admits.
"Physically I have the numbers and I should be good enough to do the job, it's just about doing the job now. I'm not a team winner, I'll try and win, but I'm not the guy they'll look at for a winner. I'm prepared to work my nuts off for someone else, that's what I'm looking forward to, helping the team.
"It's refreshing in a way that the pressure all isn't on me. If I came back and won something that would be justification right there. But if I came back and I was more a background type of figure, helping the young guys in the team, I'd be happy.
"Success defines a career in cycling. I want to do something right even if it's not winning races. Helping young guys not do the crap I did, I'd be happy and it would be a productive year.
"I'm just going with the flow. It's exciting. I'll appreciate it more because I stepped away and have seen what the alternative is. When I raced the road years ago it's quite easy to be miserable. The weather is crap or this many miles to do but the alternative is that grind I was in. I'll definitely look to enjoy it."
Sometimes the best way to appreciate something is to be without it for a while. Just ask Martyn Irvine.
The42 is on Snapchat! Tap the button below on your phone to add!