IRELAND'S 2013 WORLD champion Martyn Irvine has announced his retirement from competitive cycling after failing to qualify for the Olympics in Rio De Janeiro this summer.
The county Down native won gold at the Track Cycling World Championships in Minsk in Belarus in 2013. He also secured a men's individual pursuit silver medal at the same event.
But having failed to secure his spot in Brazil in August, 30-year-old Irvine has decided to call it a day.
"Missing out on the Olympics is a big part of it and I fell out of love with cycling," the Northern Irishman told the BBC.
"The passion to train and put all that time into it has gone. I would just be wasting my time if I carried on."
Irvine has shed further light on the reasoning behind his decision in a statement on his blog.
"Well, I never actually thought this day would come. All through my cycling career I've seen teammates old and new 'retire.'
"Something that I initially thought could be the worst thing ever to happen to me.
As I sit here here now typing this it just feels right. Don't get me wrong though, this decision I have not taken lightly.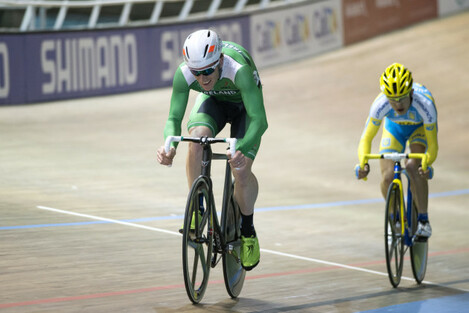 Martyn Irvine celebrates finishing second at the Track Cycling World Championships final in Columbia in 2014. Source: Guy Swarbrick
"Something has just happened to me over the last 1-2 years and I can't really pin point it. Okay, I've had a few crashes that have left metal inside me but I came back from them.
"I mean, I won a European medal six months after breaking my hip! It doesn't take a rocket scientist to work out that [it's] a mental thing. However, it's not that simple.
"I really miss racing, even now when I've barely stopped. It just feels like a natural end though. For the last year I've been racing and under performing across the board.
"Frustration has been setting in all year and I'm sick of just turning up to bike races. I set my own bar by winning seven medals in a row.
World Championship, European, World Cup and Commonwealth Games medals all hang up in my house somewhere.
"At the time, every single one of them was taken for granted. I never appreciated how cool it was to be winning medals. Since then I've just stopped winning and stopped enjoying it.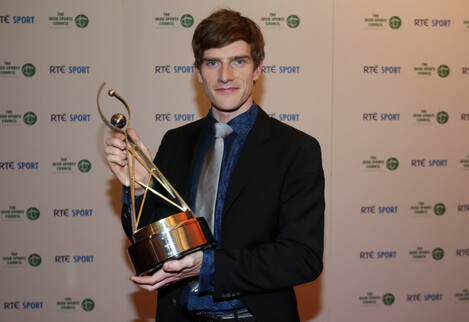 Irvine was nominated for the 2013 RTÉ Sports Person of the Year award. Source: Donall Farmer/INPHO
"Cycling has changed my life over the last decade. I stumbled upon the sport through a series of coincidences that you could never have predicted.
"I just kept rolling with the punches and it took me from a little town in Northern Ireland to every corner of the globe and back to a little town in the Republic of Ireland.
"Asia, Africa, North America, South America, Australia and Europe have left me with awesome memories and some awesome scars too!!
I regret nothing and wouldn't change a thing. Without cycling in my life most likely you wouldn't be reading this.
"Without cycling I wouldn't have met my lovely wife and I promise you, every day I'm grateful for what I have and what has happened to me.
"Hopefully this isn't the last time you hear from me and just to let you know I'm not stopping cycling, I'm just stopping putting cycling first in my life.
"I'm retiring from International competition. I was trying my best to not use the word 'retiring' but it's probably what's happening to me.
"I don't really know what to say next. I have thousands of people I need to thank and I really hope to meet every one of you personally.
"People who got me cycling, people who got me competing, people who coached me to be the best I could physically be and the people who have kept me cycling, I'm grateful to every one of you and I'd love to repay the favour someday, somewhere."