FITNESS FOR A lot of people in this day and age means countless hours of sweating and heavy lifting in the gym.
Forget The Gym Mary Jennings. Forget The Gym
For others, it's playing their favourite sport or keeping their nutrition in tune, getting out for a brisk walk in the evening time or maybe going for a swim.
Mary Jennings' life, and fitness regime revolves around one main thing however — running.
Originally from Dunboyne in Co Meath, she set up Forget The Gym and started coaching running classes in 2007.
It's a pretty simple concept, according to the website: "We love running, fresh air, feeling good and having fun. We coach everyone from complete beginners right up to marathon runners."
Jennings' career path wasn't always heading down the fitness route however. She actually only started running in her mid-twenties.
From there, she built her own running up steadily and her family and friends were impressed with her progress. Everything snowballed from there.
"I wasn't at all into sport when I was younger," she tells The42. "I don't come from a sporty family.
"It was only really when I was living in the UK in my mid-twenties [I started]. I was working in Management Consultancy and to be honest, my boyfriend at the time was a runner. Very gradually, he got me into running and building up gradually — just to be able to do a 5k that some of the girls in work were doing.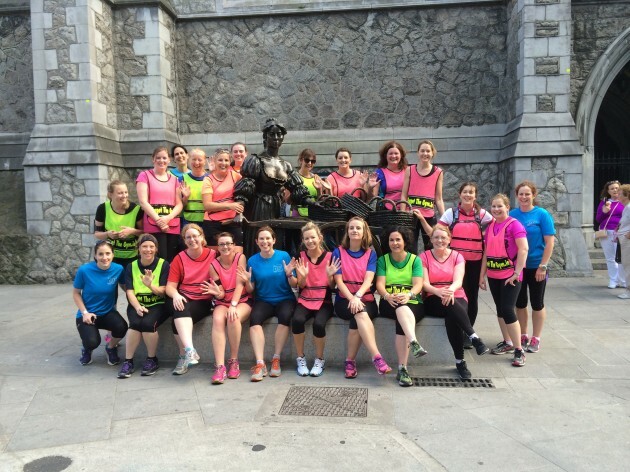 Forget The Gym 'That's my goal - to get people out the door.' Forget The Gym
"It was kind of before recreational running kicked off in Ireland. There are a lot of people now that do 5ks and 10ks, but at that stage, none of my friends ran. It wasn't really the norm.
"I started building up slowly and then I realised that there was a whole world of running I was missing out on. Not missing out on, but it was a whole new outlet.
"I was no great athlete, and still, I'm never going to win a race or anything and that's not why I do it. It's more for the head space and your own challenges that you do it for.
"My friends and colleagues were asking me how to get started running and then it progressed to going out with them and showing them, and then realising at that point — there are running clubs and stuff like that but sometimes they're not as accessible to people who don't consider themselves sporty.
"People who would say 'I can't run, I can't do it,' they were the type of people who I tended to attract. As I was not a natural runner, I think they were thinking 'if she can do it, it can't be too hard. It started like that, informally coaching friends and then it kept building up."
It was during a career break that things really took off. Out of her own interest, she did a few different courses and trained as a personal trainer and fitness coach.
As part of her work, Jennings had done a career planning exercise one day related to mapping out her future within the company she was employed, and that was the point when everything clicked.
She realised that it wasn't the type of life she wanted to live and would rather pursue something that offered more flexiblity and freedom: "As I looked at the pathway, I was thinking this is not compatible with the kind of lifestyle I'd like to have. That was the turning point, it made me realise 'actually, I need a route out of this."
She let go of her 9-5 career and hasn't looked back since. The Dublin-based mother never imagined coaching runners full-time, but it just organically grew and changed and alas here she is.
Her week is a pretty varied one. Forget The Gym runs four evening classes per week in Dublin, so Jennings coaches most of those classes alongside others.
Forget The Gym 'It's not that I'm against the gym, i just feel that we're indoors an awful lot so it's nice to get outside.' Forget The Gym
During the day, she spends a lot of her time coaching people online, drawing up training plans, tending to administration inquiries and writing about running and post-natal fitness. Her weekends sometimes include coaching running and injury prevention workshops, and then there's the odd running holiday.
Family life is pretty busy at the minute too, with a young baby on the scene. Herself and her husband welcomed a baby boy into the world earlier this year, and everything has been going swimmingly since. Crazy, but crazy good.
"A part of my head is always in my work. I do my work flexibly during the day as the little fella sleeps or wakes. Then in the evening time, I teach the classes when my husband's home and hand over to him. With a small baby, it's a different kind of world but everything's going really well.
"People think I'm out running all day long. I'm not at all, a lot of it tends to be computer-based. A lot of it is not about running, it's about supporting people and motivating them.
"We have a lot of 'fun-runners' and recreational runners, who need motivation and support to get out the door and keep going. It's quite social and quite informal, but there's a lot of focus on  on injury prevention, running technique, strength training in a nice social and accessible way rather than it being real serious stuff. It's just trying to help people to enjoy their running more.
"People I've coached have built up gradually that they move towards marathons and ultra-marathons but the bottom line is still getting people out there running, who think they can't."
Motivation is a word Jennings touches on quite a lot. Running is her her pastime, passion and job and it's on her mind 24/7.
Every day of her life involves running, whether it be her own training, coaching or motivating others to do so.
How does she keep her own motivation, drive and enthusiasm though?
"I never wake up in the morning and want to go for a run, ever. I'm not one of those people. I always feel better when I get out though.
"For me, the motivation isn't about a race at the moment. It would have been for years, training for marathons and ultra-marathons. My motivation is to set a solid base after having the baby. It doesn't involve any hardcore training, it's just looking after myself and making the conscious decision to get outside and do something every day.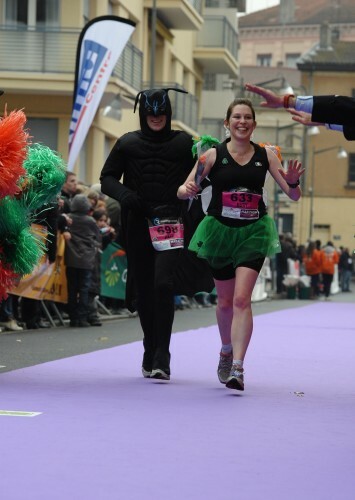 Rick Sonnemann Jennings herself taking part in a fun run. Rick Sonnemann
"I get a lot of motivation from my gang and our coaches as well. When you're coaching a class you don't have the option 'will I go or will I not?' When I go to a class, I always come home with more energy and that inspires me to keep going on myself. The fact that you always feel better after you get out makes it a lot better as well.
"It's for the head space and to have a break. I think a lot of it is the outdoors. To be honest, we could push people a lot more in Forget The Gym in terms of peak performance, but that's not what they're there for.
"They're not training for the Olympics or anything like that, we want people to feel good about themselves and that doesn't always mean push yourself to the limits. Some days you just take it easy, some days you want to push it on.
"I think if you can get people out the door to get started, and even for the first five minutes they're thinking 'oh God, I don't want to be here' but 10/15 minutes into it, you're there. That's my goal to get people out the door. Once they're out the door then it's amazing how people can motivate themselves, it's just that first few minutes.
"No matter how much sport you're doing, there's days where you don't fancy it — that's where the social side works as well. The sense of community is strong. They're all in it together, rather than against each other.
"It's not just me coaching them, they're helping each other along the way as well. I really don't focus on times, I focus on them being able to cross that finish line."
In terms of her own training, it's not as intense at the moment understandably, but she stresses that it's not always just about running.
""With Forget the Gym, it's not that I'm against the gym, it's just that I'm against being indoors all the time. Not that I'm against it, I just feel that we're indoors an awful lot so it's nice to get outside.
"Because the gym may be something that intimidates people, it doesn't mean that you can't exercise. You can find an alternative outdoors. A huge part of running is not only rest and recovery, but strength training, flexibility training and hugely technique as well.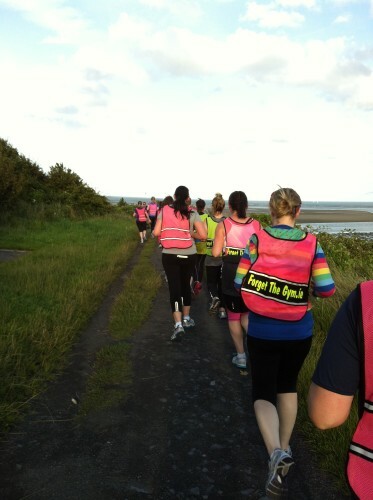 Forget The Gym 'A lot of it is not about running, it's about supporting people and motivating them.' Forget The Gym
"A lot of people just pound pavements and that's where running gets a bad name, it's made out to be a chore.
"In terms of training, at the moment, I'm teaching classes three to four days a week so that's all the running I'm doing. I'm consciously trying not to do running because I want to try and get my body stronger again.
"I'm doing 'informal exercise' as I call it – walking with the buggy, and when I have a few minutes I'll do a few exercises here and there. It's not a strict training schedule as I'm not training for an event, I'm just training to feel good at the moment.
"In terms of food, it's a lot of 'one-handed' food. With the baby in one hand, it's very easy to eat junk. Easter Sunday – one handed Easter eggs and everything, no problem!
"Generally I just try and eat natural, basic food. Simple things — if you understand all the ingredients on the packet, fine, and generally stuff that grows, meat, fruit, vegetables and whatever. I make my own snacks then in terms of smoothies, oat bars and granola. I try to always have berries and nuts in the house for snacks and things like that that you can eat as easy as a square of chocolate.
"I don't do anything fancy with food, I just keep it simple. I'd be a little and often type of person rather than three set meals and keep well hydrated. I don't deprive myself of anything, and I certainly never diet. Don't get me wrong though, we go to park runs and things like that and I'll happily have a scone or cake. It's not about restricting you, I wouldn't deny treats."
Jennings is helping to promote the Virgin Media Night Run at the minute. The 10km run takes place through Dublin City on Sunday night.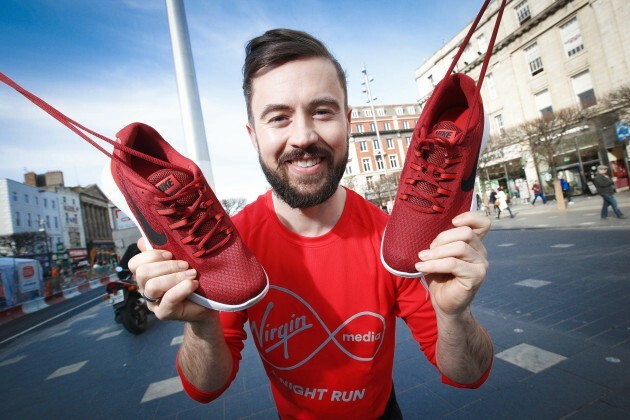 Conor McCabe Photography Ltd Deric Hartigan from TV3 helping to promote the Virgin Media Night Run. Conor McCabe Photography Ltd
In terms of her advice at this stage, it's simple. As the days run down, there's little that can be done on the training-side of things — the hard work should be done — but she encourages competitors to focus rather on the practical elements.
"The main thing I'd say to people now is that you're not going to get any fitter this week. You see a bit of the exam-cramming type thing – people saying 'I'll check now to see if I can run 10k on Friday night.' Now is not the time to experiment with your training.
"What training you've done now is done. Maybe do a maximum 5k on Thursday or Friday, and after that wind it down. But I think the best thing you can do now in terms of preparation at this stage is to become familiar with the route, with the time of the day, with the logistics of it.
"People often waste energy on the logistics of getting to a race start line, Find out in advance where to go, what the route going to be like and where you need to drop bags. Focus on the practical side of things rather than the physical training. If you can answer all those questions, you'll be calm turning up at the starting line.
"The other thing to think about is the late start in the evening. Start thinking about your food, in terms of when you're going to have your dinner. You need to have something decent in your body, it's a long evening when you're hanging around and waiting.
"Plan your food, and if you can maybe mirror that for your last run on Friday so you know it agrees with your stomach.
Look back on your training and everything you've done to get to here, and be realistic about what your expectations are. Pace yourself from the start — your first kilometer pace will determine your enjoyment and your success of the event. If you take off in the first kilometer, you'll pay for it if you can't continue through.
Conor McCabe Photography Ltd 'What training you've done now is done.' Conor McCabe Photography Ltd
"There is a lot of hype and it is a big event, you will have the temptation to take off. That's all well and good if you can maintain it, but there's no point in peaking a kilometer in and then playing catch up for the rest of it.
"It's really just about being practical now.  Don't panic on what you haven't done, just focus on what you have done and what you can now bring towards Sunday."
10,000 runners get ready to light the city red for the Virgin Media Night Run on Sunday 23rd April at 9pm. The Virgin Media Night Run is a unique opportunity for runners to race through Dublin's iconic O'Connell Street. Starting at North Wall Quay runners will pass the Spire and head towards Grand Canal Dock and Ringsend before crossing the East Link and finishing at the Samuel Beckett Bridge.
The42 is on Instagram! Tap the button below on your phone to follow us!