MARY LEACY HAS been correcting Junior Certificate exam papers this week, finding it an ideal way to keep in tune with her subject during the teaching off-season.
It is probably no surprise that the legendary Wexford star would think in such a way.
It is the methodical, attention to detail one would expect from a qualified town planner.
Unfortunately, by the time Leacy embarked on her initial career path, the Celtic Tiger was ailing badly.
When she was ready to work, there were no jobs so she segued into teaching.
Geography is the area of expertise and Leacy could not be happier with where she has found herself.
"I think teaching is for me," enthuses the eternally positive 29-year-old.
"I feel if a thing is for you it will work out.
"I feel that planning didn't, there was no work in it.
"Then I came around teaching and I love it. I love being around young people."
Mary Leacy in action during last year's All-Ireland semi-final. Source: Cathal Noonan/INPHO
Finding a job within the county was a huge bonus and it wasn't long before the Oulart-The Ballagh star was coaching Gorey CS's camogie team alongside Muireann McCarthy, sister of All-Ireland winning hurler, Rory.
Last March, the duo led the North Wexford school to their first ever All-Ireland in claiming the 'B' title at the Ballykelly grounds in Monasterevin.
It was just four days after Leacy had done the same thing as a player at Croke Park with Oulart.
It was a tremendous week but management is much more difficult than being between the white lines.
"I actually said to my club manager (Philip Rossiter) that I wouldn't swap places with him in a million years. When you're on the pitch you can do something but on the sideline… it's tough."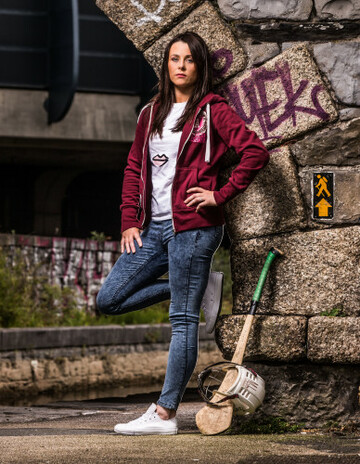 Source: Billy Stickland/INPHO
Leacy has always been a player to take action. She has been Wexford's immovable centre-back for so long now, giving a sense of security that enabled the Model County women to attack with freedom.
She isn't a fan of the increasing deployment of sweepers in camogie, though she accepts that teams must do what they can to win. It was just something that Wexford never needed with Leacy in though-shalt-not-pass mode.
Ultimately, she is a brilliant reader of the play and tends to hurl a lot of ball. But despite not looking necessarily powerful in civilian garb, she just doesn't lose too many physical battles.
Part of that is attitude as much as physique of course and the Leacys were born to play.
Mary's mother, Margaret O'Leary won three senior All-Irelands and was named on camogie's Team of the Century.
The kids grew up hearing men say that she would have made most hurling teams.
They had her as a coach right through the underage levels at Oulart and followed her around the country when she was a selector as Wexford reached the All-Ireland senior final.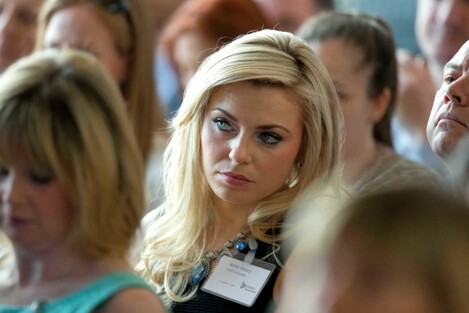 Cork's 2014 All-Ireland winning captain Anna Geary is one of Mary Leacy's former opponents. Source: Morgan Treacy/INPHO
Oulart won five Féiles in a row and Mary played against Claire Grogan and Anna Geary in a couple of them.
She had many battles with Geary and current Cork captain, Ashling Thompson as Coláiste Bríde, Enniscorthy built up an intense rivalry with St Mary's, Charleville.
It was a different era and she and Grogan were already senior inter-county players when lining out in a Féile decider.
A lot of water has flown under the bridge since.
Leacy has added four All-Irelands with Wexford to the club victory and bagged three All-Stars.
But as she points out when discussing Wexford's transition in recent years and the lesson the younger players learn, it doesn't just happen.
"Your life has to be devoted to it if you want to play top level. I can't take a holiday. I even had to plan my wedding around camogie as well.
"(December) is the only month you're guaranteed. You don't know how far you'll go in the club.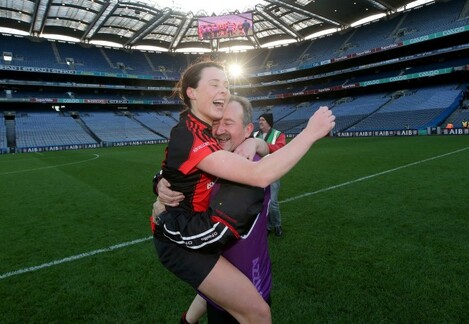 Mary Leacy celebrates All-Ireland club glory in March. Source: Ryan Byrne/INPHO
"We're not guaranteed to win in Wexford but you have to plan for all possibilities. Even the Hen is planned in case we go far. Everything is planned around camogie."
She will decide at the end of the year if she still has the appetite and will to make those sacrifices after half a lifetime doing so.
That is for the future though. Right now, she is thinking of Cork tomorrow and a game both sides need to get something out of to guarantee a place in the Liberty Insurance All-Ireland quarter-final.
Unfortunately, younger sister Úna will be absent having had an operation on her damaged cruciate ligament on Tuesday.
Ursula Jacob, Karen Atkinson and Mags D'Arcy are also injured but Wexford are ready to give their all.
Una Leacy has undergone cruciate knee ligament surgery. Source: Ken Sutton/INPHO
"We drew with Cork last year and they were the ones actually got the equaliser. I think the second day we didn't react to their game-plan, their tactics. Hopefully we'll be after learning from that.
"This Saturday will be a big test for us. It's nice to go down and play the All-Ireland champions.
"It will be a good experience for the younger girls. We're building and hopefully if we come out with a point we're guaranteed a place in an All-Ireland quarter-final."