LEE KEEGAN HAS revealed that he 'ran out of time' in order to make a dramatic championship comeback for Mayo against Gawlay earlier this month but is keen to launch his 2018 championship campaign in the qualifiers on Saturday week.
Keegan damaged his shoulder severely in the league against Tyrone in March and had surgery the following week to repair the injury.
After a third straight loss in Connacht to Galway, Mayo must seek to reignite their season on the backdoor stage with an opening assignment on 9 June against Limerick.
The 2016 Footballer of the Year believes sitting out the provincial clash in Castlebar was the best option despite local speculation that he could emulate Irish rugby player Robbie Henshaw who recovered quickly from a similar injury this spring.
"Galway was a runner, myself and the medical team said all along that we'd target it, we just ran out of time to be honest. The injury, it is a 12-16 week injury and the game was on week eight so just came too early. If I got a bad injury against Galway my season is over more or less.
"The Henshaw (recovery) kind of screwed me at the time. He was doing miracles and I was doing nothing really. I suppose Mayo (fans) love that inkling of when something's going to happen they'll talk about it. But listen we made the decision before (the game) that we weren't going to risk it.
"If you're marking the likes of Damien Comer and these guys who are physically big and the way they play the game if I got one bad knock, I would have put the guys in jeopardy by making an early sub or the year could be over for myself. There's no point trying to be a hero at this point of the year.
"Robbie had 12 weeks and is a professional, whereas I have my work life, my sporting life and trying to get back playing. 100% now depending on the gaffer if he wants to pick me. As tough as it was to watch during the defeat there's always a bigger picture and that starts on 9 June against Limerick."
Keegan had no previous experiences of shoulder injuries but regards it as one of the toughest physical setbacks he's had to endure.
"I was in a lot of pain at the time. Before I hit the ground the shoulder had already been dislocated so that was definitely the most uncomfortable thing I had in a long time to be honest.
"Thank God there was a lot of gas around so it eased the pain a bit. It was a real tough tackle and unfortunately I didn't see it coming which probably made it worse. I could have tried something to protect myself a bit more but the way it worked out I was there to be hit and I got absolutely crucified.
"It was my first time doing the shoulder and hopefully the last time. I used to think a shoulder wouldn't be the worst injury, I can definitely tell you it is one of the worst.
Be part
of the team
Access exclusive podcasts, interviews and analysis with a monthly or annual membership.
Become a Member
"From a Gaelic point of view it literally limits you in everything because you need it for everything. To be brutally honest the hips were way easier than the shoulder."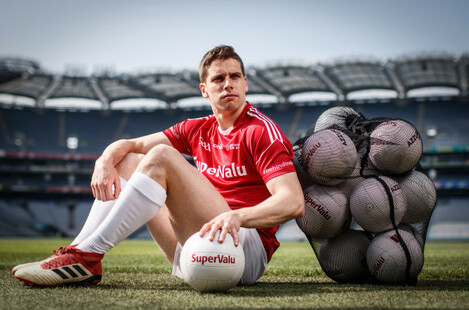 Lee Keegan at the launch today of Super Valu's #BehindTheBall campaing. Source: James Crombie/INPHO
Despite another disappointing provincial championship exit, Keegan is confident that he can again rebound and expects them to return to headquarters later in the summer.
"We had a bit of time to reflect after the Galway game. Unfortunately it's our third time now in the championship losing to them in a row so it's probably the toughest one because we really targeted Connacht this year.
"But if we start reflecting and thinking about that too much, you look at last year we were kind of on a bit of a hangover from the game against Galway because we nearly got caught against Derry, nearly got caught against Cork.
"So if we're going out with that kind of attitude we will definitely get caught again. I can definitely say there is a real positive vibe in the camp.
"The last couple of years, although we've got lucky the more games we play the better we seem to get. I know we can't rely on the last couple of years absolutely not but we know we have the experience and personnel to do a job and I fully expect us to be back in Croke Park this year."
The42 is on Instagram! Tap the button below on your phone to follow us!