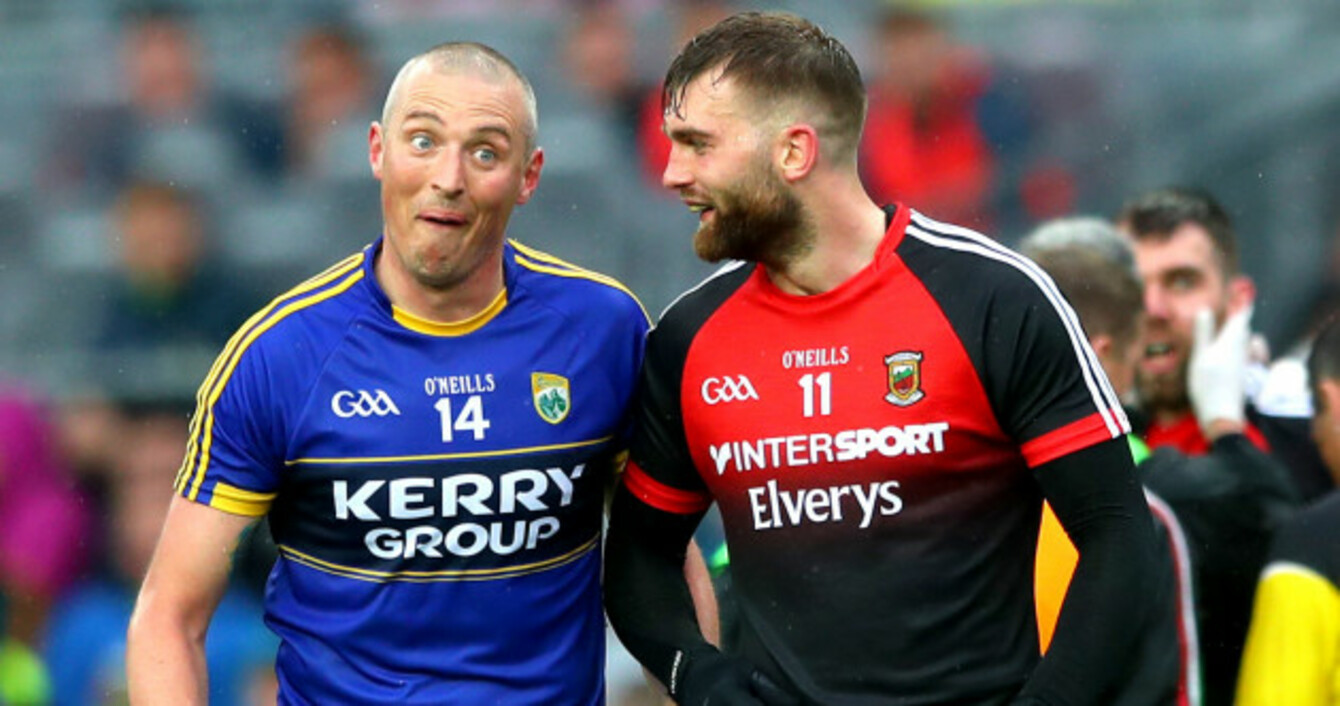 Kerry's Kieran Donaghy and Mayo's Aidan O'Shea.
Image: James Crombie/INPHO
Kerry's Kieran Donaghy and Mayo's Aidan O'Shea.
Image: James Crombie/INPHO
AIDAN O'SHEA LINED up in his customary position at midfield for the throw-in at Croke Park today.
Nothing strange there.
Moments later he was trotting back to the edge of his own square to stand next to Kieran Donaghy.
Definitely something startling there.
And apart from the throw-in for the second half, that was where the Breaffy man stayed for the duration of this pulsating All-Ireland semi-final.
Mayo boss Stephen Rochford explained afterwards the thinking behind that tactical curveball which they launched at Kerry.
"Well Aidan has played full-back for us in a couple of instances. Earlier this year he played full-back for a while against Donegal (against) Michael Murphy.
"Last year he played full back against Kildare on Kevin Feely. He's one of our best tacklers.
"Obviously he has physical presence versus the physical and aerial threat that Kerry might bring in that area.
"(It's) a bit early to be sort of too clinical in the analysis of it.
"We need to go back on the video and just sort of see what benefits we got out of it, what worked well and what needs to improve."
Seeing Donaghy pitted against O'Shea was something Kerry had considered beforehand.
"It was a thing we'd discussed," admitted Eamonn Fitzmaurice afterwards.
"There was a possibility it could happen, that they could match him up with Kieran [Donaghy].
"We felt maybe it would be down list of possible options, but it was something we had discussed.
"Look, obviously it's up to Mayo to get their match-ups right and for them to organise those – that's not something we can control.
"He won one or two balls in the first half and rooted away with Kieran, didn't allow him to have a huge impact on the game."
The review of a match is something Mayo have become accustomed to this summer. Next Saturday will be their ninth encounter in 14 weeks.
The 2017 championship has been a marathon but Rochford is defiant about any fears that fatigue will set in.
"I'm sure at some stage I'll say yes to that question but it's not going to be this week.
"I thought we were doing the running there at the end. These guys I've said this before, these guys are in great physical shape.
"We probably trained once this week and our recovery started 15 minutes ago.
"Look we're halfway through, we haven't lost anything from it, we haven't gained anything from it.
"We're still in the competition. Probably would have felt that we had good momentum at one or two stages in the game.
"We've been down this track a couple of times. (The) six day turnaround isn't the biggest deal to us. We'll be back for next week.
Subscribe to The42 podcasts here: