THERE'S NO EASY way to lose an All-Ireland final but there might be a right way, and Andy Moran senses that the seeds of Mayo's improvement were sown on that disappointing Sunday last September.
He can even narrow it down to a specific moment, a specific save by goalkeeper David Clarke.
Two quick-fire goals from Michael Murphy and Colm McFadden put Donegal in the driving seat and killed Mayo's chances before they ever had a chance to get going in last year's final.
But James Horan's men stuck to their task and went on to outscore their opponents 0-13 to 0-10 over the last 60 minutes before eventually losing by four.
Mayo have since had their revenge for that bitter defeat, eviscerating the champions and dumping them out of the competition when the counties met again in the quarter-finals three weekends ago.
That superb display and staggering 16-point win showed their terrifying potential and bookmakers quickly slashed prices and installed them as favourites for a first All-Ireland title since 1951.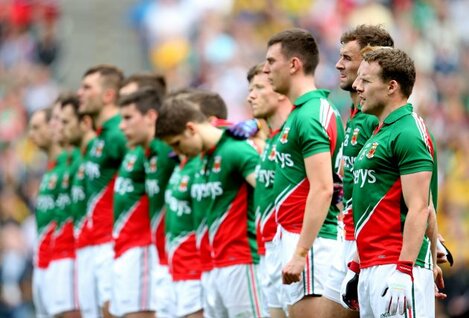 Moran lines up before Mayo's win over Donegal (©INPHO/Cathal Noonan)
"You can't underestimate it, you know, the guts and the courage the lads showed, " Moran said looking back on Mayo's response to those two early goals.
"I'd pick out a pivotal moment to the game. I think David Clarke's save on Colm McFadden as they were going for a third goal, he nearly broke his own leg and nearly broke Colm's leg.
"He was going to save that ball and it drove us on. To me, that is the major point of that game.
Yes, we lost the All-Ireland and it was another All-Ireland that we lost but we lost it fighting and that's the key thing.

This was at the start of a lot of boys' careers — our average age is 23-24. So it was important that the guys fought back like that and it's very important for the stage we're coming to now.
"We went back and analysed it and it was a tough place. That room was a tough place.
"But we looked at the game and it was skills more than anything that let us down. We went away and worked on our skills and worked on our tackling, worked on our tempo of play and again, on Sunday, we've a chance to show this.
"And it's either up to us to show it or to not. We'll go out on Sunday and hope to learn from the lessons of the past but not to be hindered by them."
Celebrating a goal on his comeback against Galway (©INPHO/James Crombie)
On a personal level Moran says he's "very close" to being back to 100% following the devastating cruciate knee injury which sidelined him for almost a full year.
He made his return in the opening round of the Connacht championship against Galway and, ominously for Tyrone, can feel himself getting better and better with each game.
"The biggest thing to be honest is the match practice.
"I've often heard this and thought, 'listen, you're getting enough in training'. But it's little tricks you learn on the field that you might have forgotten.
"When you come away from a hard match… I know we beat Donegal but I had a hard tussle on the day and when you come away from that you can learn things, you can analyse where you can improve.
"You can't buy that at training or a club level because the standard is a bit down on a Championship game. That's the biggest thing.
Do I feel like I'm in good form? I feel like I'm coming into it but you have to prove that on the biggest stage in Croke Park.

The head rules the rest of it. Self-confidence is the key and when you feel you can win a ball and turn, that's the key.

The body will follow the head and once that happens, you're in a good place and I feel like I'm getting there.
With Mayo's third successive Connacht football title (©INPHO/James Crombie)
Did he have any doubts during that long rehabilitation process?
"I suppose you do," he continues. "The return to play was the hardest part because it's all little gains from September on, a small gain upon a small gain upon a small gain.
"All of a sudden you've got to go back in and play, you've to twist and turn and you've to win ball, you've to catch it and you've to be telling boys playing against you not to mind and to give you a hit.
"Small little things like that. That's where the doubts come, but we're over them now and it's all hands to the pump at this stage.
"I've been very lucky with injuries throughout my career. The last 24 months has been a bit of a nightmare for me but I don't think I missed a game for six years before that.
I don't really worry about it, to be honest. If it goes again, it goes again. It's just the way it goes. If you worry about it you're not going to enjoy the last five or six years of your career, so I need to just go for it.