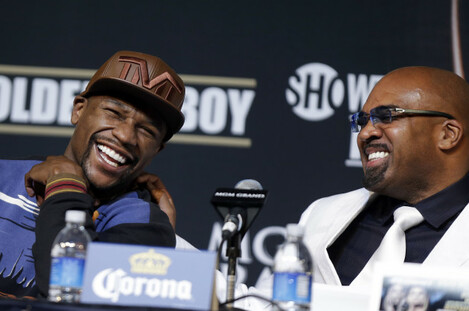 Floyd Mayweather with Leonard Ellerbe, CEO of Mayweather Promotions. Source: AP/Press Association Images
CONOR McGREGOR'S SUCCESSFUL application for a boxing licence from the California State Athletic Commission is "a calculated effort to gain more fans", not a step closer to a fight with Floyd Mayweather.
That's according to Leonard Ellerbe, the CEO of Mayweather Promotions. Ellerbe has insisted to ESPN's Dan Rafael that there's no chance of a boxing match between Mayweather, the undefeated five-division champion boxer, and McGregor, the current biggest star in mixed martial arts, ever taking place.
McGregor has been granted a boxing licence by the California State Athletic Commission, but Ellerbe says the development has no implications for Mayweather, who himself added fuel to the speculation in May by claiming that a clash with McGregor will "absolutely" happen.
Read more: Conor McGregor has been granted a boxing licence by the state of California
Mayweather has been in retirement since defeating Andre Berto in September of last year, while the terms of McGregor's UFC contract are likely to prevent him from competing in a boxing bout without the permission of the MMA promotion.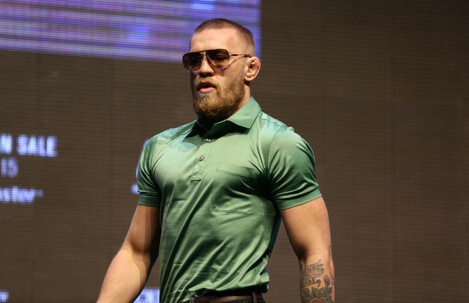 UFC lightweight champion Conor McGregor. Source: Tommy Lakes/The42
McGregor began 2016 with a submission loss to Nate Diaz in March, but he avenged that defeat in an August rematch before clinching the UFC lightweight title from Eddie Alvarez at UFC 205 in New York last month.
"Conor McGregor can say anything he wants to but he has a boss and his name is [UFC president] Dana White. He is under contract to the UFC and if he wanted to fight Floyd Mayweather in a boxing match he can't because his bosses wouldn't allow that to happen," said Ellerbe.
"The brass [from WME-IMG] who recently purchased the UFC [for $4 billion earlier this year] are very smart people and they would never — and put this in bold caps — let him step into a boxing ring with Floyd Mayweather because everyone knows what the outcome would be. He would get his ass beat from pillar to post."
Ellerbe added: "What McGregor is attempting to do is take a page out of Floyd's book from the marketing and promotional side by using his name. The quickest way to become famous is to align yourself with another famous person, and he's done a good job of that.
"He has a good little hand game, a superior hand game compared to the UFC fighters he is competing with but fighting Floyd Mayweather is a whole other story. That bullshit you're throwing over there in UFC would get you killed against Floyd."