Phelan M. Ebenhack Floyd Mayweather Phelan M. Ebenhack
AFTER SHE SUFFERED a massive setback last weekend, Ronda Rousey has been offered some advice and assistance by Floyd Mayweather.
Mayweather, the undefeated world boxing champion who retired with a 49-0 record after his September win against Andre Berto, extended an olive branch to Rousey in an interview with Fight Hype.
The pair have previously extended verbal blows via the media, which originated from Mayweather's claim that he didn't know who Rousey was.
The UFC star hit back after beating Mayweather to the 'Best Fighter' gong at the ESPY awards by referencing the boxer's history of domestic violence: "I wonder how Floyd feels being beat by a woman for once."
However, Mayweather says he doesn't harbour any negative feelings towards Rousey, who relinquished the UFC women's bantamweight title in Melbourne on Sunday when she was knocked out by Holly Holm in the second round of UFC 193′s main event.
"Do I think that she really meant what she said? Absolutely not," said Mayweather. "If I was her, I would've used Floyd Mayweather's name also. She's supposed to do that. It's business, it's not personal, and I understand business."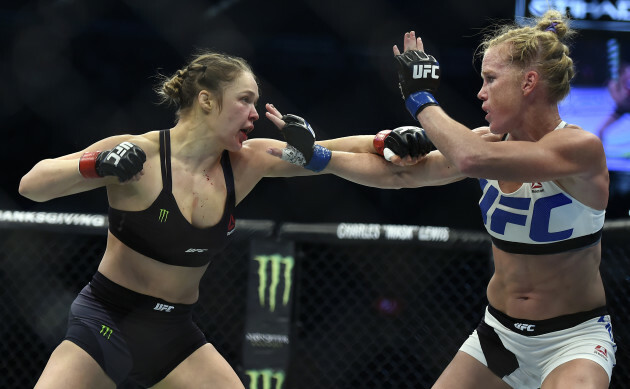 Andy Brownbill Ronda Rousey in action against Holly Holm last weekend. Andy Brownbill
Rousey was a bronze medallist in judo at the 2008 Olympics but the holes in her striking game were exposed last weekend by Holm, who's a former world champion boxer. Mayweather says he's willing to help Rousey in that department.
"I want Ronda Rousey to hold her head up high and don't let this discourage you. If you need help as far as with boxing, I'm here to help you. It's all about timing and inches. Her ground game is unbelievable. She'll be okay."
UFC president Dana White has already intimated that Rousey will be given an immediate rematch with Holm, although the former champion may first be subjected to a six-month medical suspension. Nevertheless, Mayweather believes she shouldn't be rushed back into action.
He said: "Me, as a former fighter, I think that she needs some time off to regroup and refocus. I think they're rushing her. They need to build Ronda Rousey back up, her confidence back up, even though I think she's probably still confident.
"Let Holly fight, defend the title a few times, and build it. That's what I would do, looking at it as being a former fighter and now promoter. I wouldn't rush it.
"What I would do, I would put them on the same card fighting against different opponents and then slowly build it up. It's all about timing. That's what I did with the [Manny] Pacquiao fight. The fight went from me making 100 million [dollars] to me making 300 million, so it's all about timing."