FLOYD MAYWEATHER JR has reiterated his claim that Manny Pacquiao is a drug-cheat as speculation persists that the pair will fight.
The boxing world remains fixated with the idea of a Mayweather-Pacquiao bout but Mayweather distanced himself from a potential multi-million dollar showdown at a press conference yesterday.
The 35-year-old American, who is set to fight Puerto Rican Miguel Cotto on Saturday, claimed it was 'basic common sense' that Pacquiao has used performance-enhancing drugs.
Mayweather added that the reason he has avoided fighting Pacquiao is because he is concerned what kind of damage the Filipino could do to him.
"Health is more important than anything," Mayweather said.  "Because guess what? When my career is over, if I'm hurt because of something that has happened in a fight, I can't come to you and say, 'I need (money)'."
The seven-time world champion, who has won world titles in five different weight divisions, slammed boxing experts who claim his reluctance to fight Pacquiao is due to fear.
"This is how the world is, you get writers saying: 'Floyd is scared,' " Mayweather said.  "No, Floyd cares about his family, Floyd is smart.
"You all know for a fact I'm not scared."
Pacquiao has won titles in five weight divisions in the past four years and Mayweather believes the 33-year-old could not have achieved that feat without performance-enhancing drugs.
"It took me years to get to here — years," Mayweather said.  "I'm going up in weight but I'm not walking through no damn fighters.
"(Pacquiao) is 106; now he decides to walk through (Miguel) Cotto?  Cotto can't knock down (Shane) Mosley, but can he?"
SEE SPORT
DIFFERENTLY
Get closer to the stories that matter with exclusive analysis, insight and debate in The42 Membership.
Become a Member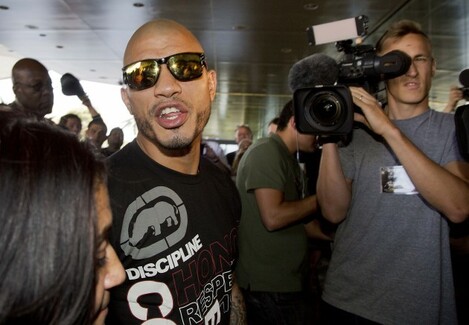 Miguel Cotto arrives at the MGM Grand.  He is scheduled to face Floyd Mayweather Jr in a super welterweight boxing match on Saturday. (AP Photo/Julie Jacobson)
Mayweather added that no one in boxing cares whether Pacquiao is a drug-cheat because they are so excited by what would be the biggest fight of this millennium.
"People say, 'We don't give a f— if he's taking or not, we just want to see the fight. We don't give a f— about your health and we don't give a f— about your family'," he said.  "I care about my family, I love my family — they're going to be there when no one else is there.
"When my career is over, you're all going to move on to the next one."