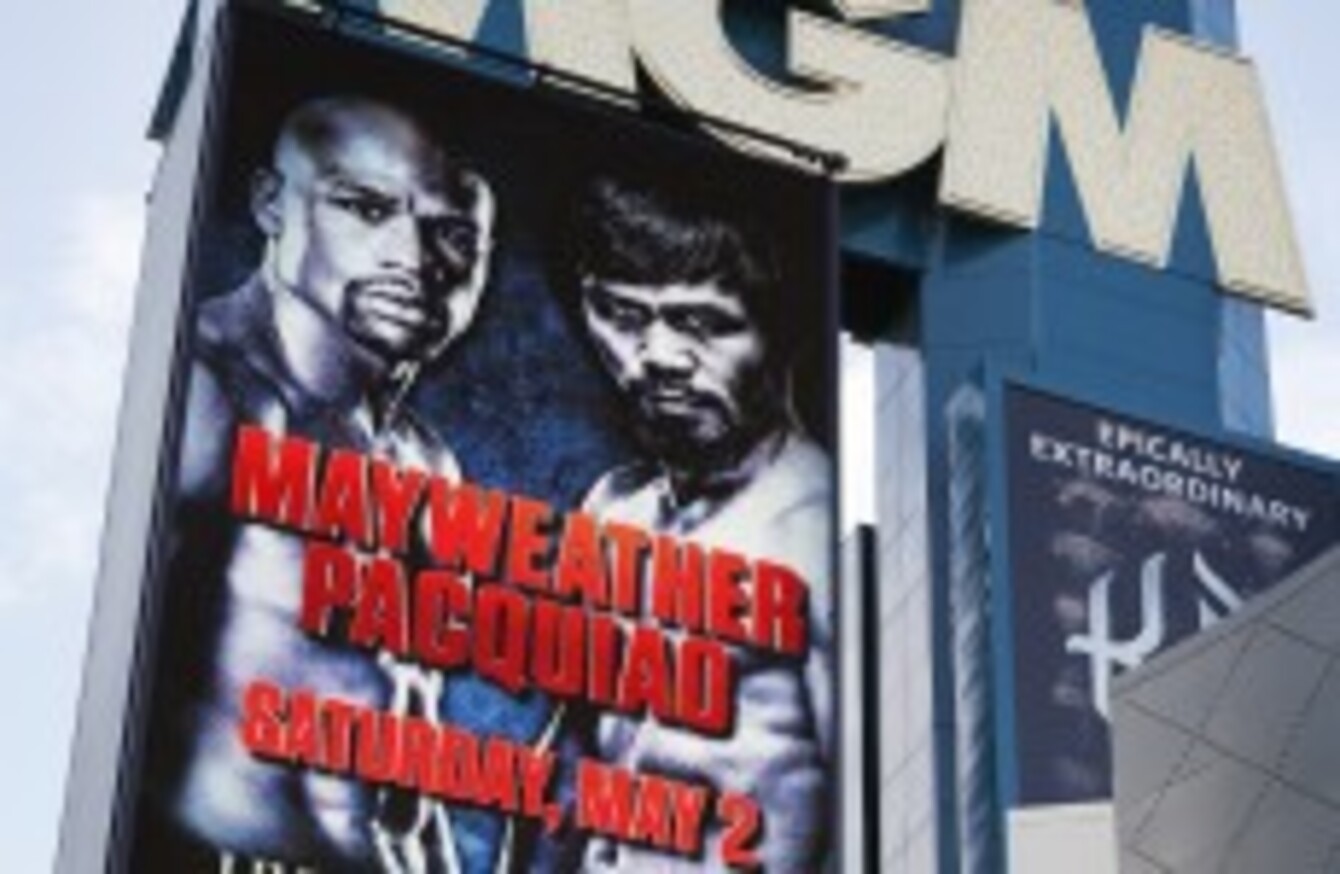 A poster for the fight outside the MGM Grand.
Image: AP/Press Association Images
A poster for the fight outside the MGM Grand.
Image: AP/Press Association Images
TICKETS FOR THE richest fight in boxing history, between Manny Pacquiao and Floyd Mayweather, will go on sale today after the two camps put their squabbles aside and finally reached a deal.
The release of tickets will come just nine days before the 2 May fight after being held up for weeks because of a contract dispute between Pacquiao's camp, Mayweather Promotions and the MGM Grand Hotel.
Yesterday's announcement paves the way for a very limited number of seats to go on sale in the Grand Garden Arena. Organizers declined to say how many seats would be offered for sale.
Organisers said Grand Garden tickets will be priced between $1,500 (€1,400) and $7,500 (€7,000) but some are expected to fetch up to $100,000 (€90,000) on the resale market, while closed circuit seats at Las Vegas area venues are priced at $150 (€100).
Only 1,000 tickets are expected to be available to the public, as the majority of the 16,500 seats are being reserved for sponsors, organizers and friends and family of the two camps.
Tickets are supposed to go to Pacquiao and Mayweather's camps, HBO, MGM Grand and Showtime for distribution.
The ticket fiasco is just that latest issue of contention in the build up to the fight which is expected to generate a record $400 million in revenue.
The sides also argued over drug testing, who would come out last to the ring for the fight, who would sponsor the fight and how much to charge for the pay-per-view which will cost around $100 (€90).
MEANWHILE, never one to talk himself down, Floyd Mayweather has declared that he isn't just good, he's better than Muhammad Ali — the man many call "The Greatest."
"I feel like I have done just as much in the sport as Ali," Mayweather said.
It is hard for a guy to be like me, still sharp at 38. No disrespect to Ali, but I feel like I am the best."
Mayweather pointed out that while Ali lost to the unheralded Leon Spinks in 1978, among others, he has a perfect 47-0 record.
"Ali lost in his career to Leon Spinks. He lost some other fights and is still known as the greatest. That is what it is."
In addition to being the greatest, Mayweather added that even boxing fans from Pacquiao's home country — where Pacquiao is an icon — will be cheering him on at the MGM Grand.