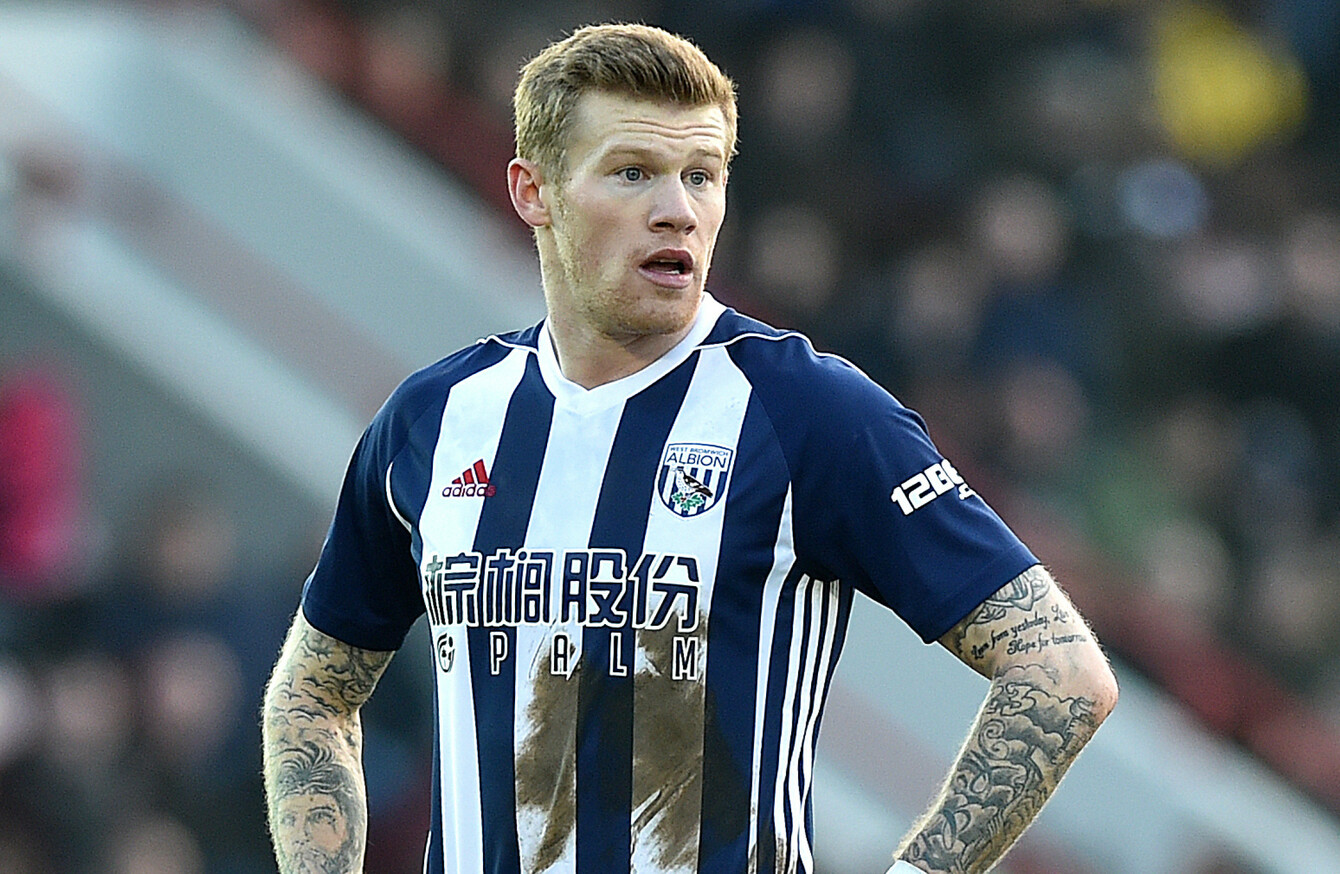 Image: Simon Galloway
Image: Simon Galloway
JAMES McCLEAN INSISTS that he's fully committed to West Bromwich Albion's bid to preserve their Premier League status, despite being linked with a move away from the club during the January transfer window.
The Republic of Ireland winger was the subject of a failed bid last month from Derby County, who are on course for promotion to the English top flight as they sit in second place in the Championship. West Brom are currently languishing at the foot of the Premier League table, four points adrift of safety.
McClean was back in his native Derry on Sunday evening to attend an event at which he was honoured for being named RTÉ Sports Person of the Year in 2017.
In an interview with Simon Collins of the Derry Journal, he revealed that the potential move to Derby fell through when the Rams were unwilling to meet West Brom's £15 million (just shy of €17 million) valuation.
"West Brom had their value and I'm not in the game to dictate my value. That's up to clubs to do," McClean said. "I think West Brom wanted £15 million but Derby weren't prepared to pay that. Whether I think that's wrong or not, it's not up to me to say."
McClean admitted that while staying put is his preference, he would be open to leaving the Hawthorns in the summer if that increases his prospects of playing regularly — something he believes he hasn't been doing lately. The 28-year-old has made 25 club appearances this season, but only nine of them have been starts.
He said: "I want regular football, wherever that may be. If it's the right fit for me and it provides me with regular football then I'm open to anything. I just want to play football.
"I'm 28 now and the last 18 months have been really frustrating. I feel that I'm at my best when I get a run of games. I feel that's eluded me this past 18 months when I would get a few games and then the team is changed for whatever reason."
McClean added: "Ideally I'd rather play week-in-week-out at West Brom but that hasn't been the case at the minute. I'll work hard like I always do but, for me, regular football is the be all and end all.
"We're in a relegation fight now at West Brom and we need everyone pulling [in] the same direction. I'll give 110% while I'm at West Brom to make sure we get the best results possible."