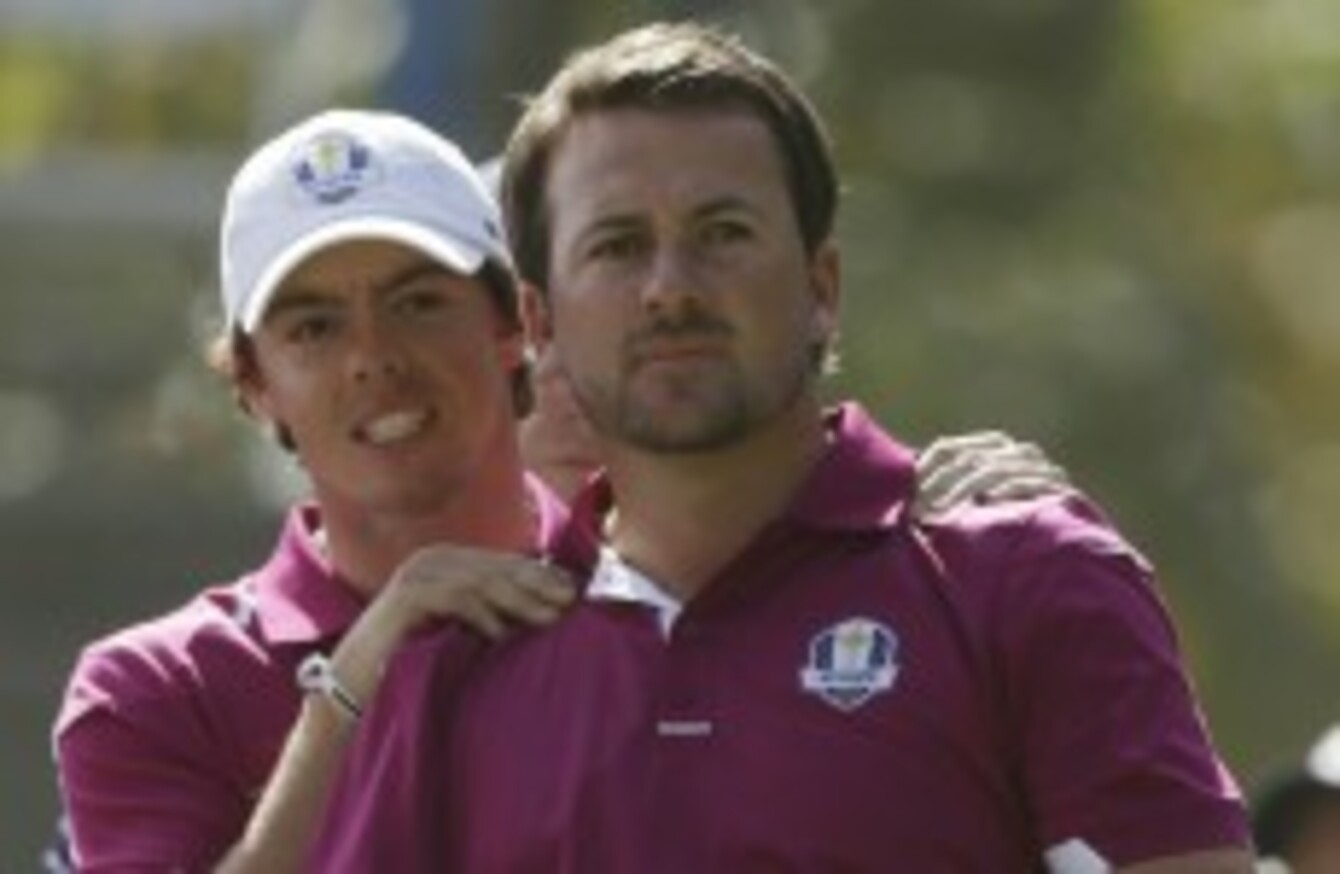 McIlroy and McDowell went 1-2 at the last Ryder Cup, and are likely to be split for the fourball matches this week.
Image: Chris Carlson
McIlroy and McDowell went 1-2 at the last Ryder Cup, and are likely to be split for the fourball matches this week.
Image: Chris Carlson
GRAEME MCDOWELL INSISTS that himself and Rory McIlroy are closer than ever despite their off-course issues.
But he still doesn't feel that they should play fourball together at the Ryder Cup this week.
The two practiced separately at Gleneagles on Tuesday as Europe captain Paul McGinley got to grips with his possible pairings ahead of Friday's opening day.
McDowell and McIlroy have played together at the Ryder Cup six times, winning two matches and halving one.
Their friendship has come under scrutiny during a legal wrangle over McIlroy's previous management deal.
McDowell admitted yesterday: "There's no doubt our personal issues have been well documented the last couple years. And I believe that we've both come out of the other end of that probably better friends than we were going into it.
So our personal issues are not a problem this weekend, so that's a fact.
Instead, he explained, McIlroy has outgrown their partnership as he rocketed to world number one and won his first four Majors.
McDowell said: "I think tactically, you know, Rory and I's golf dynamic has changed significantly from the first time we ever played together back in 2009 or at the Seve Trophy, whatever it was, when perhaps the older brother/kind of younger brother leadership role that maybe I had with him.
"That's changed. He's the world's number one player. He's a four-time Major champion. The dynamic between him and I is changed forever.
He would now be the leader of the two of us and perhaps the dynamic doesn't work as well as it did in the past.
"Perhaps I'm the kind of guy that needs that leadership role a little bit, who needs to feel like he is on at least on a level with the guy he's playing with."
McDowell practiced with the rookie Victor Dubuisson and Henrik Stenson on Tuesday while McIlroy teamed up with Martin Kaymer and Sergio Garcia.
McIlroy's booming tee shots — he was third in driving distance on the PGA Tour this year — left McDowell feeling uncomfortable when the two played fourball at Medinah two years ago.
McDowell says he would "love" to renew the pairing for the alternate shot foursomes though.
"I'll be the first to admit it. At Medinah a couple of years ago, and Rory and I spoke about this, I found the better ball format very difficult with him because he likes to go first. I let him at it, and I kind of come second.
"He's standing there beating it 350 down the middle, and I put my tee in the ground thinking there's not really a lot of point in me hitting this tee shot and find myself throwing myself at it.
Literally it kind of didn't help my game much at Medinah playing better ball with him.
"Foursomes I think is different. I think we could still play foursomes really well together.
"I love playing off his tee shot, as anyone would. 350 down the middle works everywhere, every week, and he's shown that lately."
Their changing relationship on the course mirrors that of captain McGinley and one of his vice-captains Padraig Harrington during their own playing days.
"I've spoken to McGinley about this, as well, because he felt like himself and Harrington were the same way.
They gelled well as a partnership in their early days, but when Harrington became the star, the dynamic changed from a tactical point of view. It just didn't work so well anymore. I kind of feel that's kind of the way Rory and I are viewing this week.
"I think the great thing and the bad thing on our team this week is that we have so many options. Like I say, that's a great problem."