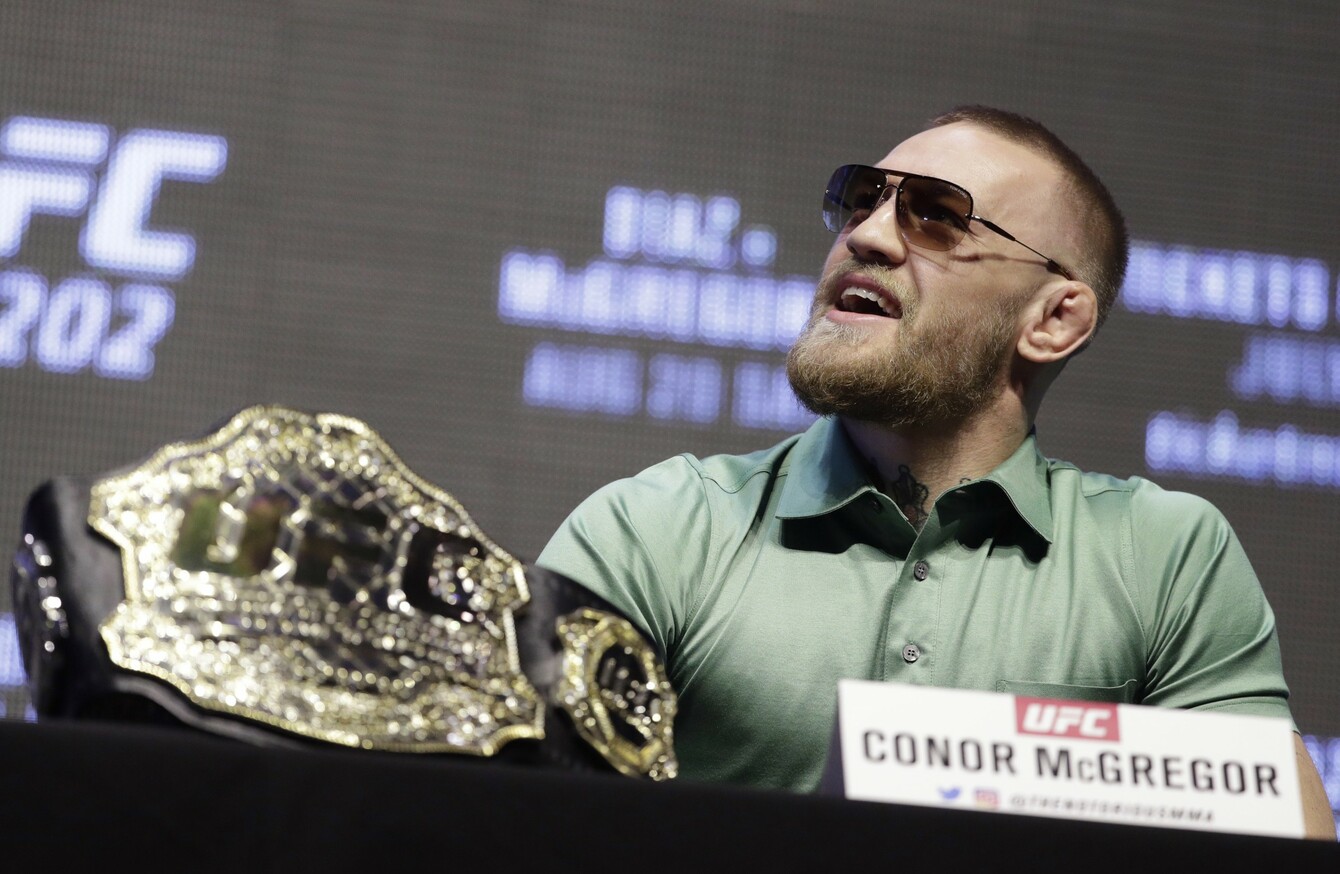 Conor McGregor with his featherweight belt on display at last night's UFC 202 press conference.
Image: John Locher
Conor McGregor with his featherweight belt on display at last night's UFC 202 press conference.
Image: John Locher
A LONG-AWAITED DEFENCE of his featherweight title is likely to be next for Conor McGregor after he faces Nate Diaz, but the Irish star is already predicting that he won't have seen the last of Diaz following their bout at the T-Mobile Arena in Las Vegas on Saturday, 20 August.
Diaz and McGregor will clash at UFC 202 in a welterweight (170lbs) rematch of their UFC 196 bout back in March, in which the Dubliner was submitted in the second round — his first defeat in over five years.
However, McGregor says he's not abandoning the featherweight division, in spite of the fact that he has yet to schedule an inaugural defence of the 145lbs belt that he clinched courtesy of last December's stunning knockout of Jose Aldo.
On Saturday night at UFC 200, Aldo and Frankie Edgar will fight for the interim UFC featherweight title — but more importantly, the chance to be Conor McGregor's first challenger as a UFC champion.
"I giggle when they try and take that credit from me for going up to this weight and fighting at 170lbs. They try and say it's just a fight he's not cutting weight for and all this bullshit," said McGregor at a press conference for UFC 202 last night in Las Vegas.
"Make no mistake, I am the undisputed 145lbs UFC champion. That is my division — a division I have destroyed. Saturday night, two fighters get to fight, rise up and see where we are. But make no mistake, that 145lbs division is my division. I am the world champion at that weight and I will continue to dominate that division.
"I have other business that has presented itself, that I must handle first. But make no mistake, 145, 155, these are all my divisions and I will continue to come back and dominate them."
McGregor insisted on his rematch with Diaz being contested at 170lbs — just like their first bout — instead of 155lbs, which is more familiar to both fighters. When asked to explain that decision, McGregor said he wanted to "right the wrong" under the same terms.
"What kind of fighter would I be if I lost the contest at a specific weight against a specific individual and then I said, 'Well, you got me this time; cut a load of weight and I'll get you at that weight'?
"It makes sense for me to have the contest at 170 to right the wrong; to leave no questions. This is the one. This is where I put everything to rest."
McGregor also expects to end up facing Diaz for a third time at some point in the future, but not until he has had a chance to defend his featherweight title.
"I feel we'll enter into a trilogy fight," he said. "Why not? It was a great fight the last time, I really enjoyed it."

The 27-year-old Straight Blast Gym fighter added: "I'll beat Nate, get that win back, dominate my division again, and then we'll re-talk for the trilogy fight with Nate. So yeah, I believe this will be a trilogy fight."
Source: UFC - Ultimate Fighting Championship/YouTube