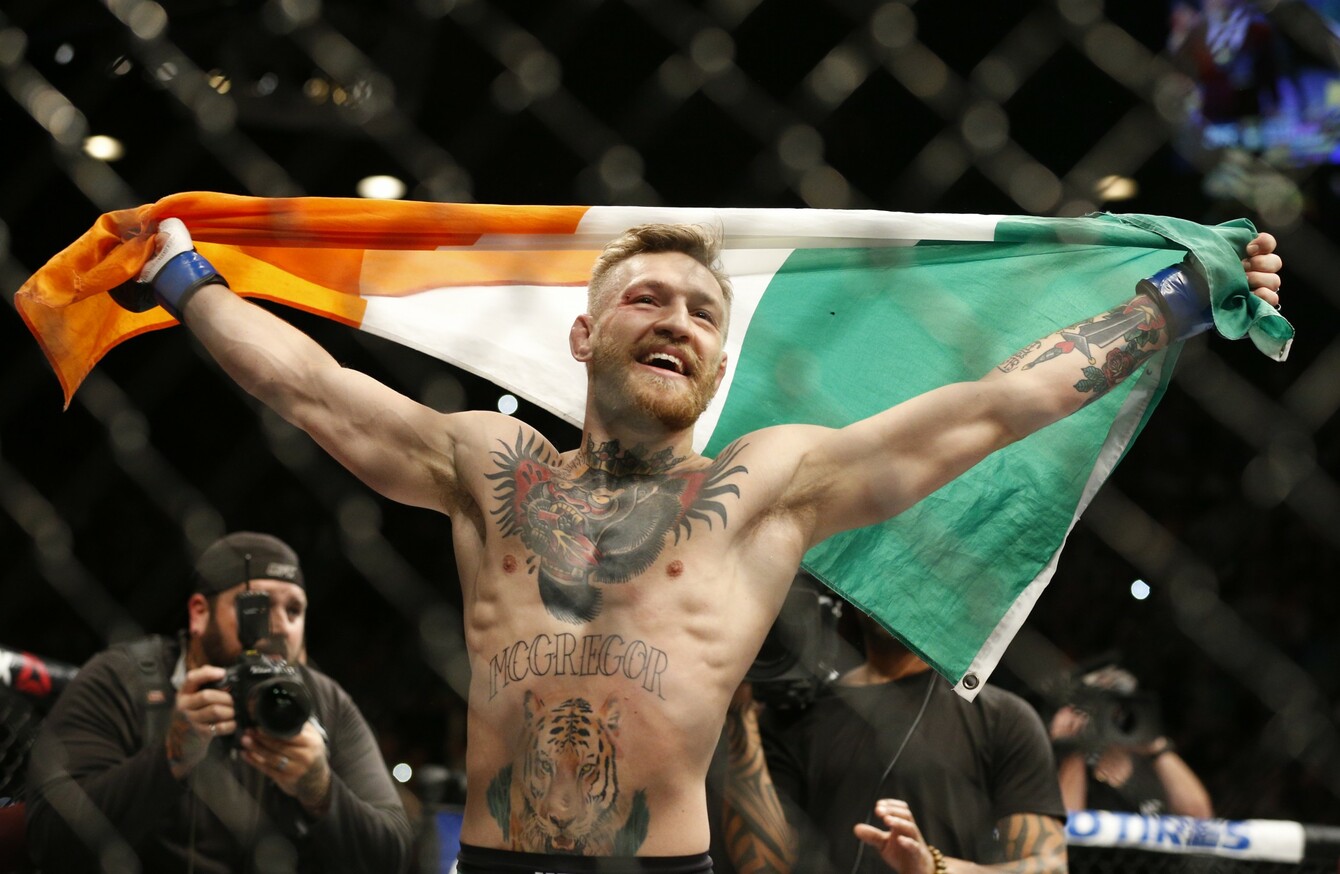 Image: AP/Press Association Images
Image: AP/Press Association Images
It's been described as a fight that'll be heavy on entertainment and light on consequence, but the potential impact of the outcome of tonight's UFC 196 main event between Conor McGregor and Nate Diaz shouldn't be under-estimated.
Having taken this bout on less than a fortnight's notice, Diaz has nothing to lose and everything to gain. For McGregor, the opposite is the case.
Regardless of how emphatically he may dispose of Diaz at the MGM Grand Garden Arena, McGregor's circumstances will remain unaffected.
He'll still be the biggest star in the game, the featherweight champion, with an opportunity to win another title awaiting him at UFC 200 on 9 July. It remains to be seen whether that'll be the lightweight or welterweight belt.
However, if Diaz can defy the 2/9 odds that favour his opponent by giving McGregor a first loss in 20 professional contests — his only taste of defeat in the UFC so far, which would end a 15-fight winning streak — the rewards could be significant for the Stockton veteran.
Diaz would savour another shot at reigning UFC lightweight champion Rafael dos Anjos, something McGregor currently has the right of first refusal on after their 155lbs title bout, which was due to take place tonight, fell through as a result of an injury to dos Anjos.
If Diaz can add a shock win over Conor McGregor to the victory he secured against a resurgent Michael Johnson in December, the UFC will find it difficult to justify rearranging McGregor's lightweight title shot at the expense of another lightweight who has just defeated him. A fight without consequences? Not quite.
Nate Diaz has seldom looked as good as he did against Johnson six days before Christmas. Diaz was in impressive shape as he used his superior boxing, and specifically his four-inch reach advantage, to pick Johnson off over three rounds.
But the performance was by no means flawless. That trademark Diaz defensive strategy of walking through punches was in evidence in Orlando. Against a striker with the power and precision of Conor McGregor, it's unlikely to yield a positive outcome.
In the brief but busy build-up to this fight, Diaz's two-inch reach advantage has been well-documented. It's not sizeable, but McGregor has never competed with a shorter reach before so how he deals with that could be intriguing.
Diaz uses his reach well, particularly as his boxing mostly comprises of basic, pitter-patter, one-two techniques which are geared towards point-scoring while keeping his opponents outside of range.
That was a successful tactic against Michael Johnson as Diaz, with a full training camp behind him, was capable of lasting the pace and securing the result via the judges' scorecards.
Surviving five rounds without being hit by a knockout blow from Conor McGregor's left hand is unlikely for any opponent of the Straight Blast Gym fighter, let alone one coming in with less than two weeks of preparation.
By all accounts, Diaz stays active between fights by competing in triathlons, but a different brand of stamina is required to last the pace at this level in mixed martial arts, especially when McGregor may look to take the wind out of Diaz's sails early on, as he did against Chad Mendes, by targetting the body with teep-kicks.
As efficient as his boxing may be, Diaz lacks the kind of knockout power that allowed McGregor to put Jose Aldo away in just 13 seconds. The 30-year-old has finished just two of his 21 bouts in the UFC with strikes.
If Diaz is unable to use his striking as a means of out-scoring or finishing McGregor, it may instead be an entry-point for taking this fight to the ground, where — in our estimation — he'll have his best chance of causing an upset.
For a Brazilian jiu-jitsu black belt, Diaz is unusually reluctant to shoot for takedowns and nothing would please him more than to defeat McGregor at his own game by emerging victorious from a kickboxing match. But the sooner he realises that's not a likely path to victory, the better for his chances of success.
What Diaz's striking could serve to do, however, is allow him to back McGregor up against the cage, initiate a clinch and whizzer, then drag the fight down to the canvas. That's in Diaz's arsenal and even though he prefers to stand and trade strikes, his greatest strength — particularly in this fight — is his BJJ.
Conor McGregor's two career losses came via submission, and while both fights took place far too long ago to be seen as significant, it's still undoubtedly the area where Diaz would have the upper hand in this contest. Make no mistake: If this fight goes to the ground, McGregor's undefeated record in the UFC will be under serious threat.
Diaz possesses a varied offensive grappling game and it's his most familiar avenue for victory — 11 of his 18 wins have come via submission. But in order to do that, he'll need to penetrate McGregor's range without being clipped.
A fellow southpaw, Diaz likes to keep his hands and lead-right shoulder low. That could be an ominously open invitation for several different aspects of McGregor's wide array of punches and kicks — including the left uppercut and left head-kick.
Accounting for tonight's opponent won't be as straightforward for McGregor as it was when he last stepped into the octagon at the MGM Grand, but once this fight stays upright, it should only be a matter of time until the Irish fighter's fluid movement and unpredictable striking combine to nullify Diaz's height and reach advantage, handing him just the second (T)KO defeat of his career.
Prediction: McGregor via TKO in the second round.