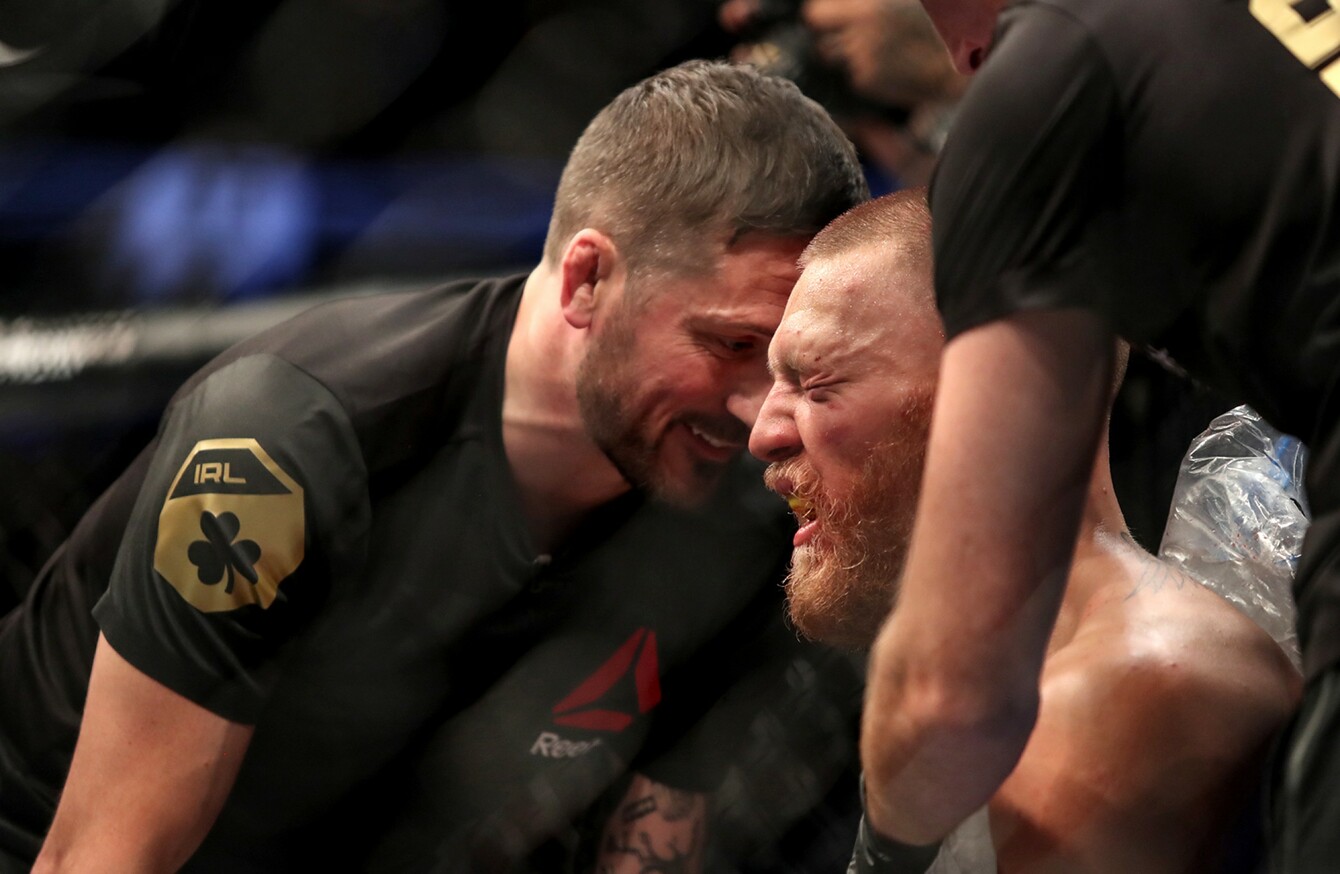 Conor McGregor receives advice from his coach John Kavanagh in between rounds during his defeat of Nate Diaz.
Image: Tom Hogan/INPHO
Conor McGregor receives advice from his coach John Kavanagh in between rounds during his defeat of Nate Diaz.
Image: Tom Hogan/INPHO
CONOR McGREGOR BELIEVES that Eddie Alvarez has little chance of lasting the distance in their UFC 205 main event in 11 days' time.
And McGregor says that if Alvarez does manage to make it to the finish line when they clash at Madison Square Garden on 12 November, it's an experience the reigning lightweight champion will struggle to recover from.
With Alvarez putting his title on the line in New York, McGregor is aiming to become the first fighter in UFC history to hold two belts at the same time after putting himself in line for a shot at the strap courtesy of August's win against Nate Diaz.
McGregor emerged victorious from a gruelling five-round battle with Diaz at UFC 202 in Las Vegas. But in spite of a gritty and resilient display, some observers were criticial of the Irish fighter, insisting that he struggled to handle the demands of a 25-minute contest.
The rematch with Diaz marked McGregor's first venture into the championship rounds of a fight. Alvarez has been beyond the third round on three occasions in the past, while 15 of McGregor's 23 professional bouts have ended in the first round.
Nevertheless, in a conversation with UFC commentator John Gooden recently at Straight Blast Gym in Dublin — footage of which was captured by The Mac Life — McGregor showed no signs of concern for his stamina. In fact, the 28-year-old seems adamant that Alvarez won't be able to live with the pace he's capable of setting.
"I'm coming alive in the fifth round," said McGregor. "My body fat is coming down and my VO2 max is going up. We've been monitoring this very carefully. I don't think he's going to last anywhere near the fifth round. If he does he'll never fight again. If he does I'll take my hat off to his heart. But he'll be like Nate. He'll never, ever, ever be the same again.
But if he does make it to the fifth, that's when I take off. I'm sprinting in the fifth. We're ready."
After his second-round submission defeat to Diaz in March, McGregor overhauled his approach to preparation. A key player in his new training regime is Dr Julian Dalby, a former Irish cycling champion. McGregor is also planning to make the three-month training programme he used for the Diaz rematch available for fans to follow.
"It's been phenomenal. All you've got to do is look at the results. From the first Diaz fight to the second Diaz fight, it took me three months to get that. It took me three months from not lasting two rounds to out-lasting a triathlete over five rounds who has 30 pounds on me," McGregor said.
"The work we're doing, the cardiovascular training that we're doing with the doc, with the ninjas, with Coach Kavanagh, everything is monitored. Nothing is guesswork. There's no guesswork here. Everything is true now."