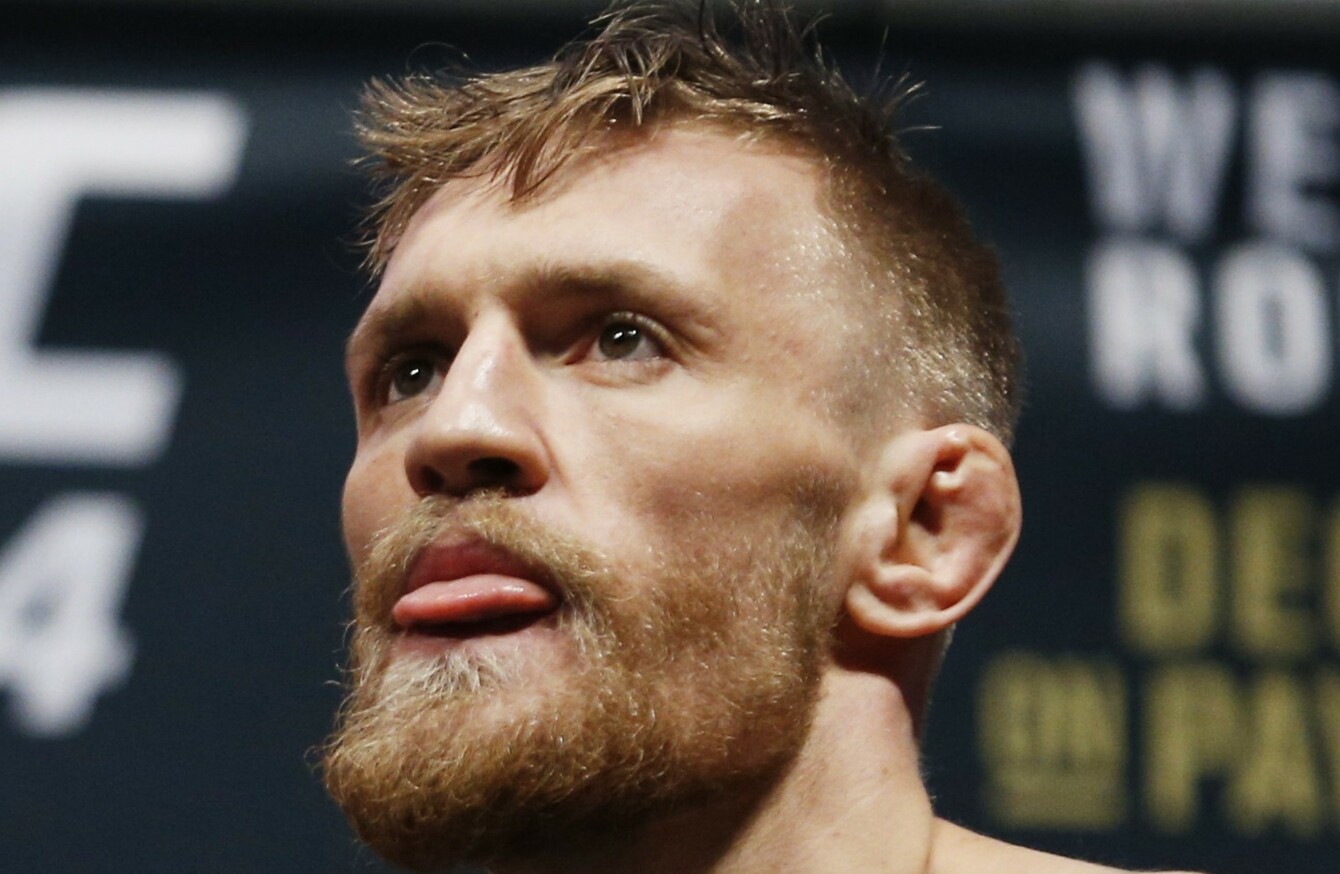 A gaunt Conor McGregor after weighing in at 145lbs for his bout against Jose Aldo in December.
Image: John Locher
A gaunt Conor McGregor after weighing in at 145lbs for his bout against Jose Aldo in December.
Image: John Locher
FOR CONOR McGREGOR, this has been an unusually enjoyable fight week.
This Saturday night in Las Vegas, McGregor was due to make an unprecedented bid to add the UFC lightweight belt to the featherweight title he won in December.
Instead, owing to an injury sustained by lightweight champion Rafael dos Anjos, McGregor will face Nate Diaz in the main event at UFC 196 at the MGM Grand.
There's something quite unique about that too, however. McGregor will fight Diaz at welterweight, ascending two weight classes from his most recent outing just 12 weeks ago.
It means there'll be a 25lbs difference — 145lbs to 170lbs — between the weight limits for McGregor's next and previous contests. An equivalent move in boxing would involve a leap through four divisions in one fell swoop.
The culture of extreme weight-cutting in mixed martial arts — which was largely inherited from a similar approach to the practice which exists on the amateur wrestling scene in the US — is something unanimously bemoaned by MMA fighters as the most unsavoury element of the sport.
When a defeated fighter begins the search for answers as to where things went wrong in the aftermath of a loss, questioning whether they're competing in the right weight class is one of their first ports of call. There's perhaps an element of denial involved, as convincing oneself that an opponent possessed a size advantage can be a more convenient scapegoat in the thought process than confronting and accepting a deficiency in ability.
Following drastic weight cuts, the deaths of fighters in Brazil and the Philippines in the past couple of years have forced the MMA community to reconsider its nonchalant stance. Is it worthwhile for a fighter to put their long-term health at risk for the sake of being half-a-pound heavier than an opponent?
Conor McGregor hasn't been hesitant in expressing his desire to conquer several weight classes. While the reigning UFC featherweight champion can certainly be described as a big weight-cutter when it comes to competing at 145lbs, it's ironic that he could potentially be the catalyst for widespread change to that approach should he succeed in multiple divisions.
John Kavanagh, McGregor's head coach, has previously discussed how he's not a proponent of hefty weight-cuts: "Nobody gets into this sport to be the best weight-cutter. This time, everything has been geared towards getting better, not getting lighter," said Kavanagh in a recent column here on The42.
Seemingly, Conor McGregor has been a different man in the build-up to this weekend's fight. At featherweight, the gradual reduction in his calorie intake began as much as five weeks out from the weigh-in. Understandably, that had a detrimental impact on his day-to-day life but, by now, the suffering had become part of the process.
Just a fortnight prior to Saturday's fight, McGregor spent the weekend in Galway for a friend's birthday celebrations — an otherwise insignificant piece of information, yet it's something he wouldn't even consider as a featherweight. Removing the restrictions that were placed on him by weight-cutting obligations has allowed the 27-year-old to do so.
One only has to watch the first episode of the UFC 196 'Embedded' series to recognise the present differences in the Dubliner: "I have so much energy. I'm on weight right now, I've had two breakfasts. I feel really good. I enjoy movement so it's nice when you can put some food in your body and go and move," says McGregor, who's later seen enjoying a large meal at a Brazilian BBQ restaurant, just a week out from weighing in.
"We just trained for four-and-half hours straight there and I'm still full of energy. I was debating what's next. That's a good thing. I don't have to worry about weight, I don't have to worry about nothing. Just keep the body loose, keep the body sharp, go in and put this man away."
While preparing to compete above featherweight, it's becoming increasingly clear to McGregor's camp that — although he won't be significantly bigger than most of his opponents, as he's been accustomed to — deleting the process of severe dehydration 24 hours before a fight is likely to produce a stronger, and better, Conor McGregor.
"Because Conor is so tight on the weight at featherweight, we've actually been able to do a lot more training for this," John Connor, McGregor's strength and conditioning coach, explained in Countdown to UFC 196. "He's able to eat, which means he's able to train harder."
Those sentiments have been echoed by McGregor's training partners: "He's stronger, even faster, at this weight," said Gunnar Nelson. "He still moves as quickly as he did at featherweight, but he's carrying a bit more muscle," Owen Roddy insisted. Artem Lobov described the past few weeks as "a happy camp".
McGregor has efficiently utilised his long reach against featherweight opponents but few observers are likely to genuinely contend that his size was a decisive factor in his impressively rapid rise to the top of the 145lbs division.
Comparing his attributes to the two title-holders above him on the scales, McGregor is the same height as 155lbs champion Rafael dos Anjos — and has a three-inch reach advantage. His reach matches that of 170lbs kingpin Robbie Lawler, who's two inches taller.
Let's not forget also that McGregor's last venture beyond the featherweight division ended with what was regarded as his most emphatic knockout — until he dethroned previous UFC featherweight champion Jose Aldo at the end of 2015. In December 2012, McGregor sealed a UFC contract and the Cage Warriors lightweight title with a first-round KO of Ivan Buchinger.
McGregor will wake up with a smile on his face tomorrow morning, content in the knowledge that for the first time since he began competing for the UFC three years ago, he won't be required to endure 24 hours of torturous hot salt baths to draw every last ounce of moisture from his parched, ravenous body.
There are contenders waiting for him in the featherweight division; Frankie Edgar is at the head of the queue, while Jose Aldo, Max Holloway and Chad Mendes are all looking for another spin too. They say McGregor still has questions to answer at 145lbs, but the Irish superstar won't be lured in.
He's astute enough to know that even if those boxes were to be ticked, more featherweight contenders would emerge in the meantime calling for a lucrative shot at the Straight Blast Gym fighter.
A meeting with Frankie Edgar would be welcomed by all, but 'The Answer' may have to return to the division where he was once a champion in order to get that opportunity, or else abandon his pursuit of McGregor in favour of a fight for a title which could be vacated before long.
Conor McGregor is beginning to suspect that it's quite possible he can continue to be the wealthiest and most successful fighter in mixed martial arts without having to endure the diet-enforced misery that has so far accompanied it. Victory against Nate Diaz on Saturday will bring him another step closer to that realisation.
The42 is on Snapchat! Tap the button below on your phone to add!