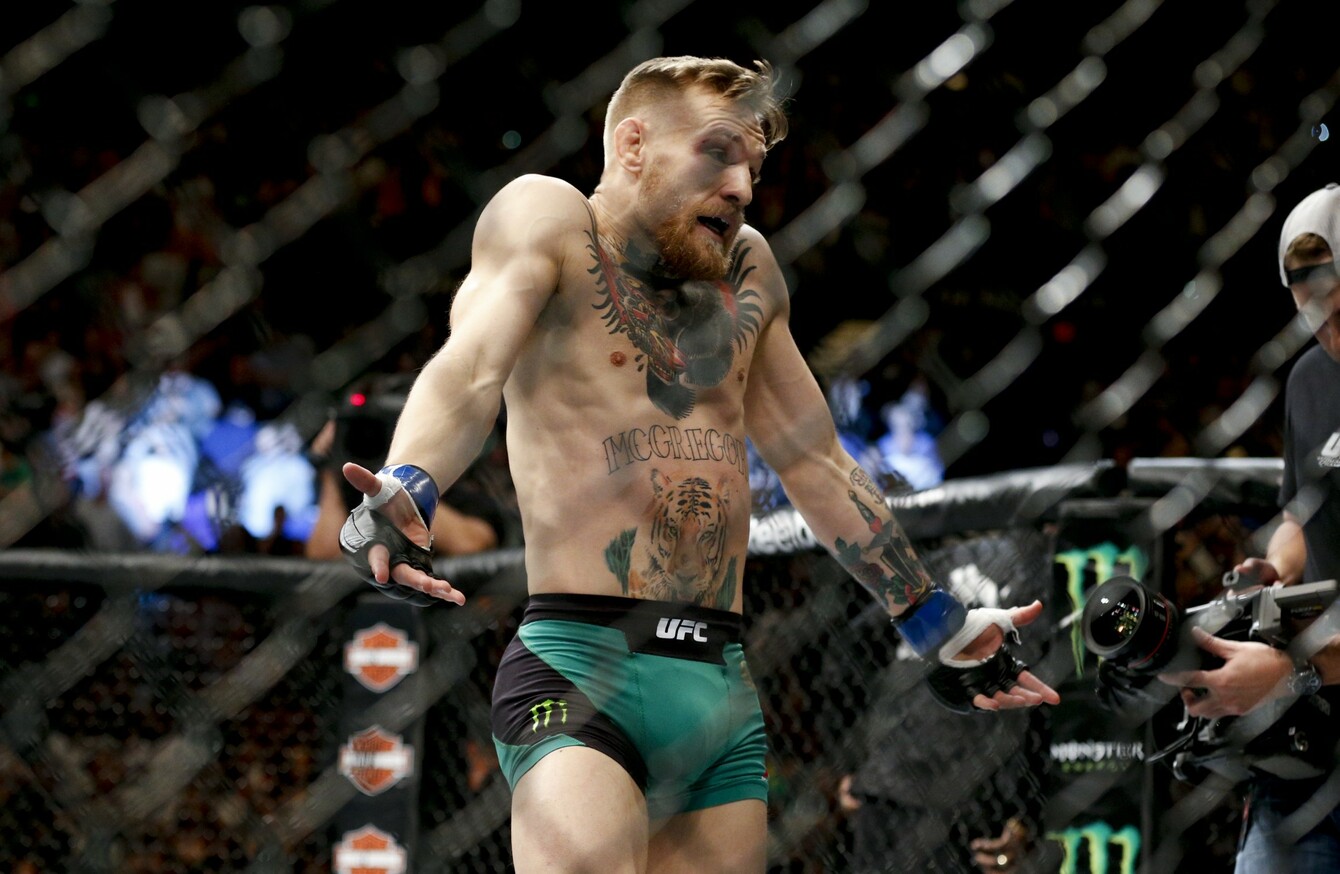 UFC featherweight champion Conor McGregor.
Image: John Locher
UFC featherweight champion Conor McGregor.
Image: John Locher
CONOR McGREGOR IS expected to bid to make history in his next fight, which is set to be against UFC lightweight champion Rafael dos Anjos at UFC 197.
If he's victorious in Las Vegas on 5 March, McGregor will become the first fighter to hold two UFC belts at the same time.
Reports that the fight had been agreed initially emerged from the US late on Thursday night via Bleacher Report's Jeremy Botter, who added that the event is due to be co-headlined by Holly Holm's bantamweight title defence against Miesha Tate.
McGregor's latest social media offering appeared to back up Botter's report. On Saturday, the reigning featherweight champion addressed his next outing: "My next fight. What can I say, it's just another night of easy work for me. I don't just own the game. I run it too."
The expectation was that the fight would be officially announced on FOX Sports during the half-time break in last night's NFL play-off game between Green Bay Packers and Washington. That also seemed to be the understanding of McGregor's coach, John Kavanagh.
However, the game came and went without any UFC news being revealed, so fans began to worry if the fight wasn't a done deal after all.
This afternoon, Brazilian media outlet Combate added fuel to the fire by claiming that McGregor was holding up the announcement of the fight by refusing to sign the contract and demanding more money. A tweet from Ali Abdel Aziz, dos Anjos' manager, also suggested that McGregor was to blame for the delay.
However, Kavanagh's next tweet regarding the matter appeared to contradict that. According to him, it's all systems go for the McGregor camp for 5 March.
Jeremy Botter's information also appeared to vindicate McGregor.
Steven Marrocco of MMAjunkie also spoke to McGregor's manager, Audie Attar, who said his client isn't responsible for the delay.
Speaking to Ariel Helwani this evening on The MMA Hour, McGregor's striking coach, Owen Roddy, said: "All I know, just from listening to Conor, is that he's fighting on 5 March.
"The opponent is up in the air. It could be dos Anjos, it could be whoever. But the thing is Conor is looking to fight on 5 March. Realistically, everybody wants to see Conor so the opponent is not really important. I'm sure he'll be fighting on 5 March, so stay tuned."