JIM MCGUINNESS BELIEVES Dublin should insist on playing just one Super 8s game in Croke Park for the benefit of their legacy.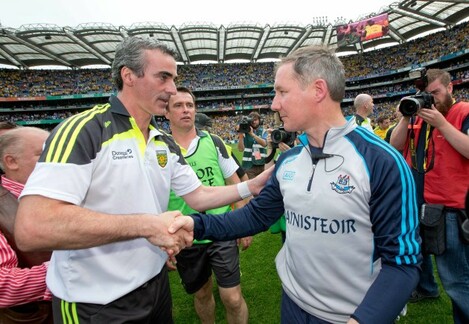 Source: Morgan Treacy/INPHO
The reigning All-Ireland champions look set to play two of their three Super 8s games at headquarters next month – one will count as a home match and the other as a neutral one.
Every other county is guaranteed one home game, another in Croke Park and an away game.
And McGuinness says allowing the Dubs play twice at Croke Park gives them "an unfair advantage" in the competition.
"They haven't lost a game in four years," McGuinness said. "They're a top, top team. Are we seriously trying to suggest they're going to lose two games now in a month if they haven't lost one in Croke Park in four years?
"If they've two home games in the Super 8s, then Dublin are through. This isn't even a conversation. I think it would be good for Dublin, good for their legacy and good for Jim Gavin's legacy to just say, 'We don't want to play in Croke Park. We'll play in a neutral venue, wherever that game is we'll put our hand up and play it.' And they're good enough to go and beat anybody anyway.
"I think it would take that negativity away from that dynamic and will create this…'Okay, that's fine let's do that and we will see them in Clones, Castlebar, Breffni or wherever it is.'
"I think that would be great for the championship. If you're the other 31 counties well you can't knock that, you can't fault that. It's too easy for all the other counties now to go, 'Ah hold on a second, we're back to square one here.'
"So I think even if they have said it there's still room to change that if Dublin put their hand up and say, 'No, we want to go with what all the other teams are experiencing. We want to experience that as well and when we win the All-Ireland this year nobody can say anything about it."'
McGuinness also paid tribute to Donegal's star forward Paddy McBrearty, who has been ruled out for the rest of the season after tearing his ACL at the weekend.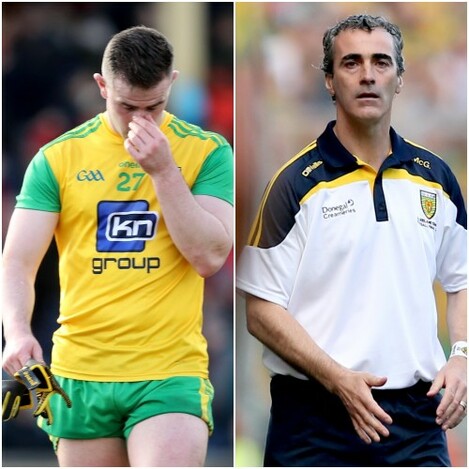 McBrearty left the fray in Sunday's Ulster final win over Fermanagh in the 38th minute due to a knee problem and subsequent scans revealed he had suffered the dreaded injury.
"I think it will be very difficult for Paddy and knowing him the way I do know him he is so passionate about it," McGuinness said.
"He's grown into such a great person, a great leader and a great footballer. Of course, it is going to be difficult for him. You've just had all your dreams ripped away from you mid-season. You just won the provincial final and looking forward to a new format against the big teams.
"For all of that to be taken away because a doctor is going to say, 'Listen, something has popped up on a scan here.' That will be hard to take. It's just up to everybody to get around him now and support him as best we can. Make that transition back to full health as smooth as possible and hopefully that will be the case."
Be part
of the team
Access exclusive podcasts, interviews and analysis with a monthly or annual membership.
Become a Member
At 24 years-old, McBrearty had become the central figure in the Donegal attack and scored 0-53 in nine league and championship games so far this season.
McGuinnes continued: "He is a special player and I suppose a lot of Declan's thoughts and the management was, 'How do we get Patrick on the ball? How do we facilitate him?'
"A lot of the scores came on the loop they were hanging him the ball in pockets of space if you like. I thought the team did that brilliantly over the course of the National League and during the championship. In terms of finding him and the way they played the ball and ran the ball all filters into that."
Jim McGuinness will join the Sky Sports analysis team for this weekend's games between Cavan vs Tyrone and Kildare vs Mayo live on streaming service NOW TV and Sky Sports Arena. Only NOW TV lets you watch live pay TV, on-demand shows, Box Sets as well as the latest movies and exclusive live sports without a contract through a selection of NOW TV Passes. For more information and to sign up for a free 14 day trial, go to NOWTV.com Source: Sam Barnes/SPORTSFILE
McGuinness believes the loss of McBrearty will mean Declan Bonner may have to tweak his game-plan heading into the Super 8s.
"How that pans out for them now moving forward, will it be different people who will be rotated into the forward line? Do you go for a younger guy? It is very hard to know.
"These are the conundrums that Declan will be faced with over the next couple of weeks.
"It is disappointing for everybody, like Diarmuid Connolly, you want to see the best players in the country play in the game and now all of a sudden we've lost one of the most exciting forwards in the country and that is disappointing for the championship and devastating for everybody in Donegal.
"Not having him now, as that reference point, how does that facilitate how does the game plan facilitate that, we'll have to wait and see. I don't have the answer for that at the moment. Can the continuity be there or do they have to go with a different kind of player?"
McGuinness and McBrearty celebrate beating Cork in the 2012 All-Ireladns semi-final Source: Donall Farmer/INPHO
McGuinness introduced McBrearty to the senior set-up while he was still minor and believes the Kilcar ace can still play a positive role around Declan Bonner's squad this season.
"A lot of this will come down to the recovery from the player's point of view. A lot will come down to how Patrick recovers and if he can be strong and be positive and almost see beyond himself which is an incredibly difficult thing to do in the circumstances but I think he is well capable of doing that, Patrick.
"Then I think he could have a really important role to play in the squad. The most important thing now is he gets the best person possible to do the job and then he gets the best treatment after that. Immediately that is the most important thing for him. That he gets on that path to full health as quickly possible."
The42 is on Instagram! Tap the button below on your phone to follow us!