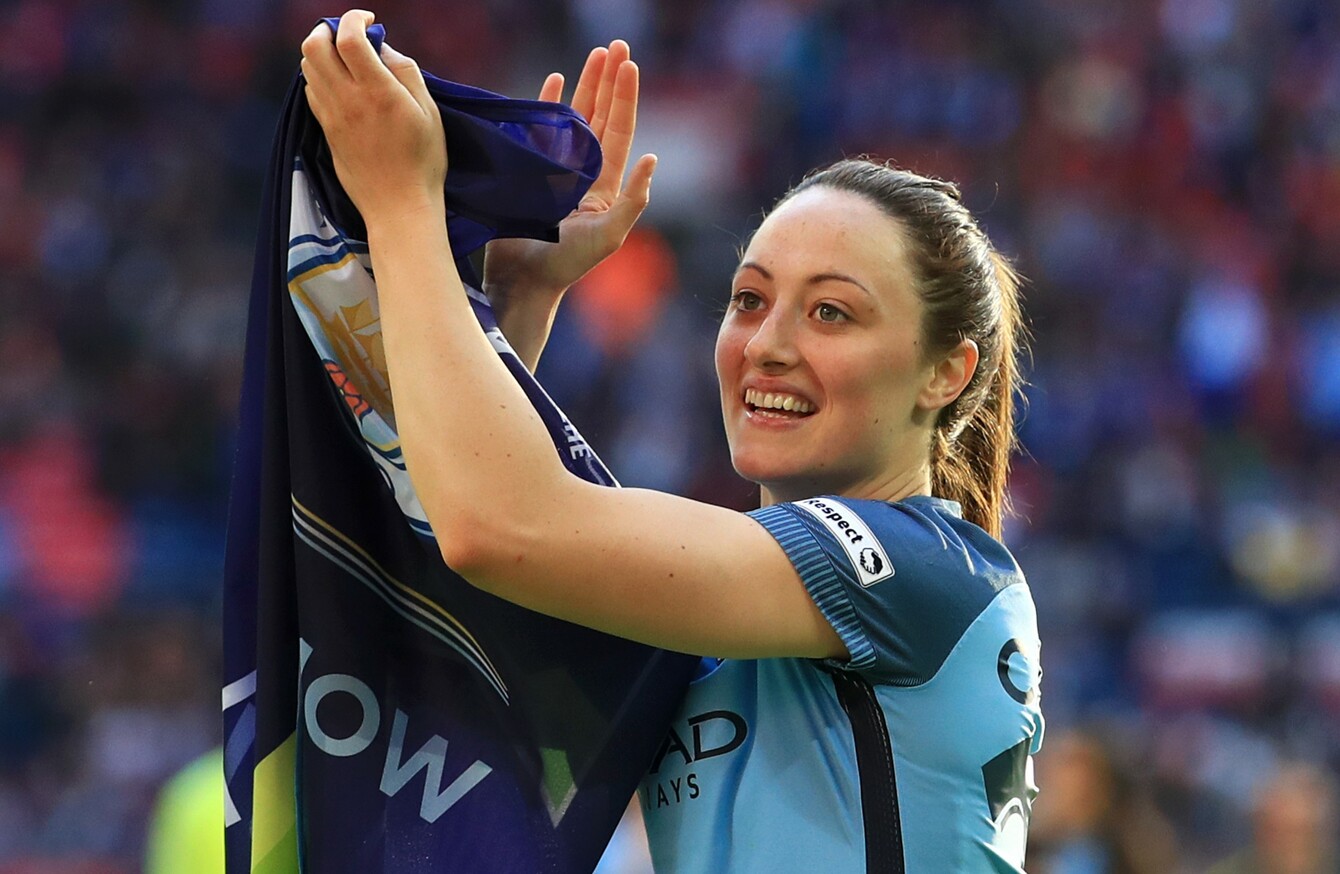 Image: EMPICS Sport
Image: EMPICS Sport
"IT WASN'T A bad win," she smiles when congratulated on her FA Cup final victory with Manchester City this day last week.
Before last weekend, many outside of women's football circles may not have heard much about Megan Campbell. But they know her now.
Originally from Drogheda, Campbell was one of the stars of the show as her side beat Birmingham City 4-1 to win their maiden FA Cup in front of a record-breaking crowd of 35,271.
Leading from defence, she put on a glittering attacking display with two impressive assists, and the 23-year-old grabbed the headlines as the silverware headed for Manchester.
"It definitely is childhood dream," she tells The42. "As a kid growing up, you want to play at Wembley, and play in front of big crowds. To be able to do, and complete two of those dreams on Saturday was an unbelievable feeling."
That feeling was made all the sweeter when you consider the 'long road' she has traveled over the past year or so.
Having spent three years at Florida State University, splitting her time between football and her Social Sciences degree, Campbell made the transition back to this side of the Atlantic.
11 February 2016 is a date she can rhyme off — when she signed for Manchester City.
She was in Abu Dhabi, off the back of a pre-season tour. Back in Manchester, she lined out in two pre-season friendlies, and she was 'doing quite well,' as she says herself. Campbell was living the dream.
Then came the long string of injuries.
On international duty that March, she badly damaged a ligament in her ankle. That was two months out. During the rehab process then, she tore her quad which meant another month out of action.
Towards the end of June, she got back training with the first team and was starting to find her feet again. A few games under her belt, and everything seemed to be going swimmingly.
Until one day in London in August.
It was the morning City were preparing to face Reading, and they were doing a light session. Campbell was chasing down the ball in a possession drill, and what happened next lead to ankle reconstruction surgery and eight months out of the game.
"My foot just got stuck in the astro turf and my ankle kept going. I heard a big pop, and a sharp pain went through my leg. I thought 'something's not right here'
"I was in a lot of pain and went to the hospital. Thankfully there was no break but later I found out that I had tore the ligament off the bone and needed surgery.
"Obviously, it wasn't the most ideal thing to happen to me, and mentally it was quite tough as well. I had just worked my way back into the team after being out for so long.
"When you only sign for a team, and you're new to the team and all you've been is injured, it's quite tough to take. Both physically and emotionally.
"The support of the staff here, and all of the players, it was quite critical in a sense to have that backing behind me. Maybe at a different club, I wouldn't have got the same amount of support and people around me that I needed at the time.
"I know it's hard to say, but you can take positives from such a negative situation. It helped me mentally a lot to know that I was in the right place and they were doing everything they could to get me back as quick as possible."
It really was one misfortune after another, but she's well and truly back now and has announced herself on the English football scene.
This March — over a year had passed since she signed for the club — was her first real opportunity to break into the side.
Of course after everything, walking out on Wembley was a huge achievement for Campbell personally, but she's over the moon with her full return up to that point too.
"Even the three games before [the FA Cup final], where I got minutes back, and was able to provide for the team against Reading and against Bristol — to get 60 minutes and to start, it was my first game starting.
Those games, back on the grass with the team and enjoying football again, I was so happy.
"Thankfully then, the extra bonus of playing at Wembley was handed to me and I couldn't say no I suppose," she laughs.
The Friday morning, as Nick Cushing named the team, Campbell was just hoping and praying that she'd be named in the match-day squad.
"He's going across the back line and says 'Bardsley, Bronze, Houghton…. And Campbell….' As soon as he said Campbell, I didn't hear the rest of the team being named.
"I was in shock that I had been named in the 11 let alone the squad. I think for a few minutes of the conversation after, about set-pieces and tactics, I was in a world of my own. I couldn't believe what was going on. I was just trying to let it sink in.
"Then I was like 'Meg, you need to focus on set-pieces here because obviously they'll be very crucial in the final tomorrow.' Then it was just trying to turn my focus, and energy and excitement into the set-pieces themselves."
And that she did.
Just before they hit the road to London, she had a quick call home to make though.
"I just said 'guess what?', and Dad was asking 'what, what, what's up?' He got me to name the team then, and he just looked at me do a face palm and I was like 'yeah, I'm playing.'
Obviously bursting with pride, he soon had the news spread, and any plans that were in motion to see his golden girl in action, were fully finalised.
"My uncle text me — 'I hear a little rumour that somebody's starting tomorrow.' I was like 'Dad, the team's not official yet, you can't do that!'
"Mum, who couldn't travel, and my sisters — I got texts off them all wishing me the best of luck. Thankfully, it's nice to have social media because without it, I think I'd be lost being so far away from home."
The Campbell fan-club — including her Dad, her uncles and cousin who both live in London — provided her with her own piece of home in London's iconic stadium among a sea of City and Birmingham fans.
"There was just two Irish flags in the middle of the crowd and I was like 'I can obviously tell where my family are!' — in a massive stadium in blue and white.
"It was a really nice feeling to have them there and have them witness it because obviously, they all know what I've gone through in the last 8-9 months with injuries and how hard I've worked to get back.
"To be able to get on the grass, I didn't expect it at all. To be able to play 75 minutes and have a big impact on the game, I was really happy to be able to fight for the team."
Campbell is known for her extraordinary long, Rory Delap-esque throw-ins, but it was her left foot that worked the magic on Saturday.
The first assist came in the form of a free-kick which found Lucy Bronze's head before rattling the net. The second was a cross to pin-point two-time Fifa World Player of the Year Carli Lloyd, who gave City a 3-0 lead by half-time.
"Just before I went to take the first free-kick, I said in my head to chill myself out 'just like training, just like training' and thankfully it happened, the right ball went into the box.
"The third goal was also like something that we had worked on. The ball got squared back to me, and thankfully that one came off too. I was able to get enough whip on it to get it to the back post to Carli.
"It was never going to be an easy test and I think right until the end, Birmingham proved that they're a good team and they'll go far in the near future. Scoring against us in the second half, even though they were 3-0 down showed that they were never going to stop.
"At half-time we went into the dressing room, and Nick was like 'the story's only halfway done, it's not complete yet.'
The job was done in style at the end of the day, and Megan Campbell was one of the names that really stood out.
Twitter was flooded with praise for the Ireland international throughout, and after the game, and her username was mentioned over and over again.
Social media activity, along with messages from family and friends, came in droves as she came to terms with what had just happened.
"Honestly, my phone wouldn't work. I couldn't get on the home screen for I don't know how long. I was like 'I can't even touch my phone', because as soon as I opened it and it connected to the wifi or data, more would come in.
"I just put it away. Then, I was trying to call Dad for ages to see where he was after the game so I could meet up with him [and couldn't].
"But obviously, it's a nice thing. It's obviously been a long road coming back and to have people around me, and their support, is really nice.
Just an elusive list of Ireland players can say they've played in Ireland, England and America. And Campbell is one.
At home, she started out with Grove Rangers, before heading to Boyne Rovers and then Moneymore, all local clubs. Drogheda United was up next for a year-long stint and then she went in the direction of Dublin to St Francis'.
It wasn't always just soccer though.
"I played Gaelic, basketball, I did running, athletics, I did horseriding. My mum and dad were like 'Meg, you need to pick one, you're killing us!'
The whole week was covered with 'Meg, we're going here, Meg, we're going there.'
"I picked the right one though, I think."
Definitely so. From St Kevin's, she liked up with Raheny (now joined with Shelbourne and they field under the latter's name) and played in the early days of the Women's National League.
Already with a diploma in Sport and Exercises in IT Carlow, when the opportunity arose to jet off Stateside to Florida State, Campbell grabbed it with both hands.
Having played in three leagues, she admits that there are huge differences.
"Ireland unfortunately, is still quite far behind in terms of a professional league, it's still amateur at home. To be fair, they are building and putting more money into the youth systems and that to build that growth within the Irish league. It's still a bit far behind, and it's got a long way to go to get to where England is now. Hopefully in time, it will get there.
"With America, they've got a lot of money pumped into the colleges. Especially the college I was at, it was a top top college, and sport was looked upon [highly]. The fans and everyone were rooting for the team to do so well.
"You would have 4000 people at a home college game, which for me, was on a different level and something I had never experienced before. It was nice to have that support and have everything at your disposal at Florida State.
"Coming home, I thought I'd never get it again. But when I walked into the City academy, I honestly couldn't believe what I was seeing. From U8 boys and girls the whole way up, the academy is on a par to no one else in this country. They put a lot of funding and backing into it and thankfully, it's paying off.
"They've brought in a new academy now for girls. The development is there for girls football, and I think for me playing in it right now, I'm hopeful that it's just going to keep growing and developing, whether that be Ireland, England or America.
"You just want the game to grow and for women's football to continue to succeed, especially from where it has come from."
Of course, last month, the Ireland WNT took a huge stance and outlined the extraordinarily low-quality working conditions they are expected to perform under in a last-ditch attempt to receive better treatment from the FAI.
The succeeded in their efforts, and an agreement was reached.
Many players have since said that they decided to go public for future generations, and Campbell — who had flown home and was present in Liberty Hall for the press conference that day — is the first to echo their words.
"I was just saying it to family when it was happening — it's not even for us, we're not asking for this stuff for the players in the present moment. It's for the future of the game in Ireland and for that to grow and develop.
"It was more for the future of the game and for young girls to be looking at us and going 'I want to play there one day' instead of 'I don't want to play there because look how they're being treated and look what's being given to them, or lack of what's being given to them.'
"Obviously it was really successful and we're thankful for how it went. When it did go out into the news, I think the whole country was behind us in that sense as well. It showed in the end when we were successful with it.
Now though, it's time to do their talking on the pitch. It's all eyes on September's World Cup qualifiers.
In a group with Northern Ireland, Slovakia, Netherlands and Norway, Campbell is happy with the outcome of the draw.
"We're more than capable of getting ourselves out of that group. Colin's [Bell] come in, it's a fresh start, he's brought in new players, and bringing the younger girls up. He's also bringing girls up who have never been at the camp before and they're older.
"It's nice to have that fresh, new start as such for the team with all that's gone on in the past. It's a great start for the team and there's great confidence and great unity within the team, especially since that thing happened.
"We're just looking forward to the World Cup qualifiers and we'll give it everything we have. The home games especially are going to be important for us. We need to be building on the momentum that we have right now and winning our home games, especially with the success that we had in that campaign.
"Now having fans and the country behind you, you need to give it back."
The42 is on Instagram! Tap the button below on your phone to follow us!