MEGAN CAMPBELL IS beginning to see light at the end of the tunnel.
Six months have passed since the Republic of Ireland full-back underwent surgery after rupturing anterior cruciate ligaments on club duty for Manchester City at the end of last year.
Having missed the FA Women's Super League (WSL) campaign as well as the World Cup qualifiers against the Netherlands and Slovakia, Drogheda-born Campbell has set a target to be back in action for Ireland's final Group 3 game at home to Northern Ireland in August.
"The Northern Ireland game is still a target for me," Campbell says. "If I'm back in training with Manchester City — pre-season is in July — I've spoken to the physios and I'm hopeful that I'll get back in and around the team. Then I'll be increasing the training load to get back fully with them, which would put me in good stead to come back for the national team.
"I've got my muscle mass back to where it needed to be so there not worried about that at all. Now, it's about maintenance and making sure I don't get any more knocks or niggles from anywhere else. But there's also getting my physical shape back. It's been seven months so it's not easy."
It has been an extremely testing period in her career — with a couple of setbacks hampering her rehabilitation — but the 24-year-old has called upon past experiences with injuries and tried to remain positive throughout.
"You're always going to get minor setbacks throughout your rehab," she adds. "It happens to everyone but it's tough because you think it's the end of the world when you miss a week or two.
In the long run, it's not that long but to you in the moment it's the end of the world. I think when I started running outside it gave me the confidence and I thought 'You know what, you're actually not that far off now'.
"Obviously, the [Man City] girls are gone away for the summer so it gives me that six-week period to get myself in better shape and get some technical work in with S&C [strength and conditioning] and stuff to be able to come back in with the team and kick on."
Martin Rickett Campbell can't wait to get back playing for Man City. Martin Rickett
Man City finished second in England's top flight behind champions Chelsea and they will be aiming to close the gap next term.
City rivals Man United have also announced that they are finally entering the league — albeit the second division initially — and Campbell says their inclusion can only be a good move.
"I think it's a positive thing," she explains. "From a women's point of view, it promotes the game. Globally, they're the most well-known club. It can only stand to women's football that they're catching up and finally putting a women's team in.
"It's about time that they did it, I'm looking forward to it. They'll start in the division below us and then develop, hopefully growing through that. Maybe we'll get them in the cup."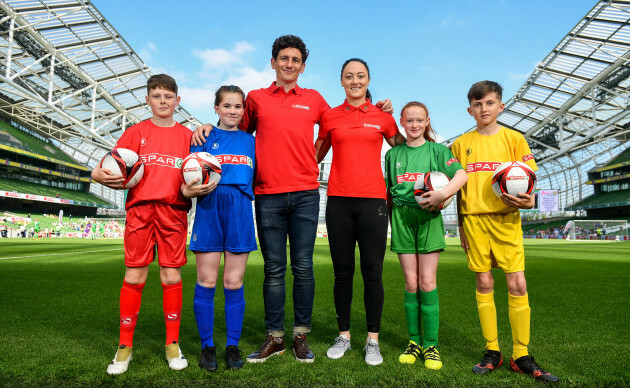 Megan Campbell alongside Keith Andrews and, from left, Eric Cunningham, Genevieve Sherlock, Ava Cunningham and Conor McDaid at the SPAR FAI Primary School 5s national finals.
The Girls in Green are still in the running for a berth at next summer's World Cup and it is the eve of a massive double-header with Norway that kicks off tomorrow at Tallaght Stadium (5.30pm).
With the Dutch favourites to clinch top spot in Group 3, Colin Bell's side will battle it out with their latest opponents for runners-up. Even then, however, it is only the four best second-placed nations who go into a play-off for the finals in France.
"We definitely need four points, six would be a bonus," says Campbell, who maintains the Norwegians are underestimating Ireland. "The home game is going to be crucial for us to start us off well against them. In the past, you'd look at Norway and think they're a very good team — solid and not easy to beat.
"But they're looking straight past us. I've heard in their national team interviews that their manager is focusing on Holland and seems to think it'll be six points against us, which stands well for us because they don't expect us to go out and do anything against them.
"But then again, the Holland manager said that we're going to get results off them. To hear that from the coach of a Dutch team who have just won the Euros – that we can take points off a top team like Norway – is quite positive and shows how the game in Ireland and the national team has grown.
In previous years, we would have been seen as just a team that takes part in tournaments, tough to play against, but that will never really qualify. I think now we're optimistic about our chance of qualifying for our first major tournament."
She adds: "They don't believe we're contenders for the play-off but in fact we're the ones standing in their way. I don't think they can write us off. We've to use that to our advantage.
"I'm very optimistic and so are the girls, knowing three points will put them one step closer to a play-off."
The SPAR FAI Primary School 5s National Finals took place in Aviva Stadium recently, where current Republic of Ireland women's footballer Megan Campbell and former Republic of Ireland international Keith Andrews were in attendance supporting as girls and boys from 13 counties battled it out for national honours
The42 is on Instagram! Tap the button below on your phone to follow us!