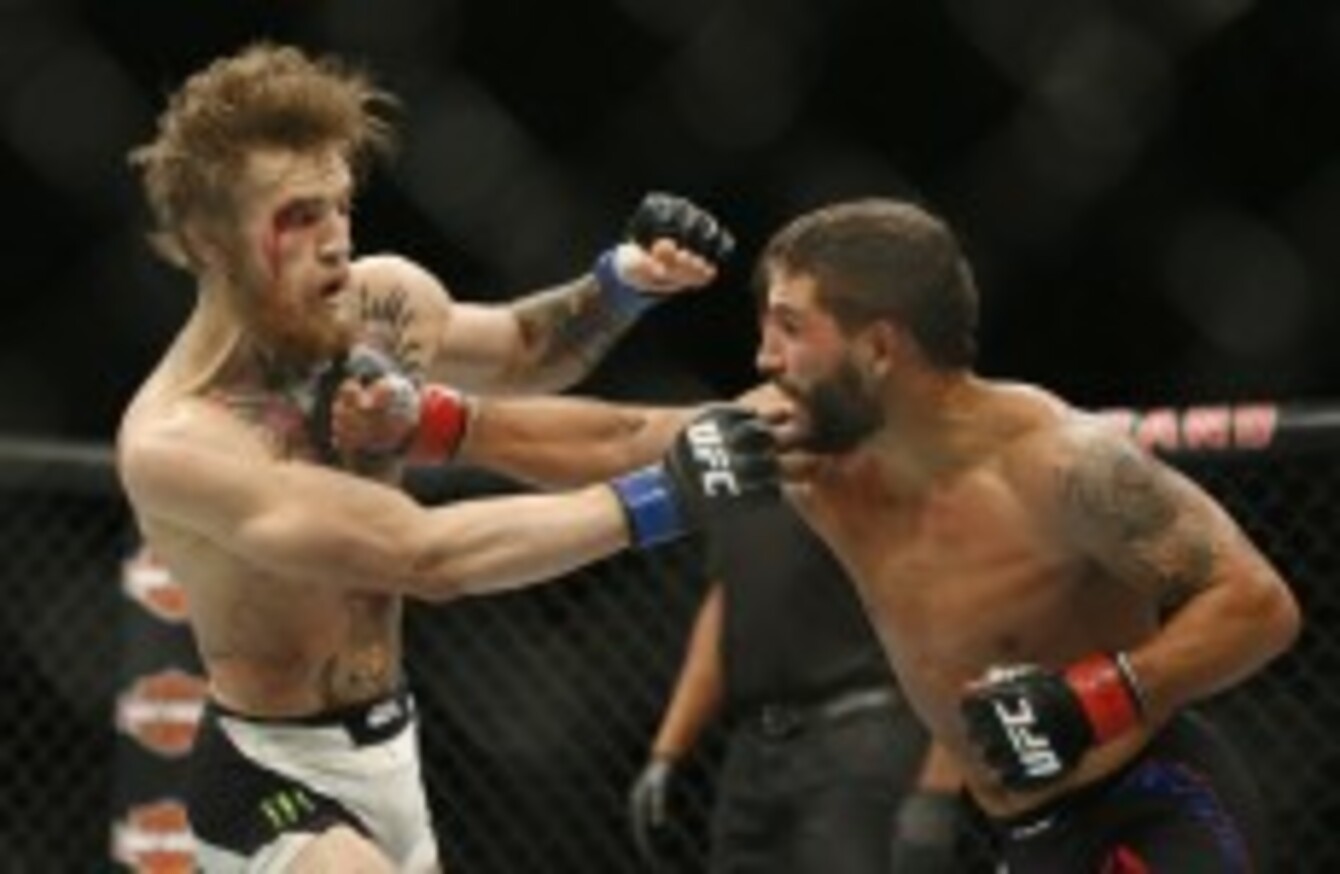 Conor McGregor versus Chad Mendes at UFC 189.
Image: AP/Press Association Images
Conor McGregor versus Chad Mendes at UFC 189.
Image: AP/Press Association Images
CHAD MENDES HAS officially begun his campaign for another crack at UFC interim featherweight champion Conor McGregor, who he lost to last month at UFC 189.
Mendes had two weeks to prepare for the fight in Las Vegas, having stepped in on late notice for the injured Jose Aldo before losing via TKO in the latter stages of the second round.
The American has mentioned on a number of occasions in the meantime that the short training camp didn't help his cause, and although he and McGregor appeared to put their differences to bed after the fight, Mendes has now stepped up his campaign for a rematch with the Irish star.
Speaking to Daniel Cormier and Kenny Florian on UFC Tonight following the announcement of his 11 December fight against Frankie Edgar, Mendes was defiant and claimed that in spite of the common consensus, McGregor's persistent body shots didn't have much of an impact during the contest.
"[The short training camp] was 110% the factor for the loss in that fight. I've seen [McGregor] saying like, 'Oh, it doesn't matter if he took a short camp for this fight, it was the body kicks that slowed him down and stopped him'.
"None of those body kicks hurt at all. There wasn't a time when any of those that landed, where I was like, 'Oh, my liver!' There was no type of body pain for that. I know it, he knows it, everybody knows it. I go out there with a full camp and I destroy that guy 10 out of 10 times," said Mendes.
Mendes feels he's worthy of a rematch and he wants it before McGregor makes the inevitable move up to the lightweight [155lbs] division.
"He better not try to ditch out after this fight [against Jose Aldo on 12 December] whether he wins or loses, and try to go up to 155 or some stupid thing. I feel like he owes me a rematch with a full fight camp. Let's see if he's man enough to do that."