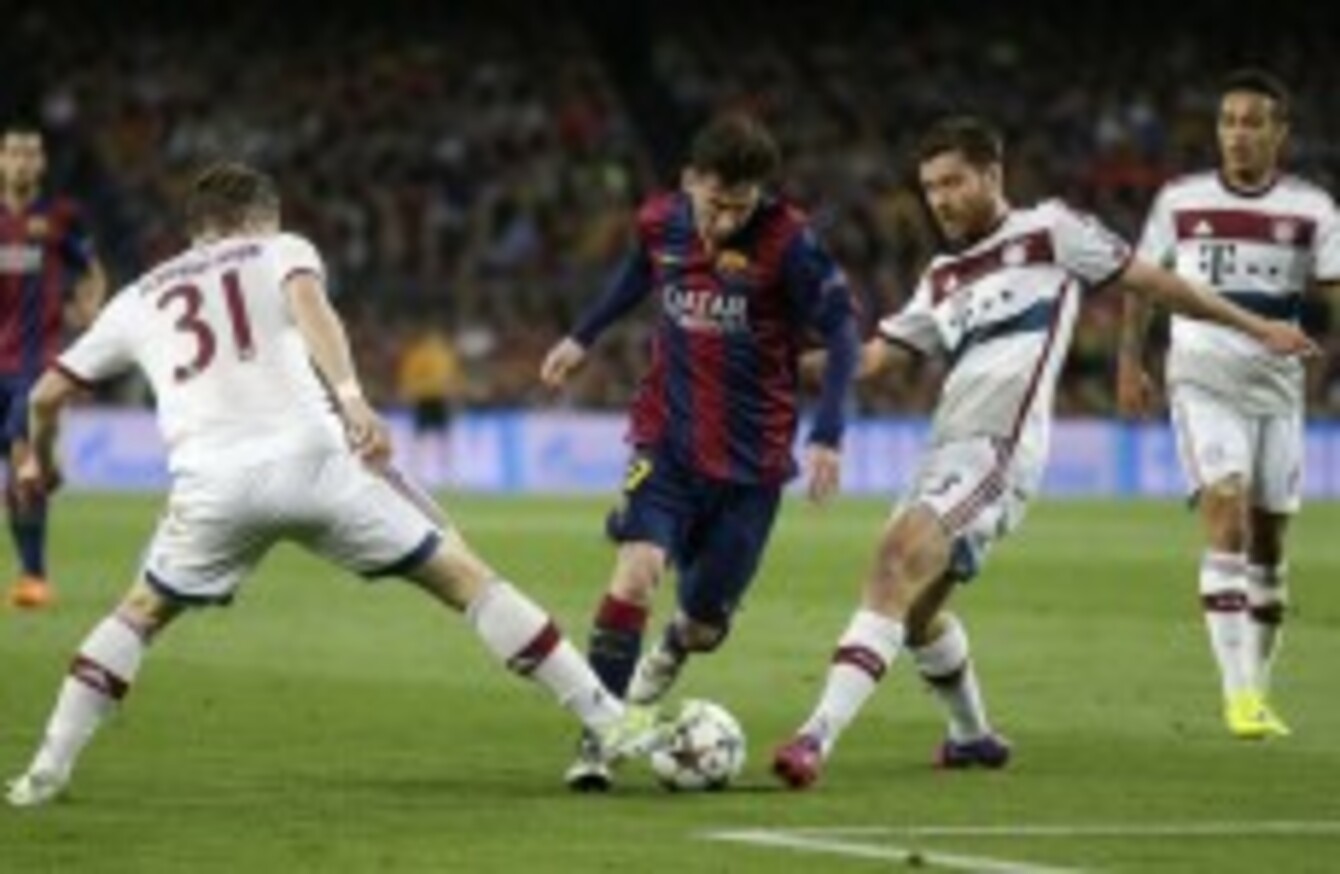 Image: Manu Fernandez
Image: Manu Fernandez
IF IN DOUBT, blame the parents.
Last week I happened upon a radio discussion about Franz Kafka's novel 'The Trial' (one must try to better oneself). Near the end, the host asked one of the dusty academics to sum up what it was actually, you know, about.
The eventual answer was either a) post-religious hunger for transcendent meaning; or b) a socio-political study of class struggle.
Of course it's actually about his father.
Hermann Kafka was an emotional tyrant, whose heartless abuse and constant disapproval of his timid son shaped the personality that wrote 'The Trial', the story of a man arrested by unidentified agents for an unspecified crime, and prosecuted by a cruel and unknowable authority.
Definitely Dad.
But you can't just say that – and to hell with the nonsense about historical context and emotional themes – no more than you can say Barcelona's first leg win over Bayern Munich was just about Lionel Messi.
Well, you could. In fact, were you to have the time and the inclination to carry out an empirical study of every article written and every word uttered about the game from the 77th minute at the Camp Nou onwards, you'd probably find the word Messi looming over you like some large, narcissistic, late 19th century Prague businessman with questionable child-rearing techniques.
The mouth-agape reflections on Messi's performance after the game were only matched in scale and ubiquity by the focus on Pep Guardiola before it. This can lead you to some neat conclusions: pre-match we obsessed about theory, post-match we revelled in magic.
Where the discussion had been about Guardiola's obsessive calculation, it rightly turned to Messi's improvised inspiration. Proof at last, you'd think, that with his fêted Barcelona creation, Guardiola had done no more than polish up a collection of already priceless jewels.
But there's more to it than that, of course, and the people who are good at these things eventually got around to dissecting the fascinating tactical to-ing and fro-ing of the night, particularly Guardiola's misguided decision to metaphorically strut Bobby Ewing-style out of the shower and act like his three year absence from the Camp Nou had never actually happened, playing half a dozen midfielders and a back three and his goalkeeper in the centre circle and what are you going to do about it anyway I OWN THIS GODDAMN PLACE?!
And then there was the mundane reality that we didn't really get to see Messi's Barcelona against Guardiola's true Bayern – the team of those disembowellings of Roma and Manchester City – due to the injuries to critical players like Robben, Ribery and Alaba.
Still, it feels nice to rest your brain and accept what appears the obvious explanation. Writing in the Guardian, Barney Ronay put it best – as he usually does, the bastard – describing Messi's performance as "the work of a 10-year club football superstar who still appears to believe that he's playing a game rather than carrying out a tactic or executing a plan."
Be part
of the team
Access exclusive podcasts, interviews and analysis with a monthly or annual membership.
Become a Member
Source: Football Highlights/YouTube
Part of Messi's attractiveness has always been his role as a representation of childish things in an ever more suffocatingly adult sport. He is the emissary of the playground people, sent to argue their case in the grey, brushed steel court of the grown-ups, eloquently pleading that they put away their tactics boards and laptops and suits and ties and office blocks and pension plans and stuff.
You can't buy into this thinking all the time; you'd become some sort of sporting version of Michael Jackson, shielding yourself from the harsh adult realities of the midfield double pivot and Financial Fair Play, eyes fixed on Shoot! Magazine with your Italia '90 duvet pulled up over your head.
But sometimes you need to disengage. Watching the first leg at the Camp Nou, I found that I kept missing little moments of dexterity, tiny dribbles, blink-and-you'll-miss-them one-twos because I was checking out the high line here or the positioning of the full-backs there. More than that, I found the rich sensory experience of watching a game played at such intensity was diluted by too much mulling over whether Bayern had changed to a 4-2-3-1 or a 4-3-2-1.
This hints at a problem with the growth in detailed tactical analysis: that a game of football is essentially unknowable. At a fundamental level, it is as indecipherable as the ocean. We grasp the fundamental parts and the basic movements, but we can never fully comprehend the complex relationship between all of its currents and flows.
Not that we shouldn't try, and people like Jonathan Wilson and Michael Cox (of ZonalMarking.net) have been at the forefront of the quest to understand football better and help those watching it make sense of what is happening. Unlike some examples of genre, which have the humanity and readability of a vacuum cleaner instruction manual, their work is lucid and relevant, always keeping a sense of the human struggle behind the geometric shapes.
Good tactical analysis doesn't neglect flesh and blood in favour of arrow and pass completion stat. Nor does it ignore something Neil Lennon said to me last week: "It's easier to be a brilliant manager when you have brilliant players."
Covering the game for television, I won't be able to watch Bayern Munich vs Barcelona in full Father Dougal Maguire man-child mode. I'll have to keep at least some of my critical faculties open for business (that would be a first, says you) especially as how Guardiola shapes his team to try to recover the tie will be a major taking point. But I'm aware that there may very well be a simple answer to most post-match studio questions.
Messi.
So, unlike poor old Kafka, long dead before most people got to read his work, let's lay down our heat maps and enjoy him while we have him.