FOR MICHAEL CONLAN, 2017 finished as it began: with his fist raised toward the spider's web of lights in the basement of New York's Madison Square Garden.
It's been a more-than-decent first innings for the Falls Road featherweight.
Five wins, four of them quick; two headline slots, one of which – his debut – played out in MSG's aforementioned Theater on St. Patrick's Day with not so much as a spare seat to be found in over 5,000.
There was a dipping of the toe Down Under in the summer – on a Manny Pacquiao undercard, no less – as well as a slot as chief support to one of the most feverishly anticipated fights of the year between two of his boxing idols to round things off.
Back from a hard-earned end-of-year break in Paris with partner Shauna, with whom Conlan is expecting a second child in the new year, the 26-year-old reflects on his first 10 months as a professional prizefighter with his typical blend of humility and credence; he's less shocked than anyone at how things have panned out thus far, but could scarcely be accused of taking it for granted.
"I could have imagined it, all right," he tells The42, "because it was kind of already all put in place as soon as I signed with Top Rank."
"But like, there were parts of it which, if you'd told me they were going to happen last year, I wouldn't have believed you. I couldn't have imagined me fighting in Australia, like – that's one.
"I couldn't have imagined me fighting in The Garden and it being sold out the way it was sold out: the way the atmosphere was – you were there yourself, so you know how it was – that was something that I didn't appreciate, if you know what I mean.
"As in, I knew there were plans for me to headline there for my debut, but I don't think I really had any idea what it was going to be like.
"Going out there in The Garden took me by surprise – the noise, the atmosphere. It was a good thing! But it just blew me out of the water."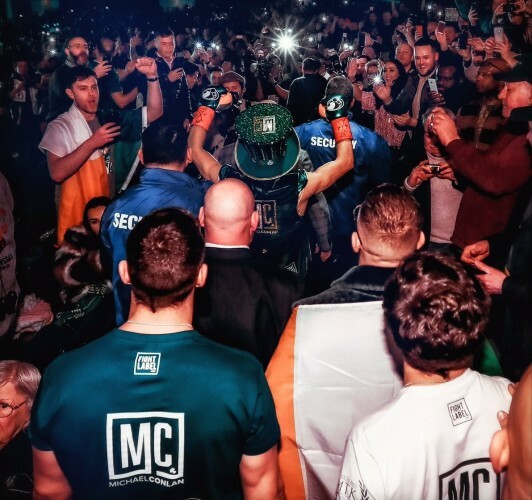 Mikey Williams (@4mikeywilliams) / Top Rank Mikey Williams (@4mikeywilliams) / Top Rank / Top Rank
Less than nine months later, Conlan returned to the scene of his debut and registered his fifth professional victory as co-main event to his idols, Vasyl Lomachenko and Guillermo Rigondeaux.
His scrap with Argentinian Luis Fernando Molina saw him taken the distance for the first time, but was perhaps his most complete performance; Conlan switched between stances and boxed stylishly to a wide points victory – a far cry from some of the more cavalier outings which had preceded it.
On a night when Lomachenko and Rigondeaux contested the first ever professional boxing bout between two double Olympic champions, the expectant global audience finally caught a glimpse of Conlan's own amateur pedigree and pugilistic flare.
"I was there beforehand thinking, 'Maybe…' – well, I actually thought I would get the stoppage, but he [Molina] did have a lot more durability than I expected," Conlan explains.
"But at the same time, I went out thinking, 'I want to show my boxing skill more. I want to get back to what I do instead of just being a brawler, which isn't me at all – it's not my style and it's never been my style.
"I can brawl – don't get me wrong – and I have been doing it, but it's not actually my style. So, I wanted to get back to my boxing, and I feel I did that.
"I think when I look back on my fights this year, that's probably the one I'll want to watch the most.
"I have watched it back already, and as I'm watching it I'm saying, 'Maybe I could have stepped it up a bit here and stopped him', but while I was in there I was just comfortable.
"I could have put him away at any time, I feel, but I was just enjoying it, and I decided to take it easy and not try to force a stoppage – try not to clutter my work.
Having watched the performance back, I think it's going to be very easy to combine the two styles I've shown so far: I'll be able to use my boxing ability, and I'm going to really sort of sharpen my eyes to see when the opportunity is there for me to take these guys out.
Conlan's fifth professional fight week, too, was a mesmerising experience even for a fighter with such a wealth of personal accolades.
There's a strong case to be made for his being Ireland's greatest ever amateur fighter, but the former World Championships gold medalist was forced to pinch himself during more than one of his plethora of public appearances in the lead-up to Lomachenko-Rigondeaux in The Big Apple.
Even while recounting such memories, Conlan evinces a giddiness which causes almost every sentence to be punctuated with a laugh of incredulity.
"It's… It's unbelievable," he says. "No, I am truly grateful and honoured to be on the same cards, in the same arenas that these guys are fighting in, and at the same time as them.
"And getting almost the same billing as they're getting as well!
I've looked up to Lomachenko and Rigo my whole life, so to be around them, to be with them almost on their level – and I'm not saying skill-wise or talent-wise, I just mean getting the same media coverage as them – it's just like… It's like I'm one of the lads, or something, you know what I mean?
"It's crazy," he adds with a pause.
"I remember in the amateurs, Lomachenko never really would have went near anybody, and nobody would have went near Lomachenko. But now you're almost on the same media level as him – the same platform – and it's nice to be in that situation, to be side-by-side with your boxing idols.
"You wouldn't say much to them as they're both kind of lacking in English: Lomachenko can speak it, but I don't think he understands much of what other people are saying. Rigo seems crazy, then. He's there like, 'Hey! Hey! Campeon! Hey, campeon! [unitelligible Spanish impression] Campeon!'
I think Rigo is keen to grab some more Irish fans. During the open workout he sent his team over to ask, 'Can Michael get in the ring with Rigo' and stuff – asking to get a photo with me. It was lovely to have a two-time Olympic gold medalist and absolute boxing legend ask for a photo, but at the same time, I knew what he wanted it for, so that kind of took the sting out of it a wee bit!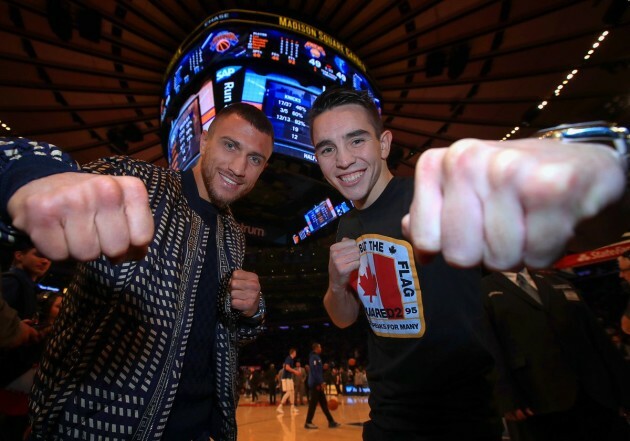 Vasyl Lomachenko and Michael Conlan watch the New York Knicks at Madison Square Garden
For all the stars he's met since relocating to the States, however, it's two somewhat unostentatious boxing characters – relatively speaking, anyway – who have endeared themselves to Conlan most: former Anthony Joshua victim Dominic Breazeale frequents The Rock Gym in which Conlan trains and is labelled "proper good craic," while respected trainer Virgil Hunter struck as equally affable during a recent conversation.
They're resonant selections in that they instantly remind of Conlan's intolerance for pomposity and bullshit; indeed, it's difficult to envisage California remaining 'home' for even the rest of his career, and when he does eventually return, he certainly won't be found guilty of bringing Hollywood back with him.
His near unprecedented backing from Top Rank, however, invites a disproportionate level of criticism for any pugilistic prospect. There are several American pundits in particular who perhaps feel this blow-in from across the pond has been forced upon them, and therefore question his legitimacy as a future star of his craft.
His power is probably questioned most of all: Teddy Atlas, for example, who has since been relieved of his duties by ESPN, famously remarked that Conlan 'wasn't a power-puncher' not two seconds before the former Irish Olympian creased Kenny Guzman with a right uppercut back in September. Atlas then laughably attributed the spectacular one-punch stoppage to an accumulation of shots.
Conlan has no bone to pick with Atlas in particular, but is bemused by much of the scrutiny which surrounds his power – or perceived lack thereof – given he's never pretended to be a nuclear puncher, and hasn't even been marketed as such.
In a departure from the norm, though, he does admit that the dismissal of one aspect of his game in sections of the US boxing media played at least a minor role in his producing stellar boxing display last time out.
"People are going to say what they're going to say. I know that, so I can just take it with a pinch of salt.
"With me, I'm still adjusting to the pro ranks and the punches, and I know that I could have taken that guy out the last day.
But I don't necessarily have one-punch knockout power. That's not me. It never was. I'm more a guy who'll break you down and take you out if the chance is there. You don't need to be Gennady Golovkin to reach the top level, you know what I mean?
"There's a lot of lesser guys up there with lesser punching power. That doesn't bother me at all: I know I can take guys out when I need to take guys out.
"I'm still learning and still adjusting. I was happy to be taken the distance the last day – I was happy to actually get the rounds. I want to move up in rounds very soon, but there's no point in me moving up if I've never even done the six.
Exclusive Six
Nations Analysis
Get Murray Kinsella's exclusive analysis of Ireland's Six Nations campaign this spring
Become a Member
"America is just like… They all have an opinion, don't they?" Conlan laughs. "They all have something to say. And in fairness, after that last fight, there was a lot less said than before.
But one of the reasons I started to box that bit more in the last one, as well, was because I was seeing people say: 'His defence is shit.' And I've always known that I've a good defence: As an amateur I was very smart, getting out of the way of punches and not taking any damage. So I wanted to show people that I actually can defend myself, and I'm not just some brawler from Ireland!
"In fairness I was lacking a bit of defence in my first few fights and just looked a bit reckless, so I wanted to work on it."
And it was during a career-best pro performance to date where Conlan felt things finally click into gear.
"I feel, even for all of the fights up until this last one, I haven't really gotten used to being in the ring. The truth is that I really only got comfortable in the pro boxing ring – in the pro boxing style – during my last fight. That was the first time.
I was still feeling the pressure for the first four fights. There is an awful lot expected of me, and I know that. There's a lot of backing behind me, and there's a lot of media and bloody hype around me as well, so you always try go in there and impress. That's an extra pressure.
"But I feel now I'm a lot more comfortable, and I can't wait to go back and headline big shows. I can't wait to go back to The Garden, even though I was there only a couple of weeks ago.
"I think I've gotten all of the little niggles and bumps and nerves out of my system this year. Even like my second fight – having that kind of opponent who was making me look bad; he was just a messy, completely negative kind of guy, and it was very hard to look good against him.
"So I'm glad I've gotten those kinds of performances out of the way, and I can start to fight more guys who actually want to win.
Like, even that last guy [Molina]: He was saying to me before the fight – like after the weigh-in – 'I've only lost once. Don't think you're fighting a guy who's got three losses on his record here. The other two were robberies. Be prepared' – and all this. And I'm like, 'Fuck! All right, let's go!'
"The nerves of coming in and doing something new – they're all out of the way. I'm ready for a fresh 2018 ahead of me."
Mikey Williams (@4mikeywilliams) / Top Rank Michael Conlan ahead of his second headline slot at Chicago's UIC Pavilion. Mikey Williams (@4mikeywilliams) / Top Rank / Top Rank
He returns to The Garden on Patrick's weekend next year – where he'll likely act as the de facto headliner on a world title card – before a long-awaited Belfast homecoming beckons in early summer; the city's 10,000-capacity SSE Arena is already booked, and the Conlan-headlined bill will be beamed across the Atlantic on ESPN.
Conlan's return will arrive amidst a sequence of boxing mega-events on this island: Carl Frampton returns to the same Belfast arena versus four-weight world champion Nonito Donaire on 7 April, while Katie Taylor is expected to top a huge bill in Dublin that same month.
Unified world champion Ryan Burnett, too, will make his ring return in the spring, likely in Belfast also, before Frampton – victory over Donaire pending – fulfils a childhood dream of fighting for a world title in Windsor Park in July or August.
In keeping with the upturn on either side of the border, over 40 fighters have turned professional in 2017 alone – more than a 300% increase upon any other year in recent memory.
"2018 will be a huge year," proclaims Conlan, who this time last year declared this the golden era of Irish professional boxing. "It'll be a year where Ireland properly gets on the map of professional boxing, I feel. I don't think we've ever really been on the map in the pro game, but this year has kind of sparked something.
"I said to you last year that this would be the golden era of Irish professional boxing, and it's showed this year with the number of fighters turning pro, and the number of fights happening in the country now.
"It's becoming a real hotbed for professional boxing, which is fantastic.
"I play a part in it, but I wouldn't say I'm one of the main guys or anything.
"Say with the success of [Carl] Frampton, [Ryan] Burnett, and even Jamie [Conlan] – what they've done for boxing in this country… They've kind of spearheaded it for us.
"And then with me, Katie [Taylor] and Paddy [Barnes] turning pro at the same time – three big names in the amateurs – there are younger fighters thinking, '…Fuck, I may as well turn pro now, because it seems as though there's going to be a lot of pro boxing happening in Ireland'.
"And there is! And more people are turning pro because they want to do it."
But even allowing for this genuine purple patch for the paid sport in this country, Conlan – in a contrast to past assertions – wishes to warn younger fighters not to turn their backs on the amateur ranks too hastily.
Obviously, with the young guys – like take Gary Cully for example – they probably wanted to turn pro and thought, 'Nah, I'll wait until the Olympics'. But then they see what happened to me in the Olympics and they say, 'Well, fuck that, there, because what do I do if the same thing happens me?'
"I definitely know that'll play on a lot of young fighters' minds. But at the same time, I… I don't know if I'd agree with it.
"It was 2013, and I was saying, 'What if I don't qualify for the next Olympics? What if I don't win the Commonwealth Games? What if I don't get picked for the Commonwealth Games?
"I was running through all these what-ifs, but I was told by my dad: 'Stay focused and stop saying 'what if' – of course you'll get there.'
"And that drove me on.
"And to be honest, I don't think I'd be where I am now if I didn't go to the Rio Games.
"Like, I know I would have been signed, and I would have been signed by someone good, and I would have been having a good pro career, and I would have been getting a good bit of media coverage.
But to be honest, were it not for Rio, I wouldn't be getting 10% of the media coverage I get now. I wouldn't be making 10% of the money I make now.
"I feel me going there and me getting robbed, it kind of just catapulted me," Conlan continues. "I'm not saying I'm a world champion or anything, obviously, but it catapulted me to a higher status than a world champion, really, in a way.
"Look at the likes of Burnett, or most other world champions: they're not known as well as I'm known across the pond and around the rest of the world. And I've had five fights.
"From a media perspective, I was catapulted beyond a lot of good boxers. I was probably catapulted beyond someone like [WBC World heavyweight champ] Deontay Wilder. And it's mad!" he laughs. "I'm probably known in America more than him.
I would be getting only a fraction of the exposure even if I had medalled at the Olympics. Think about it, look at [Rio silver medalist/rival] Shakur Stevenson. Look at Robson Conceição who's been on my undercards. Look at the 64kg Uzbek fighter [Fazliddin Gaibnazarov] who's a gold medalist and is on my undercards. He's an Olympic champion, and lots of Olympic medalists have been on my undercards already.
"It's absolutely crazy, and it's just because of…well, what happened in Rio."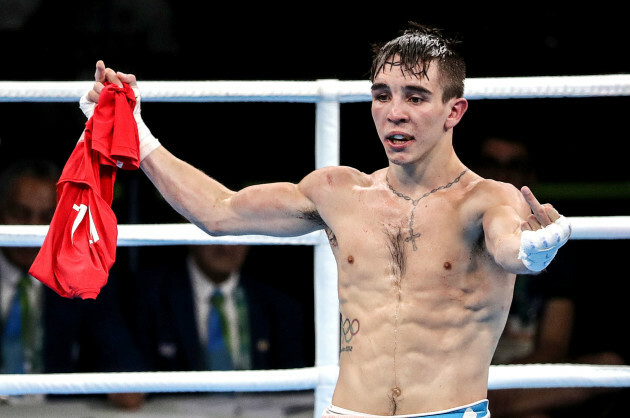 Michael Conlan had a couple of things to say about his Olympic exit in 2016
His stance on amateur boxing's world governing body, Aiba, hasn't softened remotely, but the 18 intervening months and their accompanying spoils have afforded Conlan a fresh perspective on the day his childhood dream was reefed from his grasp in shady circumstances.
He'll never be an Olympic champion, but while it will gnaw at some part of his soul on the countless occasions it's raised in future, it's a reality with which he believes he'll make peace should he reach the pinnacle of his new trade in due course.
"At the time I was devastated," he says. "Rio was the worst thing that had ever happened to me. But everything happens for a reason, and now when I look back on it… It was a blessing in disguise, definitely.
"It's put me in a position that a lot of world champions – and most pros – would dream of being in. And I'm here at the misfortune of myself, sure, but would I change it for the world right now? No. Not a hope.
"Listen, I would have loved to have won Olympic gold. I really would have loved to have won gold, because it was my dream since I was a kid. And I truly did think I was going to win it.
The fact that I didn't win gold at Rio, there's always going to be a bit of resentment. But when I do look back on it, and when I look back on it after the rest of my career, I'll be saying, 'That was the best thing that ever happened to me.'