THERE'S AN OLD adage in America that every NBA player wants to be a rapper, and every rapper wants to play in the NBA.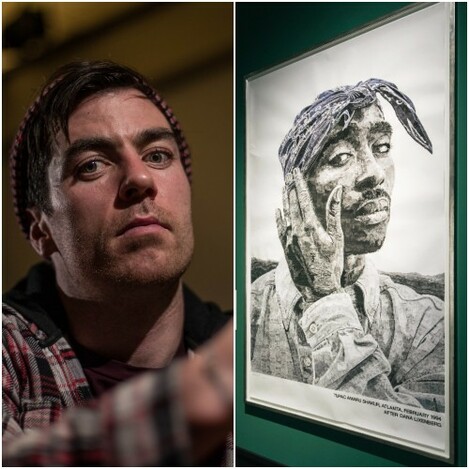 Source: Inpho/PA
As a youngster growing up in Ballyboden during the 90s, Michael Darragh Macauley was heavily influenced by both hip-hop and basketball. That much was evidenced by his bedroom wall.
"I was very influenced by black culture when I was younger," he said in a revealing interview with RTÉ's Jim Carroll at Cuture Night in Dublin Castle recently.
"I started playing basketball when I was really young. My bedroom wall, all I had was pictures of big black men everywhere! (laughs) If you weren't in the NBA or a rapper you weren't getting on my wall. I wish I could say I had some Dublin footballers up there but they didn't make the cut.
"I distinctly remember being 10 years old, walking to school with a discman and I had Tupac's greatest hits on it. I knew every single word on that album off by heart."
It's not often you hear GAA players open up about their interests outside of the game, particularly Dublin players, but Macauley is clearly cut from a different cloth to most.
You're far more likely to see him cycling through town rocking an NBA jersey than you are to spot him walking around in his Dublin gear. The five-time All-Ireland winner is a free spirit with a competitive edge. He's a layered character, who's as passionate about his music as he is his sport.
"I teach 10 year olds now, I'm a primary school teacher," he continued. "I'm kind of looking at them now and part of me is like, 'You shouldn't be listening to Tupac as kids.' They're all little babies.
"I'm a bit preachy with my kids, I'm always pushing music on them and stuff. Today we were doing art so I put on a bit of music and I asked them what they wanted to hear. They were all like, 'Despacito! Despacito!' This Justin Bieber fella. It would break your heart. I should be the nice teacher that lets them play what they want but I don't at all."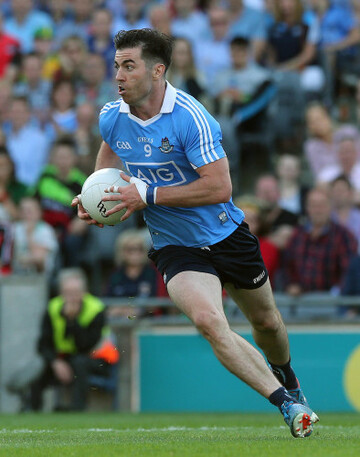 Source: Lorraine OÕSullivan/INPHO
Macauley elaborated on the influence Tupac had on him during his childhood and how it helped him deal with his mother's death in particular.
"I was discussing this with my friend who also grew up in middle-class suburbia. Why we were so drawn to Tupac? We didn't grow up in those socio economic conditions. My parents weren't fighting for welfare and stuff.
"We never really got to bottom of why it appealed to us so much. They weren't talking about cars and nonsense, they were talking about real life issues like what they were seeing in front of them and trying to change it. That was what really made an impact on me."
He added: "Tupac was one of my biggest teachers growing up. Although he was from a different background, many a life lesson I got from that man. Even how he treated everything, how he treated women, how he dealt with his mam. My mam died when I was in primary school and he had very emotional songs about his mam."
He gave some interesting insights into the Dublin camp when the conversation moved onto another musical influence – Damien Dempsey.
"He (Dempsey) ended up becoming the soundtrack to the Dublin team this year. I don't know if I'm meant to say that but he did anyway. They brought us up to the Guinness factory room (Gravity Bar) and Damo came in and played a special private set for us.
"There would be three or four of us that would be big Damo fans and the rest wouldn't have a clue. But he blew the socks off everyone. I think it's 'cos he speaks with such passion.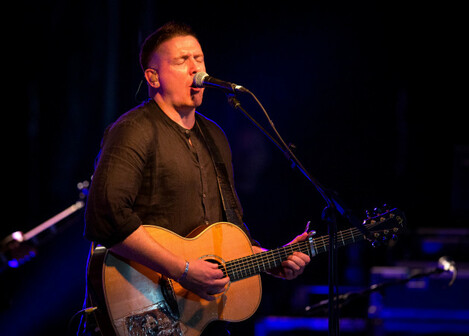 Damien Dempsey performing in 2015
"Damo was nervous talking to us, which was mad. He plays in front of 20,000 but I could tell he was nervous playing in front of 45 people. You're drinking Dublin, you've got the nicest Guinness in Dublin in your hand, you've the best picture of Dublin in the background and then Mr Dublin is singing in front of you. It was just a great picture and he sings it so passionately.
"Me and my two or three friends were sold already, you don't have to sell Damo to us, but all these lads who don't like music, only like dance stuff, they were blown away by it.
"We get a load of people coming into us to sing us a tune or give us a talk, resoundingly the best person we had, the most influential (was Dempsey). From that we've had him soundtrack motivational videos and stuff.
"I'm giving away loads, Jim (Gavin) is going to give me a smack here! Like, Patience was playing over the back of the one (video) going into the final and then Rocky Road going into Apple of my Eye and stuff. He's a special character Damo."
You can listen to the full interview here.
Subscribe to The42 podcasts here: