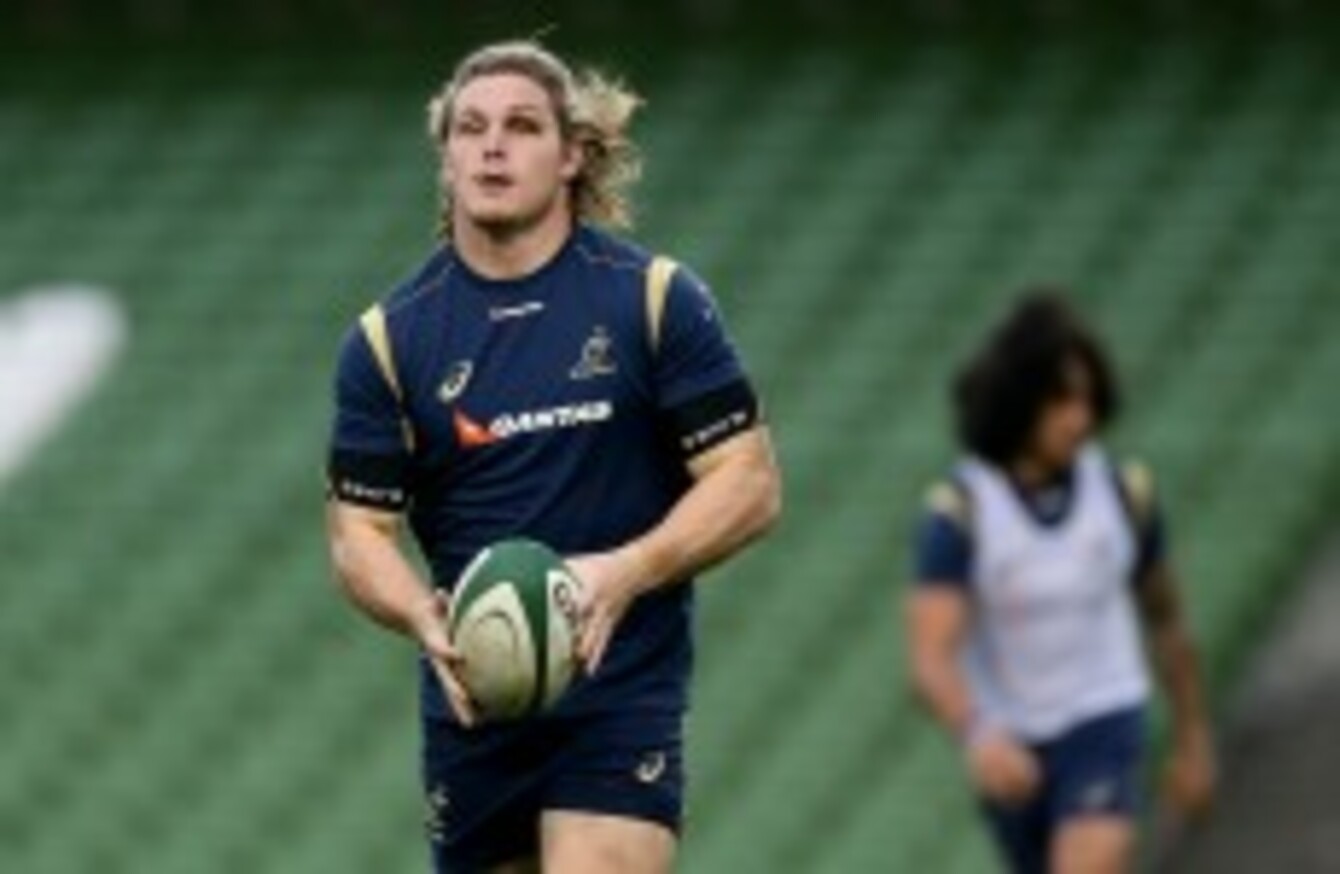 Hooper and his team went through their captain's run this afternoon.
Image: Ryan Byrne/INPHO
Hooper and his team went through their captain's run this afternoon.
Image: Ryan Byrne/INPHO
MICHAEL HOOPER IS sporting a relatively fresh black eye as he strides over to the media huddle on the sidelines of the Aviva Stadium pitch after Australia's captain's run.
The knock came courtesy of "friendly fire" during a training session in Dublin on Monday, the Wallabies skipper informs us.
"I'm not going to say who it was, but it was friendly fire in a nice, relaxed, controlled drill and I ended up with a shiner," laughs the relaxed 23-year-old openside flanker, long blond hair hanging around his shoulders.
Watching Michael Cheika put pressure on his backs as they field high balls in the background – shouting at them in the air, engaging them physically when they land – it would be little surprise to learn that the former Leinster head coach had been the culprit.
Cheika's enthusiasm is impossible to miss as his players go through their final preparations before Australia's meeting with Joe Schmidt's Ireland. The 47-year-old is evidently loving his transition into international rugby, and the Wallabies' players are appreciating the change too.
He's had a really good, positive impact," says Hooper of Cheika.
"He's a really hands-on, so guys have really embraced the changes he's brought and now I think guys have really had to work hard together this week and on this tour to pick things up against tough teams and in tough stadiums overseas."
"Cheiks is all about just working hard and if you do that in training, then it can relate to the game on the weekend."
Understandably, the Wallabies' form in the past three weekends against the Barbarians, Wales and France has not been all smooth. Defeat in Paris last weekend was hardly an ideal preparation for facing Ireland, who come off the back of two wins this month.
Victory over the Springboks two weeks ago was a clear marker of Ireland's quality, according to Hooper.
It was a really good performance against South Africa, who we've come up against a lot through Super Rugby and the Rugby Championship – they are a tough team to beat," says the Waratah.
"So for Ireland to get a win over them is great for them and puts the pressure on us to get a win now. They are number three in the world now, a spot that we've held for most of the year.
"But we want to try to get that back, and to do that you've got to go through these guys first. They've been really solid, really good, they've got big forwards and backs who can score tries from anywhere."
Hooper referred to Ireland's "tall forwards" as a particular threat, while also indicating that Australia view Johnny Sexton as a "a world-class 10." However, as Cheika looks to make the changes, the Wallabies are concentrating on their own strengths and weaknesses.
You've got to be confident in world rugby and they [Ireland] are confident at the moment," says Hooper. "So it's going to prove tough to beat them tomorrow night.
"We're building, we're up and down, we're inconsistent at the moment. We're chasing consistency, so tomorrow night we want to pick up from where we were against Wales and we want to keep going on that incline."