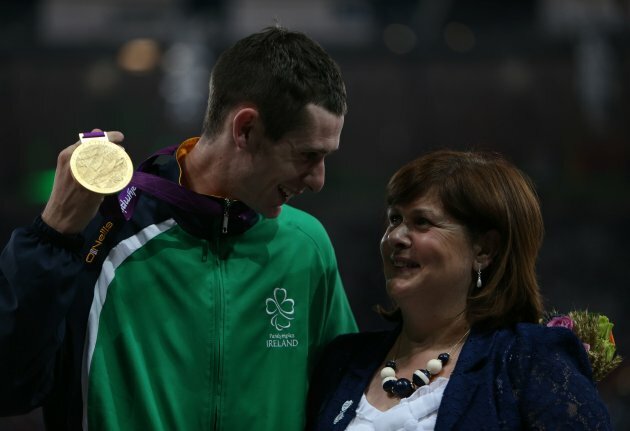 THE MOMENT in the picture above is a Paralympic first – because it's a gold medallist being presented with his medal by his own mother.
Games sponsor Procter & Gamble declined to put forward a corporate suit to present Ireland's Michael McKillop with his medal after his astonishing victory in the T37 category of the 1500m.
In an welcome – though unexpected – turn, it allowed his mother and company ambassador Catherine to present him with his 400g gold medal as the rest of his family watched from the stands.
It was the first time that a Paralympic gold medallist has been presented with their gold medal by their mum. His father Paddy won't have felt too left out either: he is the double gold medallist's coach.
"To see Catherine hand over a gold medal to her son during such an historic occasion really is something very special that the family can treasure," P&G's Nathan Horner said.
Paralympics Ireland chef de mission Liam Harbison said it was "a fantastic achievement for Michael" and said the presentation was a moment the pair could treasure forever.
McKillop set a new Paralympic record of 4:08.11 as he destroyed his competition in last night's final, beating Australia's Brad Scott into second by more than six seconds. The 22-year-old student is the only man in his category ever to have run 1500m in under four minutes.
Taoiseach Enda Kenny sent his best wishes to McKillop after his victory last night, while transport minister Leo Varadkar said Michael's achievement was "remarkable".
Sports minister Michael Ring said the "extent of Michael's talent, drive and determination cannot be overstated".
Photo: John Walton/PA Wire