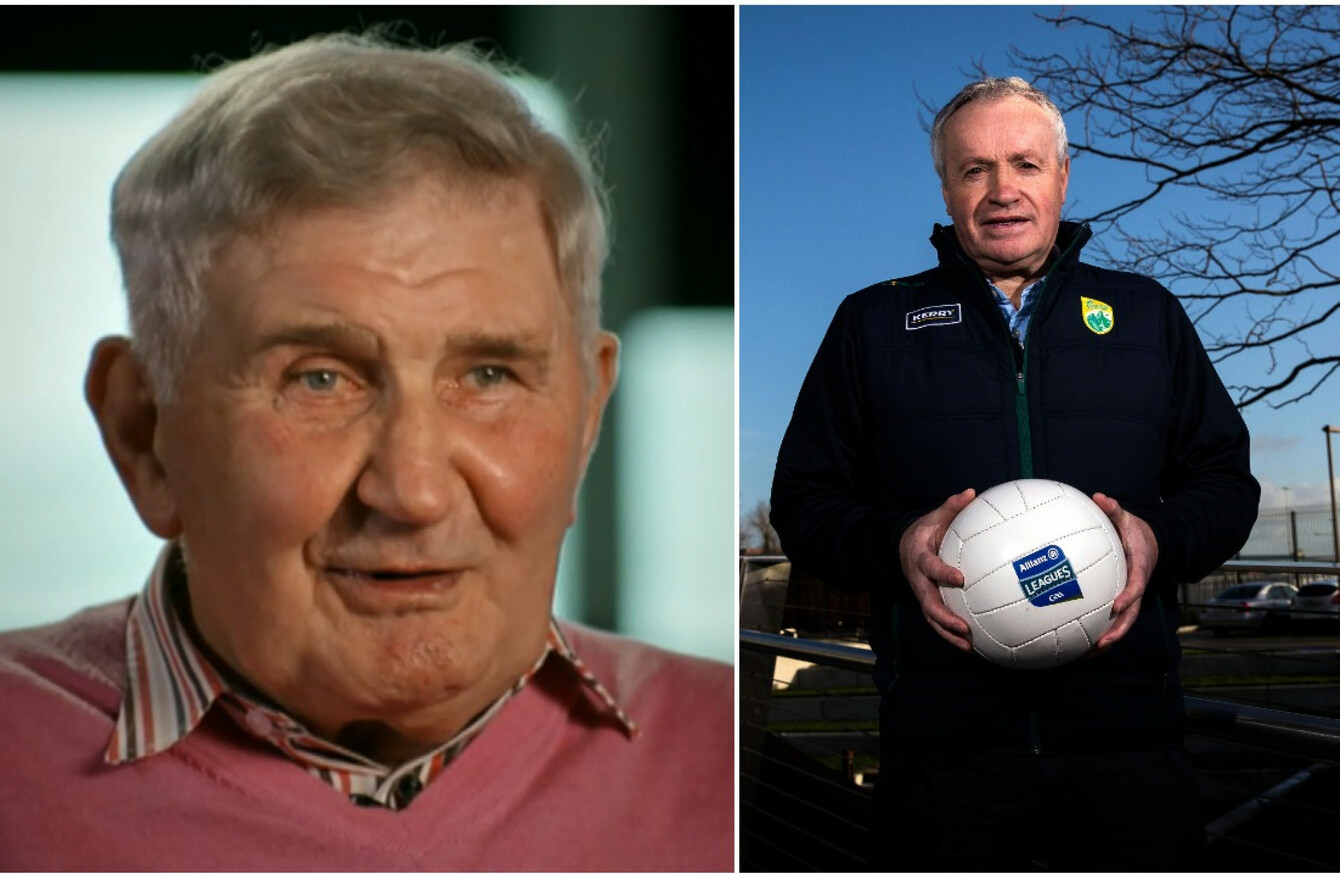 Mick O'Dwyer and Mikey Sheehy enjoyed huge success together with Kerry.
Image: RTÉ Player/INPHO
Mick O'Dwyer and Mikey Sheehy enjoyed huge success together with Kerry.
Image: RTÉ Player/INPHO
LIKE THE MAJORITY of GAA followers in the country, Mikey Sheehy settled himself down on Monday night last week and flicked on the television.
He watched the chronicling of Mick O'Dwyer's playing and coaching exploits with interest.
The documentary 'Micko' was deeply appreciated by a player who was under the tutelage of the Waterville native for so long.
"Jesus it was very good. I enjoyed every minute of it. I suppose it was a bit emotional as well, when you think back on his career and what he has done for the game and I suppose he'd still love to be doing it. He was blaming old age and everything.
"I don't think anyone will touch him as a Gaelic football manager. Jim Gavin in fairness is making a fair job of trying to get there but Micko was something special.
"As I say it's incredible what Dublin are doing at the moment [going for] four in a row. I don't mean this badly about us [but] it was easier to win. There was only four games as such, no back door, and you'd no teams coming through the scenic route like Mayo, who'd make it tough for you.
"There's more demands on players now as well so it probably was a little bit easier in our time. It was still a fantastic achievement, he coached eight All-Irelands in 12 years, and he was unlucky that he didn't win one in '98 with Kildare, which would have been extra special."
Sheehy and O'Dwyer enjoyed seasons of glory and dizzying highs yet the former Kerry boss admitted that the memories of a defeat are still implanted in his mind.
That famous 1982 reversal to Offaly still plays on the thoughts of the Austin Stacks attacking great as well.
"I was enjoying the documentary until I saw the missed penalty for (the) five-in-a-row! Micko said it still haunts him. It still haunts me, would you believe, to this day.
"People ask me about my career, it's still one of the things that pops up straight away, that we didn't make the five-in-a-row. Like, if I had have scored the penalty we would have won five-in-a-row.
"Having said that I'm always looking for consolation. Had we have won the five-in-a-row I don't think we'd have come back and won '84, '85 and '86. To me, that probably was nearly as good an achievement. It's never going to be as good as five-in-a-row. Certainly it was a massive achievement to do that."
Source: PJ's Classic GAA Channel/YouTube
In his current role as a Kerry selector, Sheehy has a heightened awareness of how players and supporters alike can dwell on defeats.
As the start of the 2018 season beckons on Sunday week, Sheehy admits it was a 'tough' winter for Kerry football folk after the manner in which their 2017 campaign concluded.
"Last year, we had a great win against Dublin in the Allianz League final. We were looking forward to the championship, which started very well in Munster but then we dipped a little bit against Galway in the (All-Ireland) quarter-final.
"I suppose the (Mayo) replay was very disappointing, hugely disappointing. I suppose we got a lot of criticism as a management, probably more than the players but we deserved it because we didn't perform on the field and we didn't perform off the field.
"And that's how you are judged in Kerry, in All-Ireland (titles). Now they love us beating Dublin in the league but it was the All-Ireland what they wanted to win, Sam Maguire, and that's it.
"The winter was tough below. There was a lot of snipers around so we were ducking and diving!
"But that's the beauty of sport. We're looking forward to starting next Sunday week and you are on the horse again and you just get on with it."
The42 has just published its first book, Behind The Lines, a collection of some of the year's best sports stories. Pick up your copy in Eason's, or order it here today (€10):