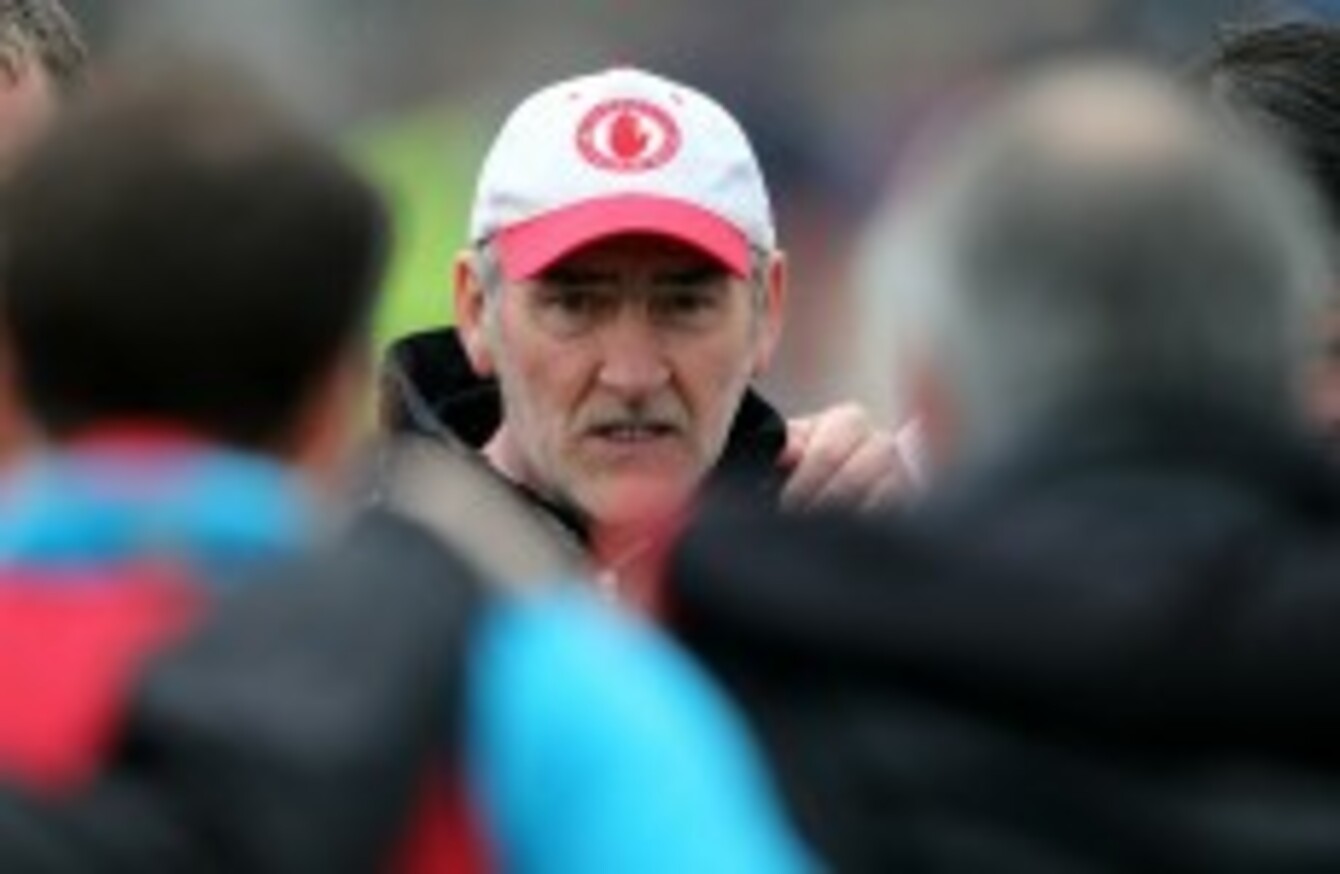 Red Hand: Mickey Harte hit back last night.
Image: Cathal Noonan/INPHO
Red Hand: Mickey Harte hit back last night.
Image: Cathal Noonan/INPHO
MICKEY HARTE HAS suggested that Liam O'Neill look at himself in the mirror, after the GAA president's biting criticism of what he termed the Tyrone manager's "consistent negativity".
O'Neill made his remarks on Ocean FM in response to a question about Harte's post-match comments about refereeing inconsistency and particularly the failure of David Coldrick to show Conor McGinn a black card in last Sunday's drawn Ulster championship tie.
"In fairness to Mickey Harte, he doesn't leave much negativity out" said O'Neill yesterday. "If there's something negative to be said, Mickey will say it and he's consistent on that.
Harte attended a press event to mark the sponsorship of Kilcullen GAA by Nolan Butchers last night and he defended his right to comment on issues within the game.
"I can't be responsible for how Liam sees life," declared Harte. "I just look through my own lens and that's not the way I look at it. But if that's the way he chooses to describe it, that's up to him. Perhaps a view in the mirror might sort that out.
"The consistent application of all the rules were always an issue because there are so many variables within games. That is the key thing that needs to be attended to in refereeing, regardless of what set of rules you play by. If they're played by consistently, we can live with that. And we've always said that.
"It's not about taking a swing at referees or anything else. But you must be able to comment on things that you see in front of your face. And if something is clearly adjudicated differently than it ought to be, surely we have the right to comment on that.
Harte continued: "Whenever you talk about consistency and you talk about refereeing decisions, if you comment on them it seems to be that you're picking holes in it. And that is not necessarily the case at all. If you put a logical argument with what you're thinking, I don't think that should be seen as being negative.
"Surely to God referees and the refereeing fraternity are big enough to accept when they make mistakes and accept as well, that they have a lot of things to think about and maybe reducing the number of things they have to think about and attend to would be a good idea rather than add to it.
"You can say all you want about it and be as negative as you want about it but I've never brought it up in a negative atmosphere. I've brought it up as facts that I see before me and it's not just for me that I'm mentioning these things.
"I just want us to try and reach a place where there's as consistent an application of the rules as is humanly possible. And that's not looking for perfection. But we should expect an effort to move in that direction."