WE'VE SEEN SOME crazy finishes in the NFL this week, but nothing that comes close to last night's drama between the Green Bay Packers and the Detroit Lions.
They're calling it the Miracle in Motown.
Midway through the third quarter, the Lions led 20-0 and looked to be well on their way to a first sweep against the Packers since 1991.
But Green Bay chipped away and when Aaron Rodgers ran in the visitors' third touchdown with just over three minutes remaining, the game was delicately poised at 23-21 Detroit.
A field goal would have won it for Green Bay but with six seconds on the clock, that seemed practically impossible.
Facing a desperation 3rd and 10 from their own 21-yard line, they managed to keep the play alive with two laterals before Devin Taylor tackled Rodgers close to the line of scrimmage.
Game over, Detroit win? Not so fast.
The officials called a facemask penalty on Taylor, giving Green Bay one last untimed play to save themselves.
It was the kind of marginal call that will be debated for days to come.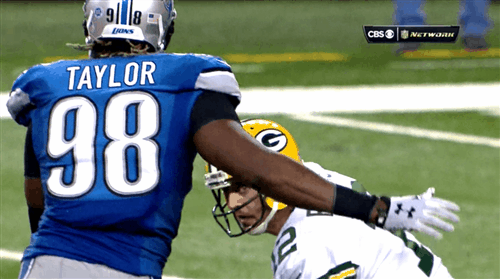 So, with no time left, Green Bay had one last play from their own 39 yard line. Then this happened:
Rodgers scrambled to buy himself just enough time and launched a 61-yard bomb — which must have travelled 80 yards through the air — before Richard Rodgers plucked the Hail Mary out of the sky for the win.
Here's another angle:
If you need us, we'll be picking our jaw up off the floor for the rest of the morning.