Junior Dos Santos before his fight with Roy Nelson in 2010. Source: Jeff Chiu/AP/Press Association Images
"As everybody, I did. I enjoyed it a lot. It was a good fight between big champions. That was a good fight. When I can, I watch it because I love boxing, I really like to watch a boxing fight, but it's hard to be watching, especially here in Brazil. When I can, for sure I watch it. For sure, the UFC and MMA became way bigger than boxing. Of course, the athletes in boxing make a lot of money, that's the biggest difference. For sure, we are as famous as they are. We are bigger than boxing now."
THEY'RE THE WORDS of former UFC heavyweight champion Junior dos Santos when he was asked by Ariel Helwani on 'The MMA Hour' if he had watched the so-called 'fight of the century' between Floyd Mayweather and Manny Pacquiao.
That particular fight managed to turn €63.3 million from the live gate receipts at the MGM Grand in Las Vegas as well as 4.4 million pay-per-view (PPV) buys adding another €362 million to the coffers.
This was by far the biggest fight in boxing history, nearly double the previous record set by Mayweather and Oscar De La Hoya back in 2007.
To put the Mayweather numbers into perspective, for the entirety of 2014 its 12 PPV events had only 3.15 million buys.
Total.
That's an average of just 262,000 buys per event and a revenue of approximately €12 million per fight (€150 million for the entire year).
Now 2014 was a particularly bad year for the UFC in terms of PPVs, a long way from the highs of 2009 when it averaged 615,000 buys per event.
However, this Saturday, UFC 189 — even in the absence of Jose Aldo — will set a new gate record for mixed martial arts in the USA with the estimated gate at the MGM Grand coming in around €6.4 million, just over 10% of the Mayweather/Pacquiao superfight.
While we won't know the PPV buys until after the event, even if it topped the UFC record — 1.6 million buys for Brock Lesnar v Frank Mir at UFC 100 — it would still only come in at about one third of the Mayweather bout.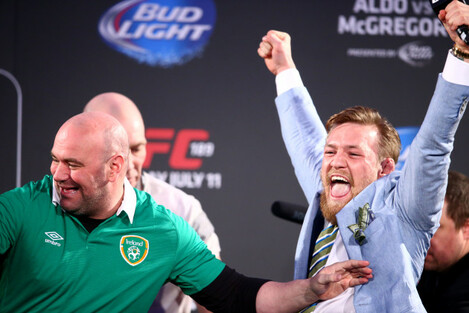 Conor McGregor is the king of self promotion in the UFC. Source: Cathal Noonan/INPHO
Boxing also dwarfs MMA when it comes to gate receipts. Indeed, if the UFC do set a new record in Las Vegas on Saturday, that would only be good enough for 34th place on the list of boxing's all time best numbers in Nevada.
So how then, can Dos Santos make the claim that MMA and the UFC in particular, are now bigger than boxing?
Well, superfights aside, boxing's PPV numbers have been only going one way in recent years.
If you exclude Mayweather and Pacquiao, since the year 2000 just two fights — Lennox Lewis v Mike Tyson in 2002 and De la Hoya v Bernard Hopkins in 2004 — have topped the one million buys mark. The UFC have had eight seven-figure events in that time.
There's also the matter of MMA having one dominant worldwide organisation making a world champion the world champion.
Be part
of the team
Access exclusive podcasts, interviews and analysis with a monthly or annual membership.
Become a Member
In boxing the existence of the World Boxing Association, World Boxing Council, International Boxing Federation, Word Boxing Federation and even The Ring magazine titles means that at, for example, cruiserweight, there are five — Denis Lebedev (WBA), Grigory Drozd (WBC), Victor Emilio Ramírez (interim, IBF), Marco Huck (WBO) and Yoan Pablo Hernandez (The Ring) – different world champions.
While this is great for the fighters, who make much more of a cut from their bouts than their MMA equivalent, it's not an ideal spectacle for fans and casual ones may be able to dip in and out of the UFC easier than boxing.
It's difficult to gauge the general interest in MMA, and particularly its dominant organisation, but this comparison between the number of times the word 'boxing' was searched versus the word 'UFC' over the past decade does make for interesting reading.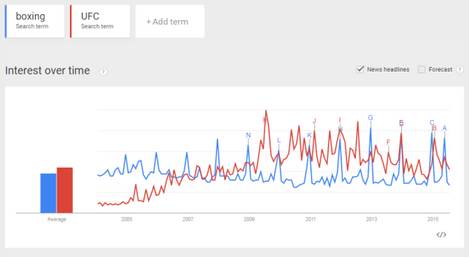 Source: Google Trends
The UFC is clearly winning that particular battle and it should be noted that the only times boxing surpassed UFC in the number of searches was on 26 December each year.
Boxing also has a massive head start. While the Marquess of Queensberry rules were first published by John Chambers in 1865, the Unified Rules of Mixed Martial Arts have only been in use since 2001.
Considering that, and its own humble beginnings, it's a credit to the UFC that they've even managed to put MMA in the conversation.
However, the facts — and cold, hard dollars — show that MMA is nowhere near boxing in terms of TV audience or gate receipts which are really the only objective measurements anyone can use to compare the two.
But why should people compare them?
The great thing about sports is you're allowed to like both, you're even allowed dislike both, the point being they don't have to be compared, especially not by former world champions who should know better.
Nobody (well, nobody in their right mind) will watch Conor McGregor take on Chad Mendes on Saturday evening and spend the bout thinking: "I wonder how the PPV numbers will compare to the upcoming Tyson Fury v Wladimir Klitschko fight."
If you like MMA, you like it. If you don't, you don't.
Neither opinion is the "right" one.