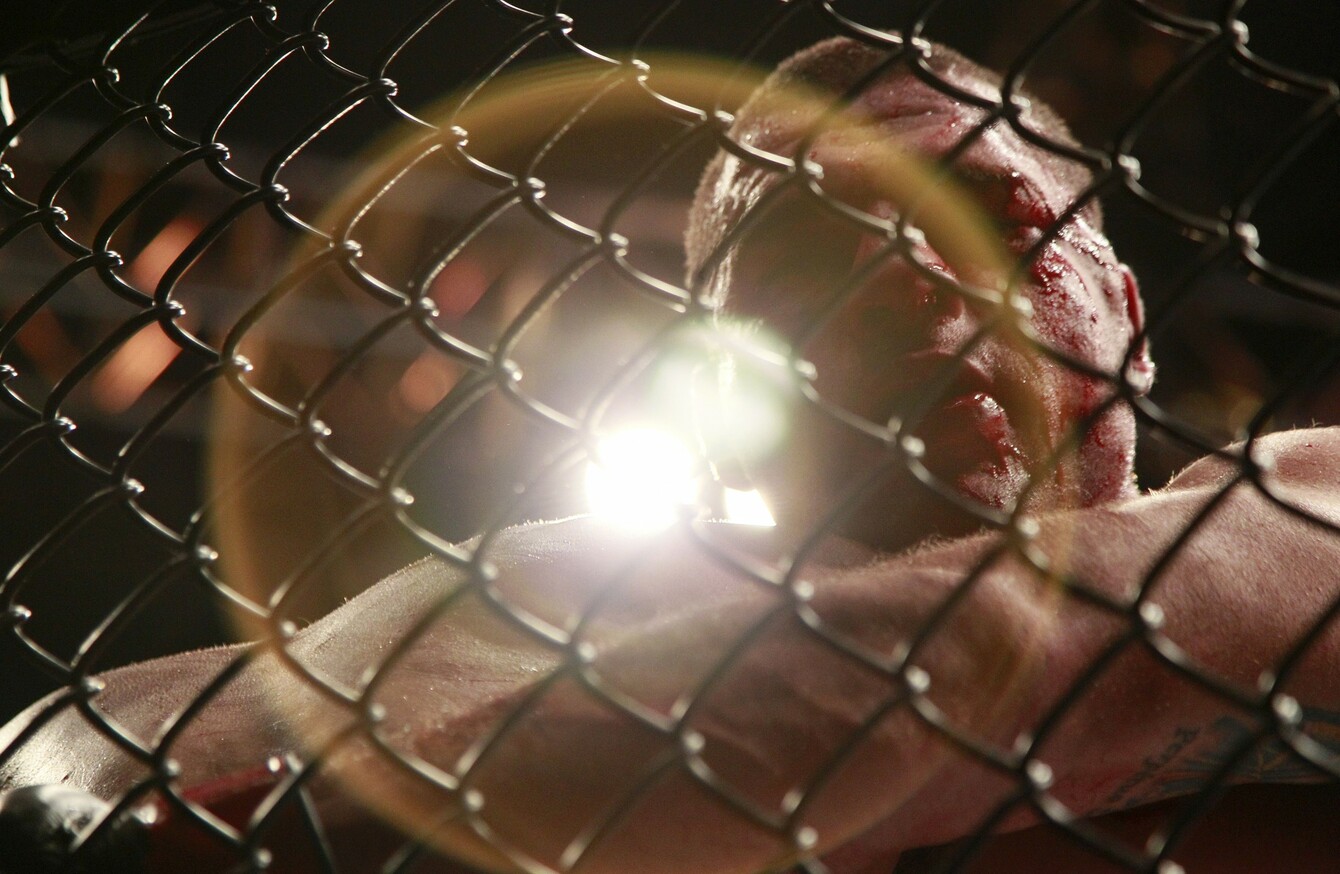 Mauricio Rua fights Dan Henderson at UFC 139.
Image: Jeff Chiu/AP/Press Association Images
Mauricio Rua fights Dan Henderson at UFC 139.
Image: Jeff Chiu/AP/Press Association Images
LAST MONTH, PROFESSIONAL mixed martial arts believed it had gone legit.
For the first time in its relatively short history, the pro version of the sport was legal in all 50 states of the US after the New York state assembly voted by by 113 votes to 25 to allow it.
Let's not kid ourselves, the primary reason it was pushed through was money and all the Benjamins the top promotions, primarily the UFC, will bring in selling out Madison Square Garden.
But there was another reason too. Amateur MMA was legal in New York and promoters were running events with professional rules but without drug testing, pre-fight medicals or, perhaps worse still, the need for health insurance for when fighters inevitably got hurt.
As former UFC middleweight champion — and native New Yorker — Chris Weidman said before the vote:
"It's very dangerous the way it's going on right now in New York and actually what will happen is it'll become way more safe, so it's just stupid how it hasn't happened yet."
Since the tragic death of Joao Carvalho on Monday evening, following his defeat at the Total Extreme Fighting (TEF) event in the National Stadium, critics — most of them of the sport in quotation marks variety — have lined up to slam MMA.
Many have referred to it as a type of human cockfighting, a comparison first made by former US presidential candidate John McCain when he dismissed MMA as being "too brutal" to be considered a sport back in 1997.
What's almost never quoted is McCain's stance ten years later, after the leading professional bodies signed up to the Unified Rules of Mixed Martial Arts.
These regulations include, but are not limited to, pre-fight medical testing, medical insurance and ringside medical personnel requirements as well as a medical database which, crucially, tracks each individual fighter's medical history and injury status throughout their career.
This prompted a change of heart in the senator and, in 2007, McCain told US National Public Radio:
They have cleaned up the sport to the point, at least in my view, where it is not human cockfighting any more. I think they've made significant progress. They haven't made me a fan, but they have made progress."
We saw some of this progress first hand in Ireland when Joe Duffy was pulled out of the main event at UFC Dublin because of a "mild" — whatever that is — concussion.
A UFC statement at the time said:
"Having learned that Duffy received a strike to the head during training earlier this week, UFC sent him for medical tests in Ireland for precautionary purposes.
"The results determined that Duffy suffered a mild concussion and due to the proximity of the fight this Saturday UFC will not permit him to compete.
"The health and safety of UFC athletes will continue to be the top priority for the organisation."
And the UFC takes no chances when it comes to head injury. When a fighter is knocked out in one of their events, he or she is immediately brought to hospital, where they undergo either an MRI or CT scan.
In addition to any US State Commission-imposed suspensions, the UFC issues a parallel suspension, banning the fighter from contact drills in practice for at least 60 days and from competing for 90 days.
Away from the UFC, all fighters in Ireland are encouraged — though not required — to gain SAFE MMA approval before competing. SAFE MMA Ireland was founded by Dan Healy, a consultant neurologist at Beaumont Hospital, and Ais Daly, an Irish UFC fighter.
Professor Healy is on record as saying there are no medical grounds for banning MMA over boxing but has said a governing body is needed to enforce safety regulations around bouts.
In order to be cleared by SAFE MMA, a competitor must undergo blood testing for infectious diseases (HIV, etc), a full medical on an annual basis as well as pre and post-fight medical assessments.
For a specific MMA event to gain their approval, it must have appropriately qualified doctors and paramedics in the arena and cageside. It should be noted here that while Total Extreme Fighting was not SAFE MMA approved, there was a team of three doctors and seven medics present and Carvalho was ordered to visit hospital before the symptoms of his illness became clear.
Both SAFE MMA's requirements and the UFC's can be considered best practise and are easily replicable if the appetite is there for true regulation of the sport in Ireland.
Instead, what we hear from acting Minister for Sport Michael Ring TD and CEO of Sport Ireland John Treacy is pure Captain Hindsight stuff, how they saw a tragedy coming and how they've had concerns about the sport for years.
The question then is, why not address them two years ago when Minister Ring first raised concerns with 14 different promoters operating MMA events in Ireland?
In a letter to them, the Minister says:
"As Minister for Sport, I am writing to remind you that I expect the highest possible safety and medical standards at these events when held in the country. I would ask that you look to comparable safety standards as exist for sports such as rugby, horseracing and professional boxing."
He goes on to say he is committed to managing acceptable risk in sport but at no stage in the letter do he offer the chance to meet and discuss how the sport can be made safer here, nor does he suggest the formation of a national governing body under the umbrella of Sport Ireland (or the Irish Sports Council as it was then).
Likewise, on Morning Ireland today, CEO of Sport Ireland John Treacy confirmed attempts were made to form a national governing body to regulate the sport in 2014.
"I suppose the situation with the MNA (sic) in this country is that there isn't a national organisation in the country for it and it's made up of promoters and individuals. We had sat down with them two years ago and said 'look, you need to form a corporate body in some way to be recognised as a sport.'"
If there were any follow up meetings, Treacy failed to mention them but John Kavanagh — a columnist with The42 but also president of the Irish Amateur Pankration Association, which oversees amateur MMA here — said as far back as 2014 that he too wanted recognition for the sport, telling Pundit Arena:
I'd love to be able to see coaching courses and qualifications come in that are recognised by the Government through the Irish Sports Council so that we can separate ourselves from people that are too under-experienced and under-qualified to be running MMA schools."
Starting with Liveline on Monday, the reaction to the 28-year-old Carvalho's death across some — though not all — media has been to use it as an opportunity to push a pre-existing agenda clearly coloured by a dislike for the sport and its competitors.
But facts don't care if an athlete is from Crumlin or Castleknock and the biggest report into the dangers of MMA — by the Clinical Journal of Sports Medicine — found that while MMA fighters suffer more injuries than boxers, they tend to be minor cuts and bruises whereas boxers are "more likely to experience serious injury such as concussion/head trauma involving loss of consciousness or eye injury such as retinal detachment."
And yet, this autum, sportswriters and Liveline will be falling over themselves to praise the gold medal winning achievements of Katie Taylor, Michael Conlan and company in Rio.
But this doesn't need to be my sport is better than your sport — neither of them are 'my' sport — and instead of calling for MMA to be banned or telling us how this tragedy was always destined to happen, the conversation should have been along the lines of the ones we had after the death of Andrey Kivilev.
In 2003, a helmetless Kivilev crashed on the second stage of  second stage of Paris–Nice. He never regained conciousness and died less than 24 hours later leaving behind a wife and six-month-old child.
As untimely and tragic as his death was, it has saved countless lives as world cycling's governing body, the UCI, brought in the mandatory wearing of helmets — despite widespread resistance — in its wake.
Maybe there'll be resistance to attempts to regulate MMA too, but with the sport dominating the front pages and back, there's an opportunity for the Government, Sport Ireland and everyone involved in mixed martial arts here to make it a better, safer sport.
Deaths in the cage, on the field or even on a bike will never be unavoidable as this month has proven, but that does not mean that our first reaction should be to call for those sports to be.