MALACHY O'ROURKE KNEW Monaghan were in trouble when they fell behind so early in their Ulster final rematch with Donegal.
Key to Monaghan's success last year was getting out of the blocks early against Jim McGuinness' side, hitting the opening four scores inside eight minutes.
On this occasion, it was Donegal who got the early scores.
Conor McManus and Rory Beggan missed frees which would have kept the outgoing champions in touch, but once Donegal went 0-3 to 0-0 ahead after 13 minutes, it was a three-point lead that felt like about ten.
O'Rourke conceded as much.
"I've said it before, it's very difficult playing Donegal," said the Monaghan boss.
They suck you in and if you don't make up the ground, they keep adding on scores and that's the way the game went. It wasn't our day.
"They get back and they set up a bank and there's a lot of men there, it's very hard to play against and that's why teams do play a blanket defence (against them).
"We missed a couple of frees which would have given us that lead we had last year, but that's the way football works sometimes.
"Overall, I don't think we played well enough on the day to win the game and we just hold up our hands and have to accept that."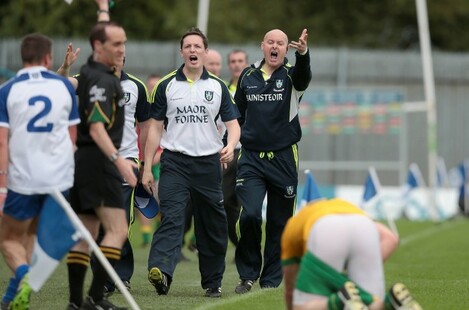 Source: Morgan Treacy/INPHO
The biggest disappointment for Monaghan had to be their response to Christopher McGuinness' goal after 49 minutes. Having lacked spark all over the field, the goal brought them to within a point of Donegal, and the game was still there for them.
Donegal got the next three scores, however, to wipe out the goal's impact.
"The goal got us right back in the game and we wanted to push on at that stage and take the opportunity, but in fairness to Donegal they got the next few points and gave themselves that cushion," said O'Rourke.
Redemption
"It's very disappointing on the day because I know the work the players have put in but there is great character in that dressing room.We will be determined to accept that on the day and redouble our efforts from here on."
A fourth round qualifier against Kildare will be Monaghan's shot at redemption in two weeks time. O'Rourke has no doubt they will respond to this crushing setback.
"There's a lot of character in that dressing room.
It's disappointing on the day when you put so much effort in and we came here to put in a big performance and get a second Ulster title.
"It didn't happen for us today but you just don't forget about the year and forget about the work you have done."
"So we will regroup and try and move forward and put our best foot forward in it."