1. Mourinho's vanity contributing to Chelsea's downfall
JOSE MOURINHO MAY be Chelsea's greatest manager ever, but he is certainly far from blameless in his team's spectacular capitulation this season.
Even Mourinho's greatest enemy would not have had the temerity to predict pre-season that at this point, they would be 15th, just three points behind Bournemouth, who have a game in hand on the Londoners.
Of course, it's too simplistic to place all of Chelsea's problems at Mourinho's door, though the Portuguese boss certainly has not always helped his team's predicament this season.
There is an arrogance and a vanity in Mourinho's behaviour that, while clearly helping him become the manager he is, has increasingly failed to pay dividends of late. You see it in his habit of referring to the titles 'he' has won, rather than his teams. You also saw it today, not for the first time, in his strange decision-making.
Dropping big-name players is not necessarily unacceptable, but it seems as if there is an ulterior motive at times when Mourinho does it. Taking off Eden Hazard after less than an hour today and replacing him with a 19-year-old who had little Premier League experience is the kind of decision that would be hailed as ingenious management if it paid off — consequently, putting Mourinho centre stage once more. However, to most, it seemed a bizarre move at the time, particularly as the Belgian international had hardly been much worse than the rest of his team-mates, and it did little to improve Chelsea ultimately.
It is not the first time Mourinho has made a bizarre call this season, and many have argued that given that these controversial decisions do little to help Chelsea's cause, by dropping the likes of John Terry, Nemanja Matic and Hazard, the Special One is making a point to Roman Abramovich about Chelsea's lack of depth. With the Blues coach looking increasingly annoyed and continuing to behave unreasonably as the season develops, this theory looks increasingly credible with each passing game.
- Paul Fennessy
2. Hart's error epitomises panicky City
Man City secured all three points at home to Norwich and are top of the Premier League this evening as a result, however it was a far from convincing display by Manuel Pellegrini's side today.
Granted, many will argue that winning while playing badly is a habit of champions, yet City were so poor at times, against a Norwich side that conceded six against Newcastle less than a fortnight ago, that the claim rings hollow in this case.
At their peak in past seasons, clubs like Chelsea and Man United were masters at killing games, however City by contrast threatened to self destruct today.
Joe Hart gifted the Canaries an 83rd minute goal, before Yaya Toure's late penalty rescued the hosts with a minute of normal time to play.
Even after their winner, and notwithstanding Aleksandar Kolarov's last-gasp penalty miss, City could easily have dropped points this afternoon. They were seemingly overcome with nervousness in the dying minutes, as 10-man Norwich piled on the pressure, putting every outfield player bar the free-kick taker in the box amid a chaotic finale, yet the Eastlands outfit crawled over the line marginally in the end.
- Paul Fennessy
3. Arsenal comfortably the best team in the league right now
Arsenal's Laurent Koscielny (left) celebrates scoring his side's second goal of the game with teammates Olivier Giroud and Per Mertesacker. Source: Nick Potts
Swansea may now be four games without a win at the Liberty Stadium, but today's fixture still looked like a potential banana skin for Arsenal.
Tottenham, Man United and Chelsea have all faced the Swans earlier in the season and failed to come away with a victory, so today's match was always going to be a test for the Gunners, yet they passed it comfortably after a superb second-half display, as goals after the break from Olivier Giroud, Laurent Koscielny and Joel Campbell sealed a win against a team who took six points off them last season.
Arsenal are now being talked up as title contenders, and with their rivals all lacking consistency, it seems Arsene Wenger has his best chance yet to end an 11-year wait for a league trophy.
Even the perennially criticised Mesut Ozil is silencing the doubters and making a big difference — today, the German international registered his 22nd assist since signing for the club in September 2013, which is more than any other Premier League player during that period.
- Paul Fennessy
4. Van Gaal's side are a ship without a sail
United got out of jail against Palace. On another day, they would've lost this game. And heavily too.
The home side created plenty of chances with only David de Gea's brilliance denying them three points. For their part, United created just two. One saw Wayne Rooney attempt to race onto a through-ball from Anthony Martial. Instead, he cut the figure of an aging man shuffling through treacle and Wayne Hennessey saved at his feet. But the focus quickly shifted away from the block and centred on just how cumbersome the United skipper looked when taking the chance on.
However, at Selhurst Park, there were other issues for United to study and rectify. After initially impressing upon joining in the summer, Matteo Darmian has struggled in recent weeks. Today, he was torn to shreds by the gamely but limited Wilfried Zaha. On the other flank, Marcos Rojo was relentlessly pressured by the energetic Yannick Bolasie and struggled to contain the Palace attacker.
United's defence — much-improved and highly-praised this season — creaked all afternoon. It said much that when Darmian was hauled off, it was Ashley Young, a winger, who dropped into right-back.
After an entire season spent with a makeshift full-back last term (Antonio Valencia), it's odd that after Van Gaal brought in a specialist, he's still not satisfied. And that says quite a bit about United's recruitment drive.
Another summer acquisition — Bastian Schweinsteiger — was replaced again after an ineffective display, while the sight of Marouane Fellaini stripping off was so inevitable that it went beyond parody.
So, here we are. 11 games in and United are fourth. It's plodding along with very little in the way of van Gaal's much-quoted philosophy. Last term, there was a period in March and April when the club turned a corner. They conjured some excellent displays against Tottenham, Liverpool and Manchester City. They scored goals. They attacked. They were brave and took risks. But we're a long way from that now. United are going backwards and are desperately in need of saving.
- Eoin O'Callaghan
5. Ranieri's easygoing way is allowing Leicester express themselves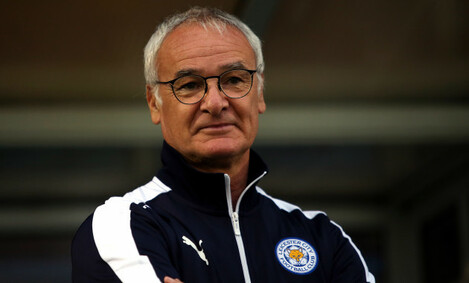 Claudio Ranieri has lifted Leicester to unprecedented heights since taking over. Source: Peter Byrne
Before this game, West Brom boss Tony Pulis made a point of reminding us all about Nigel Pearson's role in Leicester's sterling start to this season.
"Ranieri has benefited from all the work Nigel has put in," he said. "It's very, very nice to step into a football club where everything is in place and at that club it looks like everything is in place. Last season was a remarkable achievement and Claudio has picked it up and carried it on."
You can see where Pulis is coming from but where Pearson was a cold, regimental figure — a no-nonsense, tough, uncompromising character, a team is an extension of a coach's personality.
Last year, Leicester scrapped and battled their way to top-flight survival and that was the perfect representation of Pearson and his hard-work, dig deep beliefs.
This term though, Pearson's tough regime is gone. In its place is a brighter, more carefree approach with Ranieri at the centre of it. It only gets you to certain places, of course. There will come a time when Leicester won't be coming from behind to win games. Their basic, counter-attacking system will be bettered by teams and there will be the inevitable slump.
But what Ranieri has done is get the players to believe in themselves and their abilities. There's a reason why Jamie Vardy is scoring goals for fun. There's a reason why Riyad Mahrez is a player reborn. They weren't like this under Pearson. They've been let off the leash and are thriving.
They're three points from the summit. They're the most entertaining team in the league and a reminder of Ranieri's last experience in the Premier League with the magnificent Chelsea side of Hasselbaink, Lampard, Makelele, Crespo and Gallas in 2004.
- Eoin O'Callaghan