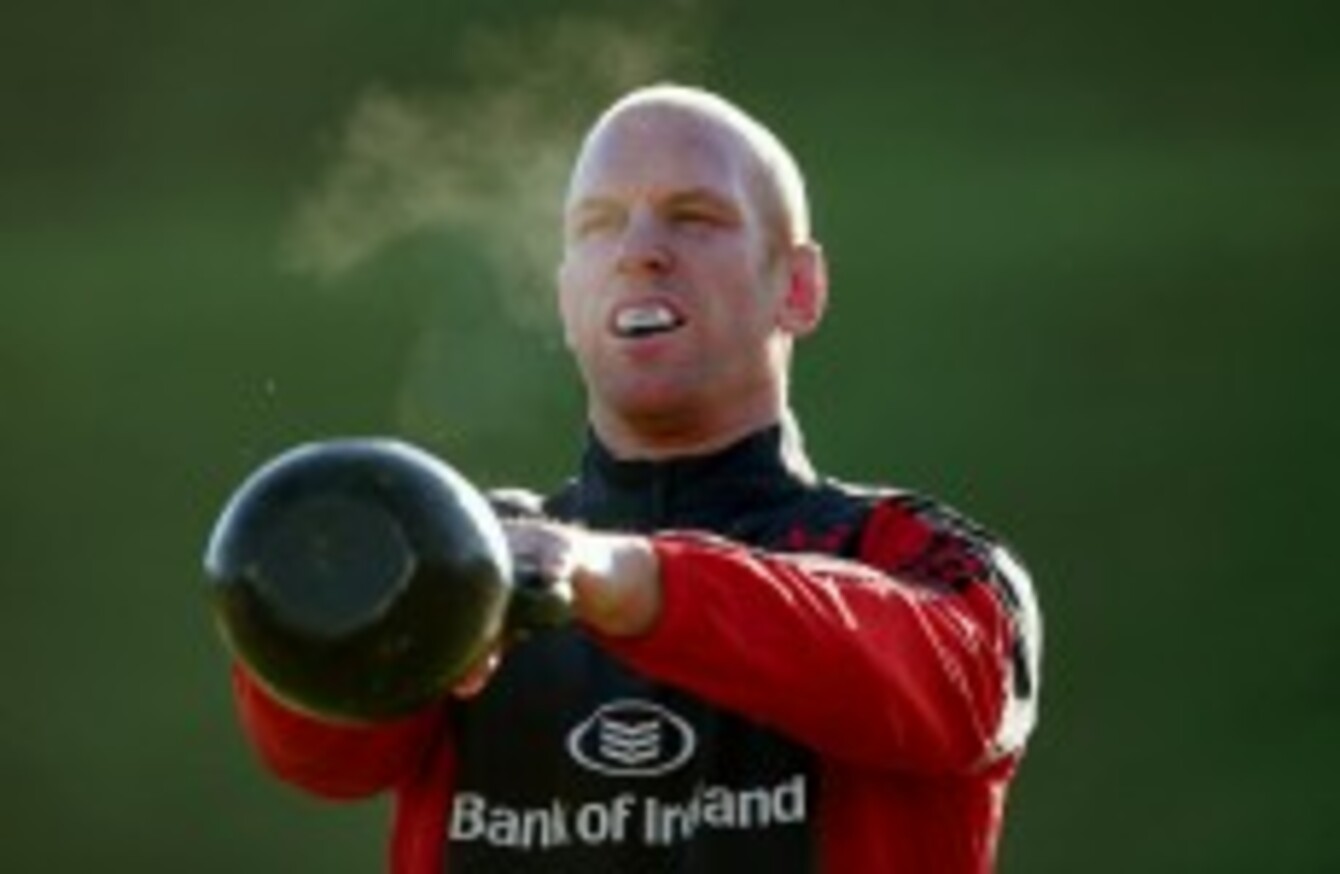 Paul O'Connell warms up at Munster training in UL yesterday.
Image: Donall Farmer/INPHO
Paul O'Connell warms up at Munster training in UL yesterday.
Image: Donall Farmer/INPHO
MUNSTER COACH ANTHONY Foley wants as many of his players involved in the Ireland set-up as possible.
The same could be said for each of the provincial coaches – even if they might sometimes curse injuries and fatigue picked up on international duty – but Foley is particularly vocal about his desire for Munster to provide as many players to Joe Schmidt's group as they can.
After 11 of his men were named in the Kiwi's 37-strong Ireland squad ahead of the November Tests, Foley wondered why Andrew Conway had been omitted. The right wing did eventually train with Schmidt's selection during last month's international schedule.
As it transpired, ten Munster players saw game time in the November series, namely Paul O'Connell, Peter O'Mahony, Dave Foley, Tommy O'Donnell, Dave Kilcoyne, Felix Jones, Ian Keatley, Conor Murray, Robin Copeland and Simon Zebo.
But for injury, loosehead prop James Cronin might have expected some exposure too.
Foley understands better than anyone that increased involvement with Ireland – those weeks the players spend working under Schmidt and testing themselves against the best in the world – feeds back into Munster's efforts.
The former number eight is hoping to see some of those benefits this weekend as he welcomes his ever-growing international contingent back for Saturday's visit of Clermont to Thomond Park.
Three victories from three in November with Ireland should mean the likes of O'Connell, O'Mahony and Murray bringing with them winning momentum.
"It can't have been anything but good for the guys who were up there. It's just a bit of a confidence boost for them and it brings the standards of training up," says Munster captain O'Mahony.
They know what it's like to play international rugby. They can bring it back here and drive standards and drive training. Everything like that can't be anything but good."
Each player has a different international experience, and there were a range of them for Munster's international brigade last month. O'Donnell and Kilcoyne had one start each, and might have felt ever so slightly under utilised.
Jones was another such player, impressing against Georgia before missing out on the starting 15 for the final clash of the month versus Australia. Schmidt explained his decision in detail, before sending Jones back to Munster with the usual amount of 'work-ons' every player is given.
"He said there was a tight call to have me involved in the 15 [against Australia]," says Jones, "but he gave me reasons which were perfectly respectable and logical.
"Of course, there's always something to work on. You can ask Paul O'Connell is he still learning and I guarantee he'll tell you he is. The game is moving and changing so fast and week to week, things can be changing."
Second row Foley was one of Schmidt's new caps last month, earning the man of the match award on his debut against Georgia. The Clonmel native is the epitome of the progress head coach Foley wants from his players.
The 26-year-old lock enjoyed his international experience, and admits he'll carry some of the positives forward with him into the Champions Cup double header with Clermont this week.
That said, Foley and his Munster teammates are very adept at turning their attention totally to the short-term task at hand. Further Ireland honours are pushed to the back of the mind for now.
I've got two caps playing for Ireland, which was incredible, but that's something I'm going to park," says Foley.
"I want more of them, so I'm going to push forward. Before this, before I got the caps, it was all about playing well for Munster and whatever happened [with Ireland], happened. It's going to be the exact same from here on in.
"I think I was in good form before I played for Ireland and even if I didn't play for Ireland, I would still be in good form anyway. Ireland is not necessarily the be all and end all for me. Playing well for Munster is very important."