IT'S BEEN A summer of achievements for Tipperary GAA.
The senior hurlers rattled in five goals en route to Munster glory and the minor side cantered to a provincial title as well.
Next Wednesday night, the Tipperary U21′s will aim to land a third hurling trophy in the Munster decider in Walsh Park.
And before that the county senior football side seek to strike a blow with a landmark win against Derry on Saturday that would secure a first ever All-Ireland quarter-final place.
He's best known as a celebrated hurling goalkeeper but before that Brendan Cummins was well-versed in Tipperary football circles. It makes him ideally placed to gauge the temperature.
"I think they have a great chance on Saturday. Liam Kearns has done a huge job with the footballers, considering the players he was missing.
"It's been a fantastic journey for him, now the next thing is to try get to play at Croke Park. I think that's what the focus of the panel of players will be.
"If you take them from the time John Evans was in charge, to Peter Creedon who did his work with them, to where they are now, especially considering the players they have lost.
"Momentum is a huge thing, not only during games but in the years leading up to big moments and Tipp have that now in football.
"There are certainly more footballs being kicked around as I'm driving around the roads looking into gardens in Tipperary, which is great to see.
"This year under Michael Ryan, Tipp (hurling) are really playing to their strengths. I think if you look at any statistics, about 80% of scores are all got from around the front of the goal and Tipp have realised that.
"They're just putting the ball in there and when you have John McGrath, Seamus Callanan and Noel McGrath inside there, what's the point passing the ball back and forth across the pitch 80 yards out, just get it into them.
"They're strong enough and bould enough to win their own ball and that's a clear message that Mick Ryan has given to Tipp players, 'you win your own ball or you sit beside me'.
"Guess who had that message last? A lad further down the road. But the Tipp boys are buying into that now and that's the most positive thing I saw from the Munster final."
SEE SPORT
DIFFERENTLY
Get closer to the stories that matter with exclusive analysis, insight and debate in The42 Membership.
Become a Member
Cummins has an interesting take on the storm that blew up over talented dual minor players in Tipperary being asked to select one sport this season.
"I would have also thought that minors should make a decision but now I've a young fella myself who five or six years down the road when he's 16 or 17 and he asks me 'Daddy, should I go play with the footballers of the hurlers?'
"And I'm feeling, I don't want to make this decision, like. I suppose being a parent has made me look at the other side of the fence, where they should be allowed play both.
"Kilkenny have made it very clear. Nobody in the world has a problem in the world with Kilkenny doing it. Whether it's a fear factor of going up against Kilkenny and trying to get a football ethos in the county or not, but the reality is they should be supporting football as much as they are supporting hurling.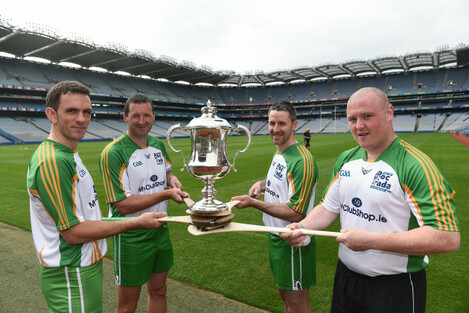 Brendan Cummins was speaking at yesterday's M. Donnelly GAA All-Ireland Poc Fada launch Source: David Maher/SPORTSFILE
"Everybody is looking negatively at Tipperary for it, but I look across the border and say 'why don't you go after Kilkenny with the same vigour you did with Tipperary?' All the story was around Tipp but there is a case where Kilkenny's minor footballers got annihilated.
"I know DJ has got involved with the football, which is fantastic. I think he recognises that young people want to play the game and DJ being the sportsman he is wants to give them an outlet to let them do it and give it a bit of credibility as well."
One player who is currently juggling the demands of both codes is Golden-Kilfeacle's Josh Keane, a senior footballer and an U21 hurler.
"Once the management teams are open to it and having conversations there is no problem," states Cummins.
"When I played football with Tipperary both managers would have chatted to each other. I would have said 'I'm committed to the hurling but I'm going to be there for the football whenever I can.'
"And they were happy with that. When you are young you can play anything."
The42 is on Snapchat! Tap the button below on your phone to add!