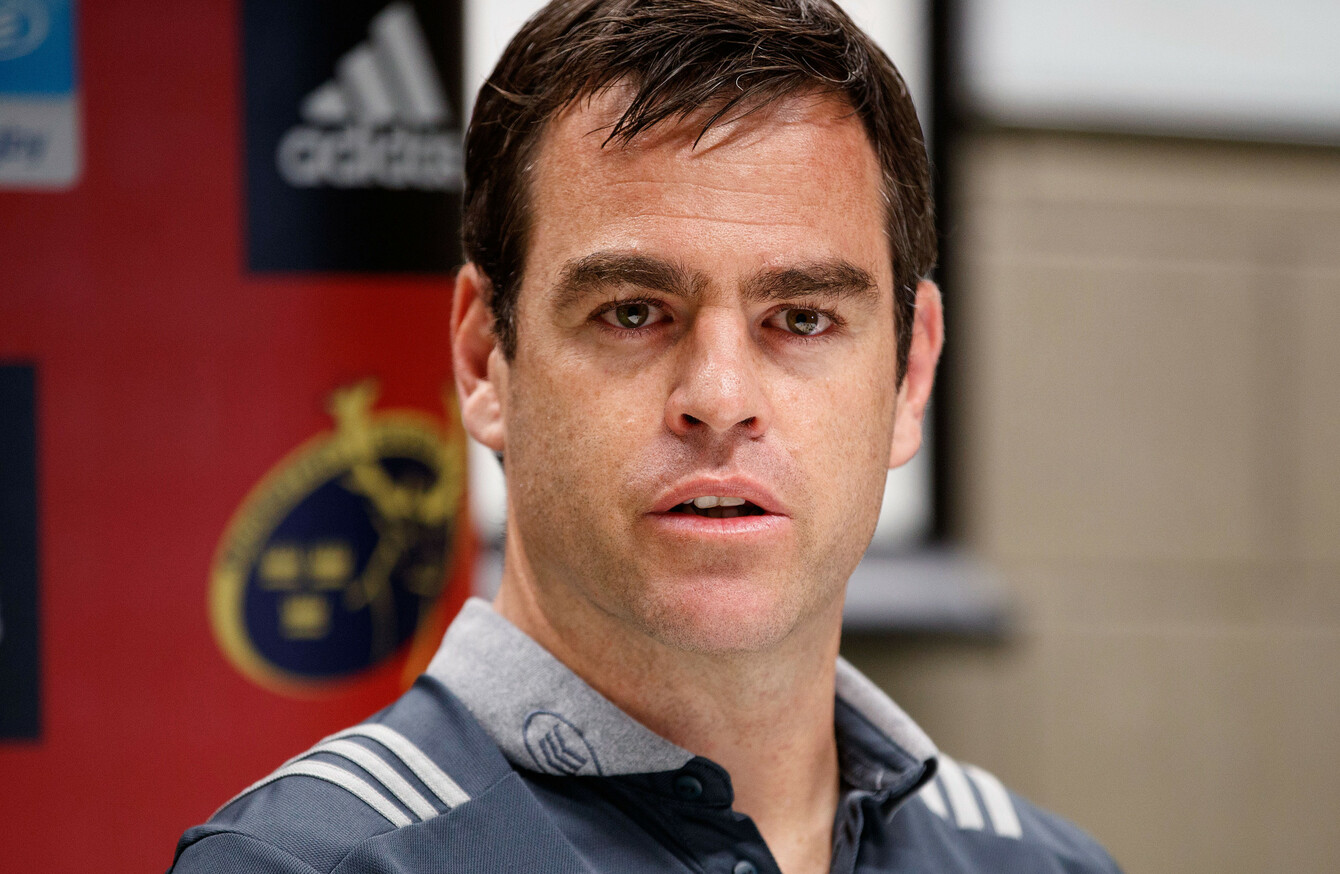 Image: Bryan Keane/INPHO
Image: Bryan Keane/INPHO
MUNSTER ARE RELISHING the chance to have a cut off the new European champions when they take on Leinster in the Pro14 semi-final at the RDS on Saturday.
While Leinster will take some tentative steps back into big-match preparations today, Munster are already a week into the process of ramping up for the biggest inter-provincial clash of the season.
Head coach Johann van Graan, chasing a trophy in his first year in the position, isn't counting on Leinster having trouble backing up the performance which edged an attritional contest against Racing 92 in Bilbao. Instead, he is preparing his side to take on the standard-bearers of European rugby:
"We are looking forward to it very much. The prize will be a final at the Aviva in two weeks' time," Van Graan said at his team's UL base today.
"We have a saying: 'if you want to be king, you have got to go and beat the king in his castle'.
Leinster are the kings at this stage so, as I say, this is a good opportunity to go and measure ourselves against the best."
"(The Champions Cup final) was two very good teams, a tightly-contested battle and Leinster came through it right at the end when they needed to.
"(Leinster) won a close game and that's what championship teams do. I didn't think it was the greatest ever game but that doesn't matter at all. They won the game, they are champions and well done to them."
Saturday could come too quickly for Andrew Conway, who is still to complete his return to play protocols after a concussion against Edinburgh. Stephen Archer last week underwent surgery on a pec muscle injury.
Centre Jaco Taute continues to step up his return from injury, but isn't expected to feature this weekend. However, Van Graan will see John Ryan (back), Niall Scannell (shoulder), Brian Scott (ribs) and Chris Cloete (forearm) return to on-field training today.
That extra forward heft will be a boost as Munster make the rare trip to the RDS.
"It's a massive challenge," said captain Peter O'Mahony.
"We're the first up, we'll get the first opportunity. That's something that comes with being the champions, everyone's jealous and wants to be like you.
"Every club in Europe now wants to be like Leinster, wants to be where Leinster are.
"It's 100% deserved, they've been the best team in Europe and it's deserved that they've won, but what comes with it is: every team wants to knock you.
"We get the first chance."