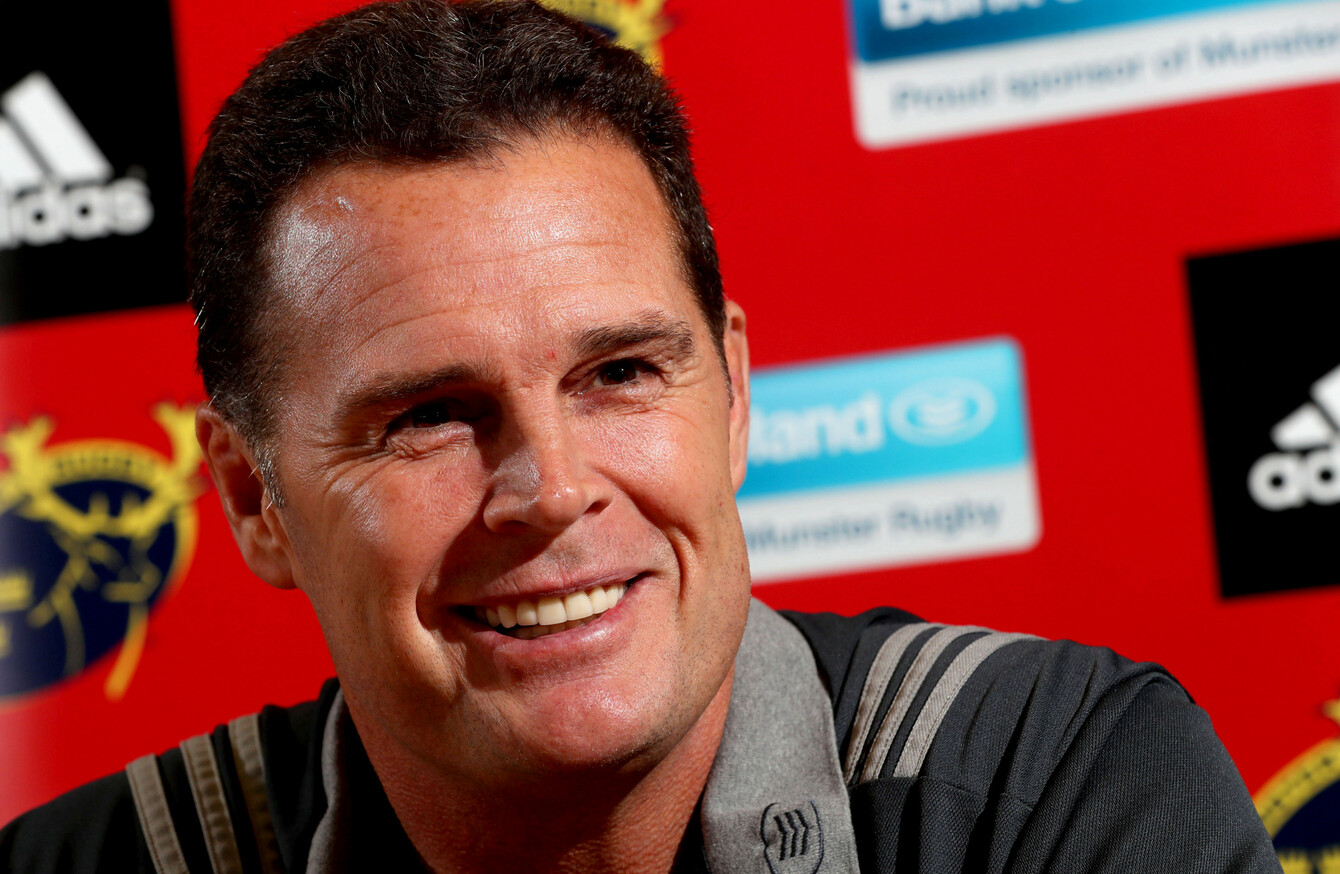 Erasmus speaking to the media in UL yesterday.
Image: James Crombie/INPHO
Erasmus speaking to the media in UL yesterday.
Image: James Crombie/INPHO
MUNSTER COACH RASSIE Erasmus says his former assistant Dave Wessels is 'one of the good fits' to replace him in the province, but that the race is still on to be their next director of rugby.
Munster are rumoured to be in the process of interviewing candidates this week and Eramsus confirmed he has been asked for his opinion on the former Western Force head coach.
Wessels, 36, acted as consultant analyst for Erasmus during his time in charge of Stormers in 2008, and the Munster boss said he was happy to pass on his positive view of the Cape Town native to Munster officials.
"Obviously the guys have asked my opinion about him and that is my involvement, just an opinion. I am not involved further," said Erasmus.
"I don't know how far along the line it is. His name was in the mix in July and there are a few names I saw, so I think he is one of a few good candidates. I'm not sure how close they are really to finalising that, but he is one of the good options. I know him really well.
"There are so many guys who would be good fits because lots of guys want to be at this club. I can vouch for his character, I worked with him and (can vouch for) his work ethic.
"But I don't know with whom he is actually competing at the end. There might be great characters as well, but he would be one of the good fits."
Despite his tender years, Erasmus thinks Wessels is well qualified for the position due to the changing environment of rugby, and due to the perfect timing around Wessels' availability and his history with Erasmus, he could also be eased into the set-up.
December has been cited as the approximate end of Erasmus' time in the province, but with South Africa due to play Ireland in November, and after their 57-0 hammering to New Zealand at the weekend, Erasmus must be keen to get a head start on his director of rugby job with the Springboks.
But he would not give his analysis on that defeat, only the fifth time in their history that South Africa have been kept scoreless in a test match.
"I didn't watch the game in detail. Obviously, we were playing a match four or five hours later. I know the worst thing is when you are a coach for someone else to comment on a performance.
"I hated when you didn't have a great game and some other coaches are asked to quote on that. I don't think it is my place to quote. Obviously it is a disappointing result. The whole of South Africa will be hurting, so will the coaches and the players.
"Me not knowing exactly what the plan was and what the opposition did it would be so stupid to comment on that from my side. It would not be the right thing to do because I might have it totally wrong."
After a tight win over Ospreys at the weekend Munster claimed a third win from three games to top their conference, but this Friday they will receive their sternest test of the season to date when they travel to Scotstoun to face the other unbeaten team in their pool Glasgow Warriors.
Their preparations for that game have been boosted with a return to fitness of JJ Hanrahan, who could be poised to make his second debut for the province after his return from a spell with Northampton Saints, while Duncan Casey and Sam Arnold have also returned to full training.
Subscribe to The42 podcasts here: