Murray Kinsella reports from Thomond Park
RASSIE ERASMUS EXPECTS to have Conor Murray, Peter O'Mahony, CJ Stander and Keith Earls available for Munster's Champions Cup semi-final in three weeks time, after the scrum-half missed tonight's win over Toulouse and the other three key men limped off during it.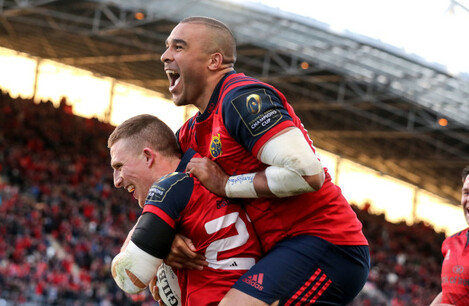 Simon Zebo celebrated Andrew Conway's try with him. Source: Dan Sheridan/INPHO
Murray was ruled out of the 41-16 victory at a late stage, having failed a fitness test on a shoulder injury, while O'Mahony suffered a dead leg, Earls retired with a back issue and Stander sustained an ankle injury.
Munster dealt with the losses of their leaders impressively and came through a quarter-final against Toulouse that was scrappy at times, but ultimately saw them win convincingly thanks to a late flourish.
"Overall, for the win, it was fantastic," said Erasmus of the Munster result. "If you look tactically and technically, I thought there was a good 40 minutes, a bad 15 or 20 minutes and then a good last five minutes or so.
It wasn't perfect but it's a win against a world-class team so we're pretty happy."
Erasmus was disappointed with Munster's discipline at key times in the game, but he praised the contributions of the province's replacements in compensating for the departure of the aforementioned players.
"Keith, I don't think is something serious," said Erasmus when asked about the injuries. "It was just something he was struggling with a bit, with back pain, but I haven't got the medical report yet.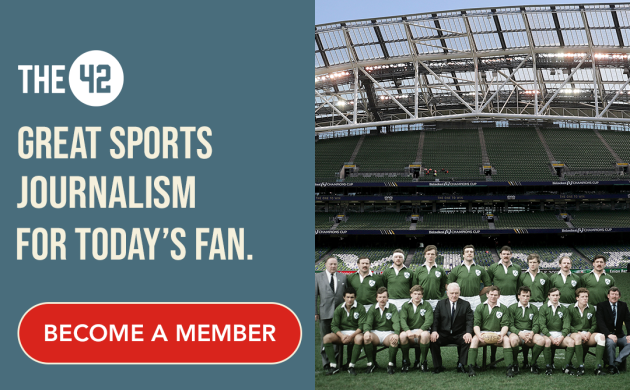 "CJ was ankle and Pete was just a massive blow to his upper thigh. It was a dead leg but a massive dead leg. And then there's lots of bumps and bruises, but we'll see tomorrow how that goes."
O'Mahony himself seemed to be positive about his dead leg when he spoke post-match.
"It's not too bad," said the Munster captain. "I just got it compressed now, so hopefully it's nothing too serious. I just got a bang on it. It swelled up quite badly at the time, so I just struggled to run it off. I tried to run it off but my bend went, so unfortunately I couldn't stay on."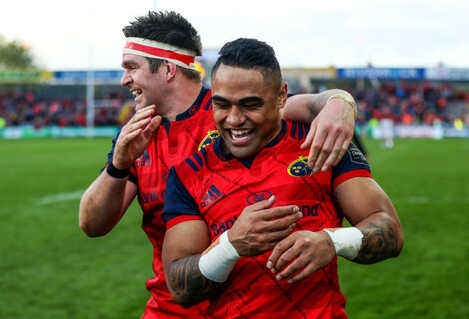 Billy Holland and Francis Saili celebrate. Source: Tommy Dickson/INPHO
Erasmus said he thinks all three of the players injured today, and Murray, will be fit for the semi-final against Saracens or Glasgow in three weeks' time.
"Yes, I think so," said Erasmus. "I think for us it is now to manage. We are now in a semi [and] if you win in a semi, then next week against Glasgow and Ulster and all of those become a little bit easier to manage because you don't have another game going.
"We were always hoping that we would be in this position but now we will have to rest players and try another player, where if we had lost we would have had to go all guns blazing to the last three or four Pro12 games.
"We'll now keep Europe in the back of our heads, trying to manage the players the right way. Hopefully, those players will be available."
Erasmus said scrum-half Murray did come close to being involved against Toulouse, but the province erred on the side of caution with a player who is still only 27.
"I think three weeks ago, Conor was almost playing for Ireland. His injury is a waiting game. It's the same as Rory Scannell had a few months ago, where it was first a week, then two weeks, three weeks… It's just a matter of him getting – without me getting clever about medical things – all power back into his arm.
"We still thought until captain's practice that he would make it. With him and Angus [Lloyd] and Duncan [Williams], they were swapping in and out. But he's not a guy who is 34 and this wouldn't have been his last rugby game.
"We made the wise decision and hopefully he is available in the next week, or earlier than that."