SHE'S WON TWO Six Nations titles, played in a World Cup semi-final, been nominated for the Women's World Player of the Year award and claimed a host of individual honours, but playing for Munster remains truly special to Niamh Briggs.
The Ireland captain will lead her province for their three games over the space of the next two weeks, before the interprovincial season abruptly ends for another year.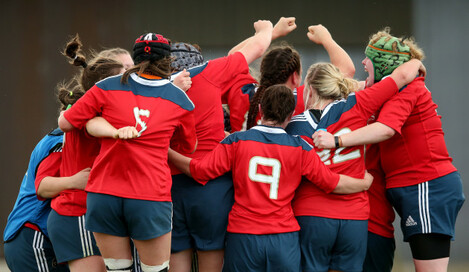 Munster won last year's interpros with a dramatic late kick. Source: James Crombie/INPHO
Whatever about the truncated window, Briggs looks forward to tomorrow's inter-pro opener against Connacht at the Sportsground with glee.
"I love playing Munster," says Briggs before training on a warm Monday evening in Limerick. "I absolutely love what Munster stands for and it gets me really excited to think about putting on a red jersey.
Obviously playing for Ireland is amazing, but playing for Munster is something special too and I cherish it. We only get to have three games every year, it's not as if it's week in, week out. You've got to cherish it."
So what exactly does Munster stand for in Briggs' opinion?
"The spirit, the culture that it brings. I love the fact that we work for each other and have that never-say-die attitude, I love that," says Briggs, who will play out-half for Munster in these inter-pros.
"We don't know when we're beaten and for us going into this interprovincial campaign having made so many changes in personnel, that's going to be important for us – that we keep going, keep going, never back down and really stick together."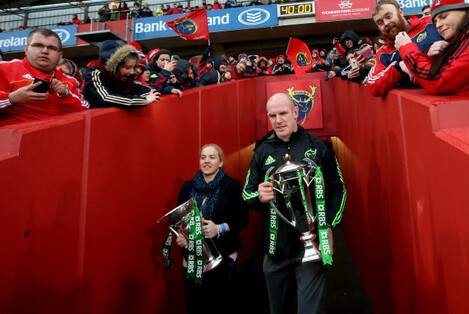 Briggs alongside Paul O'Connell with this year's Six Nations trophy. Source: James Crombie/INPHO
Munster may only have three games in the coming fortnight, but that hasn't stopped them preparing with huge professionalism under head coach Wayne Falvey.
The southern province are the defending champions after winning three from three last season – Falvey's first campaign in charge – although there has been a big turnover in the playing squad a year on from their dramatic last-gasp win over Connacht on the final day of the championship.
Training began all the way back in April with an eight-week block focused on strength and conditioning as well as the core skills, with a squad of around 50 players working at three different bases.
Cork's Mardyke Arena and Limerick's Castletroy College have provided homes for that training, with a third base in Tralee for the Kerry players. Since June, Falvey's squad have been coming together twice a week in either Fermoy or Limerick for more traditional squad rugby sessions.
"It's a six-month training season for a three-match campaign," says Falvey with a smile. "There was a lot of conditioning at the beginning and the girls have been excellent.
"It took time for the new girls to get up to speed with it and get used to it, then put their stamp on it. Senior players will drive it on of course, but the younger players have really kicked on too."
Munster's Anneline Weinmann, Linda McNamara and Gerda Coyne in the gym at the Mardyke Arena.
Briggs and her fellow Ireland internationals Heather O'Brien and Siobhán Fleming missed last year's inter-pros due to their involvement in the Women's World Cup in Paris, and their return has been hugely important for Munster.
Ireland captain Briggs, and back row pair O'Brien and Fleming are key leaders, demanding more from the youngsters around them.
Girls are starting to understand what's expected at provincial level, what's expected at provincial standard," says Briggs. "The thing we as senior players are looking to hammer home is that it's a big step up from club rugby.
"Our skill level and execution has gotten progressively better as we've gone on, which is great and it needed to. We've got a lot of girls with big potential but they might not have been at this level yet. They've needed to jump to our level rather than us coming down, that's been so important."
Watching training at the University of Limerick Bowl earlier this week, The42 certainly saw evidence of that, as head coach Falvey and backs specialist Dave Sweeney – who replaced Aiden McNulty this summer – led the squad through a sharp session.
The communication levels were impressive and new faces like fullback Valerie Power and scrum-half Ellen Murphy showed how they have earned their first caps for Munster as part of the starting XV tomorrow.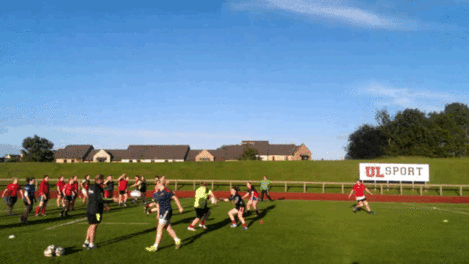 Kerry football goalkeeper Edel Murphy is a standout athlete too, and she joins Shannon's Chloe Pearse as one of two further uncapped players on the bench for the trip to Galway.
Given the changes to the squad, as well as their underlying beliefs about the game, Falvey and Sweeney are sending this side out to do the basics well.
"Everything that we've been doing is about knowing your job and doing your job," says Falvey, who is also player/coach of Ballingcollig RFC and works full-time as marketing manager at the Mardyke Arena.
It's that culture we're building within the whole squad: everyone going out there has a role and responsibility, and it's just about going back to the checklist of what they should be doing in each area. Focus on the small things, build into the game."
Observing Munster's training session, it's immediately evident just how influential a captain Briggs is, along with her vice-captain O'Brien. Both are constantly providing encouragement, technical pointers and mental reminders to their teammates.
They too have firm conviction in how Munster set about playing.
"Rugby is a very simple game," says Briggs. "If you can run hard and understand what your job is for that specific moment, it shouldn't have to be any big complicated thing. For us, we've been focusing in on that: concentrate on your job in the moment and keep doing the best you can for those around you.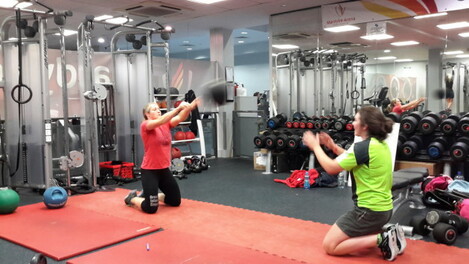 Anneline Weinmann and Deirbhile Nic a Bhaird in the gym.
"It's something that's become very prevalent in Irish rugby with Joe Schmidt, in terms of you work hard for everyone else and make everyone else around you look good. I don't think you'll see anything flash or fancy, but we don't need to do that."
Briggs underlines the importance of number eight O'Brien to Munster, the Highfield woman bringing a sense of calm and intelligence to the group. In midfield Nicola Scully and Niamh Kavanagh are set to ask questions of Connacht, while front rows Fiona Reidy, Amy Desmond and Leah Lyon will attempt to dominate the scrums.
Off the pitch, Falvey's desire for a detailed approach is aided by Sweeney and the popular team manager Dara O'Tuama, a notably positive figure in the group.
Len Browne – part of the Ireland set-up – works on the analysis, the ambitious young Kieran O'Byrne is strength and conditioning coach and Joe Normoyle has been providing high-quality physiotherapy to the squad.
Falvey points out that Munster, the organisation, has given his squad "everything we asked for" as they looked for the ideal inter-pro preparations, underlining the good work Amanda Greensmith is doing as women's community rugby officer.
Briggs is another who stresses how helpful Munster have been to the women's set-up.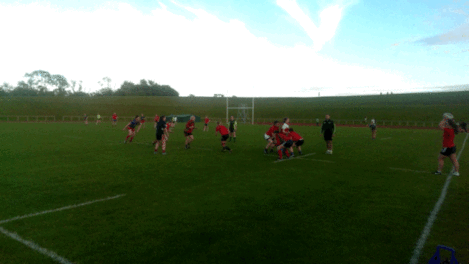 "I've found the interaction massive, I can't even begin to describe it," says the Dungarvan native. "If you see the boys doing something and want to know about it, they're brilliant for sharing that information.
"It's great because we're always trying to improve as players and those marginal gains will help us on the pitch. In terms of game management and as captain, I've spoken to Ian Keatley about it.
"He's really good, has no problem sitting down for a coffee with you. They're great and I really can't describe just how much they've helped me improve as a player."
This professional approach – from a group of players who work full-time as Gardaí, nurses, physios, teachers – has left Munster in good shape for tomorrow's opener against a Connacht team that won't have forgotten last season's heart-breaking defeat in Tralee.
Munster host Ulster and Leinster at Thomond Park the two weekends after tomorrow's clash, but they have eyes only for the Sportsground and beginning on the right foot.
"We beat them 9-7 in the last game of last season's interpros and it was virtually the last kick of the game," says Falvey. "There's going to be a sense of revenge for them as they would have clinched the title last season.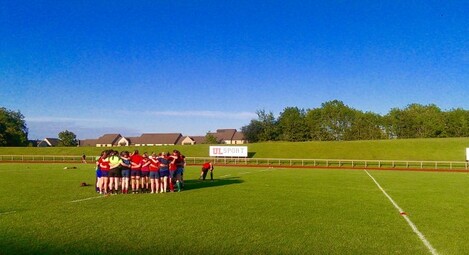 "For us, we've been focusing on getting a complete performance, at the breakdown, in defence and at the set-piece. We've been pushing the players to be effective on the ball but also, more importantly, in what they're doing off the ball.
This is what it's all about, this is why we put in the hard work."
Munster:
15. Valerie Power (Shannon)
14. Deirbhile Nic a Bhaird (Highfield)
13. Niamh Kavanagh (UL Bohs)
12. Nicola Scully (Highfield)
11. Laura O'Mahony (Tralee)
10. Niamh Briggs (UL Bohs) (captain)
9. Ellen Murphy (Highfield)
1. Fiona Reidy (UL Bohs)
2. Amy Desmond (Highfield)
3. Leah Lyon (Highfield)
4. Gerda Coyne (Highfield)
5. Elaine Anthony (Highfield)
6. Siobhán Fleming (Tralee)
7. Ciara Griffin (Tralee)
8. Heather O'Brien (Highfield)
Replacements:
16. Zoe Grattage (Highfield)
17. Maura Collins (Abbeyfeale)
18. Niamh English (Highfield)
19. Róisín Ormond (Highfield)
20. Chloe Pearse (Shannon)
21. Mona Fehily (Highfield)
22. Jayne Pennefather (Highfield)
23. Edel Murphy (UL Bohs)
Connacht:
15. Aine Staunton
14. Ursula Sammon
13. Mairead Coyne
12. Emma Clery (captain)
11. Niamh Ni Dhroma
10. Nicole Fowley
9. Mary Healy
1. Laura Feely
2. Ciara O'Connor
3. Eimear Murphy
4. Rita Breen
5. Marion Sheridan
6. Edel McMahon
7. Grainne Egan
8. Christine Arthurs
Replacements:
16. Ciara Farrell
17. Amanda Kelly
18. Ruth O'Reilly
19. Carol Staunton
20. Catriona Cassidy
21. Jill Draper
22. Sene Naoupu
23. Clare Raftery
Women's Interprovincial Series first round:
Connacht v Munster, Saturday 22 August, 3pm
Sportsground
Ulster v Leinster, Saturday 22 August, 3pm
Portadown RFC