WE'VE ALL HAD birthdays – they usually come around once a year, give or take – and some of them are good, some are bad, and some are a little… well, strange.
I knew from early on this year that thankfully I would be spending the 29th edition of Murph-fest following the GAA season around.  As it turned out the hurling qualifier between Limerick and Wexford was an ideal train journey, as it gave plenty of time for soulful, isolated introspection, all of which are key ingredients to a spiritually satisfying birthday.
The game itself was a little easier for Limerick than I had anticipated but they looked really good.  The feel-good factor was apparent from before the game, with a huge walk-up crowd swelling the attendance to over 16,000, and Richie Bennis was confident beforehand.  I spoke to him before throw-in, and as we went on air he asked me if I hurled any bit.  I told him I was a football man, to which he replied "Shur any old fool could play football!"
I was in no position to argue, but Richie's a top man, and he was in no position to know that he had GRAVELY INSULTED ME ON MY BIRTHDAY.
As I waited for my connecting train back to Dublin in Limerick Junction, pondering both my own mortality and the possibilities of an extended run in the qualifiers for Limerick with only Antrim between them and a place in the quarter-finals, who should I meet but Nicky English, and I ended up sharing a few birthday cans of beer with one of the greatest hurlers of all time.  I've told this story to a few people and they all asked me what we talked about for two hours, and of course the sole topic was conversation was Michele Bachmann's drive for the White Hou… nah, it was hurling.
Eastward
Of course the Leinster hurling final got a mention, and on the surface, it had all the ingredients to be a classic, but I feared for Dublin beforehand.  Given the injuries to key players, they looked vulnerable, particularly so when the injuries Kilkenny had to deal with in the league final had all cleared up.
Much was made of the sheer number of players missing for Kilkenny that day but in reality the tone and the tempo of this team is set by two players who were missing in April but very much to the fore on Sunday – Tommy Walsh and Henry Shefflin.  They are forces of nature, and in the first half I was 15 yards away from a masterclass at left-half forward by Henry.  The whirl-wind nature of top-class hurling is so apparent at pitch-side, but Henry's work-rate, commitment and composure sticks out a mile.  We're lucky to be able to enjoy him and his team-mates – we're living in privileged times.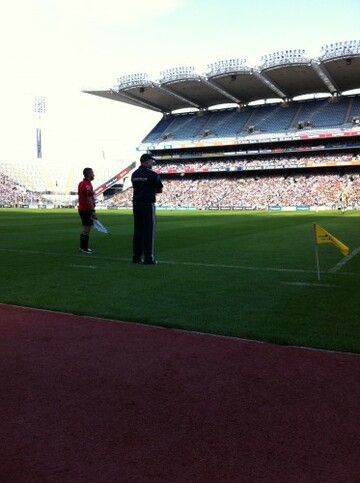 Anthony Daly on the Croke Park sideline
Much of my contribution to Newstalk's commentary (the first ever provincial final broadcast by someone other than the state broadcaster, lest we forget!) was about the needle on the line between Brian Cody and Anthony Daly.
There was one classic moment when the temperature had really risen, challenges were flying in all over the place, and Dublin looked about to storm back with five minutes to half-time.  Daly had kept to his end of the sideline for most of the half but as Dublin attacked into the Davin Stand end he passed the Kilkenny bench.
As he went back towards the Hill 16 end of the tunnel he walked behind Cody, and said something, soft as a whisper.  Whatever crossed Daly's lips, Cody looked after him, a steely smile across his face.  To have been just five yards closer!   It was immense stuff, but the handshake at the end between the two told volumes of their mutual respect.
On the road
And so the Newstalk bandwagon moves onto Glenbeigh, an unspeakably beautiful part of the ring of Kerry which is the latest stop on the Off the Ball Ulster Bank summer road-show.  They're pretty happy with themselves down here after a brilliant Munster football final win yesterday.  We had Darragh Ó Sé doing updates for us from Fitzgerald Stadium; our very own Chris Kamara, only with broadcasting ability, an actual playing pedigree, and without the perm.  (good lord, the mental image of Darragh Ó Sé with a perm is proving difficult to shift).
So between our valued and lovely guests – Darragh, local-kid-done-good Darran O'Sullivan, Kieran Donaghy, and former England manager Graham Taylor, surely one of them will put their hands in their pocket for a birthday drink?
Ciaran Murphy is producer of Off The Ball sports show on Newstalk 106 and pitchside reporter for the station's live GAA coverage this season.
Read more of TheScore's GAA coverage here>
Your say: Should Kieran Donaghy have been sent off?