MY BROTHER IS a pessimistic sort by nature, and as we walked into Croke Park for yesterday's Galway-Cork game, I was curious as to why he had decided to make the trip up for the All-Ireland semi-final.
"We'll not be back for the footballers in my lifetime, so why not", he said (he's 37, by the way, so it's safe to say there's a bit of hyperbole in there).
He's obviously talking through his hat, but it did set me thinking about our fundamental relationship with the hurlers in Galway, as people from the football heartland around Tuam in the north-east of the county, where there's no hurling played.
Growing up, the Galway footballers lived in Tuam Stadium, at dour league games in November and March, and sparsely populated terraces for championship games in May — the hurlers lived on the telly, in Croke Park, in August and September.
That late 80s Galway team were about the most extraordinary set of characters imaginable.  I knew them because I was from Galway, but in later years it became clear that Sylvie Linnane, Gerry McInerney, Peter Finnerty, Joe Cooney and the rest were all household names around the country.  For instance – Sylvie Linnane has never done any media, he never did any media back then, he shunned the limelight, he was a corner-back for heaven's sake… and yet still, his name is a byword for a (shall we say) certain type of defender.
Supporting them was easy, but it wasn't the same as your connection to the footballers… a point vividly illustrated when the footballers finally won a Connacht final and traveled to the big house for their All-Ireland semi-final against Tyrone in 1995.  With the footballers, I knew them all — knew their clubs, knew their backgrounds, knew which of them had a brother who was better again if he'd only take the football seriously.  It was personal to me in a way that the hurlers could never be.
So I always feel like a bit of a fraud when the hurlers start motoring, but at the same time, it's not like I'm not emotionally invested to a potentially dangerous degree in the footballers… maybe I should be thankful that I can be a bit more detached watching the hurlers.
I went along on Sunday with my first really heart-breaking defeat looming large in the mind.  I was eight when I watched Cork beat us in the 1990 All-Ireland hurling final, despite Joe Cooney's first-half tour de force, and ever since then that red jersey has held a weird psychological hold over me.  As well as that of course was the issue of consistency with Galway — they were never going to be as good as they were against Kilkenny, but how serious would the drop-off be?
The drop-off was there, but it was negligible.  In the second half, they turned up the heat on Cork and Cork couldn't handle it.  It was an immensely satisfying display by Galway, and they can go into the All-Ireland final with a settled team, a confident team, and as underdogs, no matter who wins the second semi-final next Sunday — those are all good, valuable things from a Galway perspective.
Joe Show
Fergal Moore is having a banner year, Niall Donoghue was excellent yesterday, and the Burkes in the half-forward line, Niall and David are superb hurlers.  But yet so much still goes back to Joe Canning.  He was brilliant again yesterday, scoring 11 points including four brilliant efforts from play, and it's only right and fitting that he finally gets a chance to play in an All-Ireland senior final.
For all that he has achieved already at minor, U-21 and colleges level, this will be the ultimate test for him.  At the moment, he's the front-runner for player of the year.   One more good day from Joe would nearly be enough to secure that award… and the end of a 24 year wait for Galway. Canning's brilliance reminds me of another JC from Galway, Joe Cooney, whose son Joseph came on for the dying moments of the game yesterday.  There was a time in my teens when I was covering a lot of games in the hurling championship for the local newspapers in Galway, and as a result I was honoured to see Joe senior play a club game in Athenry, at a time when both he and his club Sarsfields were on the decline.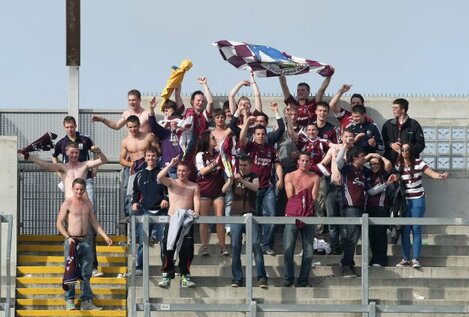 'Hill 16 is Galway only.' Pic: Inpho
What are they
really like?
Rare insights on sport's biggest names from the writers who know them best. Listen to Behind the Lines podcast.
Become a Member
It was a beautiful summer's evening in Athenry, he was in his late 30s, playing midfield, and he barely moved outside the two 65s. But that day his brilliance was almost lyrical.  I often think of it when people ask me what my favourite GAA moment was.  It's what makes you want to get in your car and see Shefflin play a club game.
Canning carries a burden now that was worn lightly by Joe Cooney in the past.  Four weeks will take Canning quite a distance down his own path to greatness.
This Week Murph Was – reminded that on family trips down to our cousins in Waterford in the late 80s and early 90s, we used to boo when we crossed the county border into Tipperary.  Not fair, not nice – but jesus lads, what they did to Tony Keady… *lobs grenade into internet* *exits stage left*