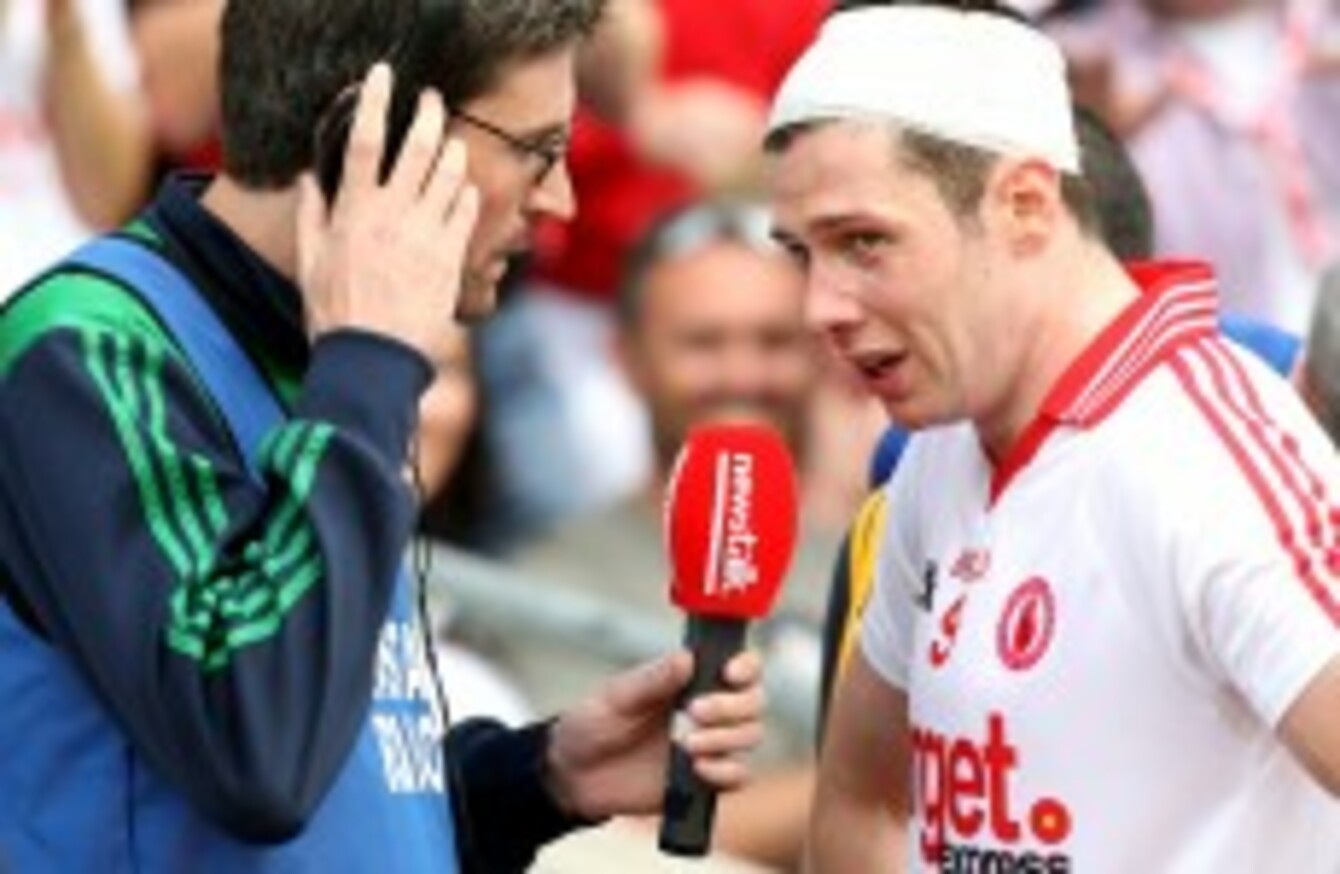 Tyrone's Sean Cavanagh with Murph on Saturday.
Image: INPHO/Ryan Byrne
Tyrone's Sean Cavanagh with Murph on Saturday.
Image: INPHO/Ryan Byrne
DOES ANYONE ELSE out there watch Rugbai Gold on TG4? Five Nations games from the mid-1980s with Nigel Starmer Smith behind the microphone, what's not to love, right.
I think it's an incredibly instructive bit of television though, because it illustrates what professionalism has done to the sport.  The fundamentals are the same, but now the level of application, the speed, and the skill are at a different level entirely.
Rugby turned professional in 1995 and that changed everything, of course.  The GAA hasn't had a similar moment when you can say everything changed – it's been more gradual than that.  But there's no doubt the sport we watched this weekend is a different game to that which was played 20 or 30 years ago.
The sport now rewards ferocious hard work, defensive application, and managerial brilliance, as well as the more traditional virtues of forward play and individual flair.   This should be something we celebrate, particularly in a sport where there is no transfer market – the only option open to a county not blessed with tradition is to work harder than everyone else, to be more organized, to be the best team you can be.
This weekend was a celebration of that.  Newstalk had the Tyrone-Roscommon game on Saturday and the Kerry-Limerick game on Sunday so I was in Croker on both days, and the drama at times was just sensational, with Mayo's win over Cork taking the biscuit of course.
Having the Rossies in town is always good of course, and they were actually in very early on Saturday for their minors, who won an absolute belter of a game against Armagh in extra-time.  As the game lurched from side to the next, I'm reasonably sure the legend that is Willie Hegarty of Shannonside FM urged his listeners not to get too worked up and have a heart attack, because the A and E is gone! That's some informed, compassionate broadcasting right there.
He's been here before
Their seniors tore into Tyrone from the start too and gave them a real good rattle, which was the sort of spirit we were hoping to see from Limerick too on Sunday but it never materialized for whatever reason.  In the end the Rossies lost by 11 and Limerick lost by 13, but the difference in the games was cavernous.
The Donegal-Kildare game which followed Tyrone's win was obviously slow to start but once it got going, it was exceptional.  I stuck around after the final whistle to get some post-match reaction and the scene in the tunnel underneath the Hogan Stand was something else.  Karl Lacey (who gave the performance of the year thus far for me) was so tired that he was actually incapable of walking unaided; he had to be helped into the dressingroom.
There was no joy or relief on his face, he had just emptied the tank completely.   He and Neil Magee will have to do something quite spectacularly bad to lose the full-back and centre-back slots on this year's All-Star team.
Be part
of the team
Access exclusive podcasts, interviews and analysis with a monthly or annual membership.
Become a Member
And of course on the other hand there is the devastation felt by Kildare – another year, another dodgy square-ball decision, another heart-breaking defeat.  Newstalk sports editor and proud Kildare man Ger Gilroy left a message on my phone afterwards and he likened the heartache he was feeling to something from Sophocles, "ya know, that lad who slept with his mother, you know who I'm talking about."  It was tough alright.
We in the press box could only really come up with Ciaran McDonald's last-minute point against Dublin in the 2006 semi-final as an equal for Kevin Cassidy's wonder score that won it for Donegal – little did we know that Mac's county men were about to stun us again.  That's the brilliant thing about Mayo – they are capable of these days.
Half-time in extra time during the Kildare-Donegal clash
When Galway are good enough, they win.  When they're not, they don't.  But Mayo are so much more unpredictable; they win when they shouldn't, and lose when it seems they can't.  It can be horrible for their fans, but then again it can be glorious.  And yesterday was glorious.
I watched a Connacht final in Pearse Stadium once, standing behind a man who said nothing else – not another word – for the entire game except "COME AAAAAAAHHHHHNNNN MAAAAYOOOOOOO" in an almost impenetrable North Mayo accent, and I make no apologies for channeling some of that during the game on Sunday.
You are a wonderfully batty race of people, and I congratulate you.