THEY ARE RESOUNDING favourites to pass their All-Ireland semi-final exam today and maintained their unbeaten Munster record last November to collect a fourth provincial title.
And yet there is a sense of trepidation for Na Piarsaigh as they trek towards Parnell Park this afternoon, the venue conjuring up memories of an unhappy experience when they first ventured into the All-Ireland series.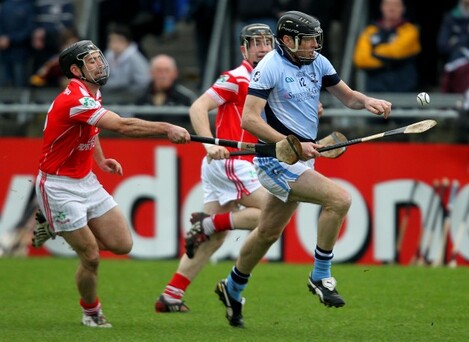 Shane O'Neill in action against Loughgiel Shamrocks in 2012. Source: Lorraine O'Sullivan/INPHO
Back then in 2012 Shane O'Neill was playing at wing-forward, now in 2018 he is managing on the sideline.
That reversal six years ago against Antrim's Loughgiel Shamrocks places them on their guard ahead of today's meeting with Derry's Slaughtneil.
They dug themselves out of a hole with a late burst of 1-3 yielding a draw but after extra-time they had succumbed to a 0-27 to 2-13 defeat, Liam Watson dazzling for the eventual champions with a 0-16 personal haul.
"We'd have very unhappy memories," says O'Neill. We were beaten by a team that were much better than us, Loughgiel were far superior.
"I know we ended up getting a draw in the end that brought it to extra-time. We were absolutely annihilated in extra-time.
"They were by far the better team, had some really good players and they deserved to win the All-Ireland that year. We'd a few older fellas but enerally we were very young. That was a huge learning experience.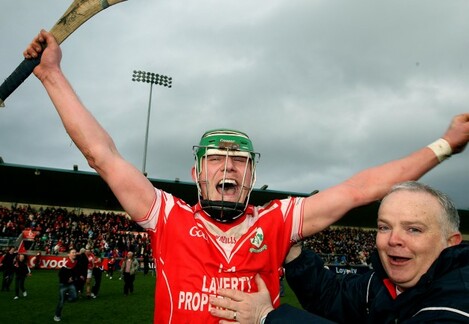 Joseph Scullion celebrating Loughgiel Shamrocks victory over Na Piarsaigh. Source: Lorraine O'Sullivan/INPHO
"Two years later I suppose we met Portumna, who were very experienced and bullied us a small bit to be honest with you. But since then I think we've turned the corner. I think the boys learned from being involved in those two matches. I think there's seven or eight from 2012 still in the squad and obviously myself and Kieran (Bermingham) on the line played that day as well."
In 2016 Na Piarsaigh got the job done on All-Ireland semi-final day, albeit after a dogfight with Oulart-the-Ballagh of Wexford.
They subsequently breezed to victory in the St Patrick's Day final, a historic first for Limerick club hurling.
O'Neill reflects on the remarkable strides made by a club that were hammered in their first Limerick final as recently as 2009 and only climbed to the county winner's podium two years later.
"It's beyond anything that we would have ever thought that we'd be able to achieve. You would have been happy with a county final initially. You were taking it one step at a time back in 2011.
Be part
of the team
Access exclusive podcasts, interviews and analysis with a monthly or annual membership.
Become a Member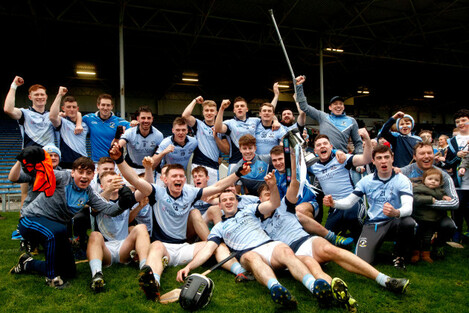 Na Piarsaigh players celebrating their victory over Ballygunner. Source: James Crombie/INPHO
"We're just spoiled now. It just shows the level of commitment and the quality of player that's coming through. They are very highly ambitious and self-motivated.
"It was something we were conscious of from when I was playing there. When we hadn't won, you're looking for guidance. The players have needed to take ownership and they have done it over the last few years.
"They were talking about an All-Ireland semi-final after winning a Munster final. They just take it what is the next obstacle and challenge and how they deal with it."
Shane O'Neill celebrating last year's county final win with his wife Michelle and his children Sáerlaith and Caolan. Source: Ken Sutton/INPHO
Their rise at club level has complemented the rapid progress of Árdscoil Rís, the local hurling nursery, in Munster schools circles. Next Saturday the North Circular Road school will contest their fifth Dr Harty Cup final in eight years.
Young Na Piarsaigh corner-back Jerome Boylan is a vital cog in that school side. The influx of young players has helped Na Piarsaigh replenish their squad as they embark on another All-Ireland assault.
"It's obviously of benefit. Árdscoil get them when they're 13 years of age and we've very strong underage coaching from U6 on, so they're well coached when they get to Árdscoil Rís but I suppose what Árdscoil Rís then is give them high-profile schools games at a high level.
"It exposes them to tough, competitive matches and pressurised situations which will obviously be of benefit to them when they come to adult level.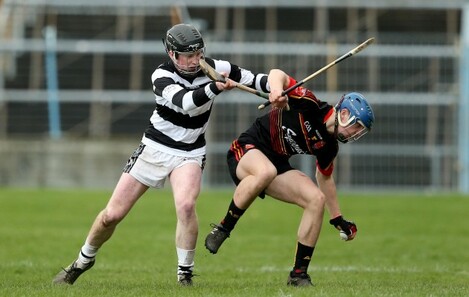 Jerome Boylan in action for Ardscoil Rís in the Croke Cup final against St Kieran's College in 2016. Source: Ryan Byrne/INPHO
"It took us three different campaigns to actually get over the semi-final stage because the players felt themselves they didn't manage it correctly themselves as well as the management. Different things were done two years ago, trying to do some different things this year, whether they'll pay off now is another thing.
"It would be very, very disappointing if we weren't able to continue now on Saturday. Our record in semi-finals then would be one out of four which would be very, very poor."
The 42 is on Instagram! Tap the button below on your phone to follow us!