THE LIGHT-WELTERWEIGHT title rematch between champion Dean Walsh and challenger Ray Moylette is possibly the most eye-catching clash of 10 finals up for decision at the National Elite Championships later this evening.
Finals night takes place a month early as the Irish Amateur Boxing Association (IABA) stage the 2016 edition of the tournament in advance of Olympic qualifiers next year.
While Ireland have so far qualified four boxers for Rio 2016 – Michael Conlan, Paddy Barnes, Joe Ward and Steven Donnelly – six of the 10 weight classes still have a chance at making the Olympics and the first step towards qualification must be taken at home.
Here's the full run-down of finals and what's up for grabs…
49kg (light-flyweight): Stephen McKenna (Old School)
v Regan Buckley (St Teresas)
Buckley (right) beat Daryl Moran in the semis Source: Ryan Byrne/INPHO
One of the finals that is not expected to have any influence on Olympic qualifier selections as Paddy Barnes is already qualified for Rio at the weight, so only national pride is on the line.
The title is vacant as current champion Brendan Irvine has moved up to flyweight, but first-time finalists McKenna and Buckley will be keen to claim their maiden crown.
52kg (flyweight): TJ Waite (Ormeau Road) v
Brendan Irvine (St Paul's Antrim)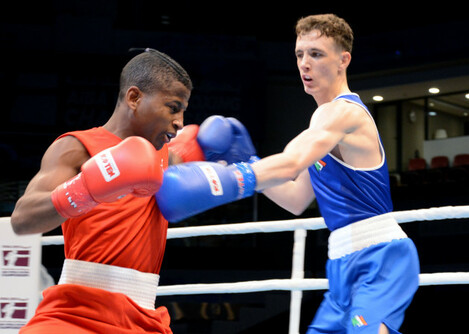 Irvine (right) reached the World Championship quarter-finals Source: Francis Myers/INPHO
An intriguing clash for a number of reasons. Light-flyweight champ Irvine has moved up in weight as Barnes has claimed the Olympic spot at 49kg and he must defeat his fellow Belfast native and friend to keep his dream of Rio alive.
Waite has shown amazing courage to get this far – the Ormeau Road fighter's mother passed away after an illness on the day of his semi-final last Friday but he opted to box in keeping with her wishes. He is now out to claim a first Irish elite senior title in his mother's memory .
56kg: Kurt Walker (Canal)
v Myles Casey (St Francis)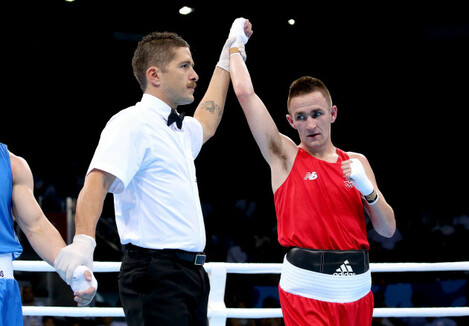 Casey has moved up in weight Source: Ryan Byrne/INPHO
World champion Michael Conlan is already qualified for Rio at this weight so, again, only national honours are on the line.
Belfast's Walker is the defending champion, having claimed the title in Conlan's absence last year, while Limerick's Casey – brother of former European pro champion Willie – is the challenger. Myles is also the reigning flyweight champion.
60kg: David Oliver Joyce (St Michael's Athy) v
Seán McComb (Holy Trinity)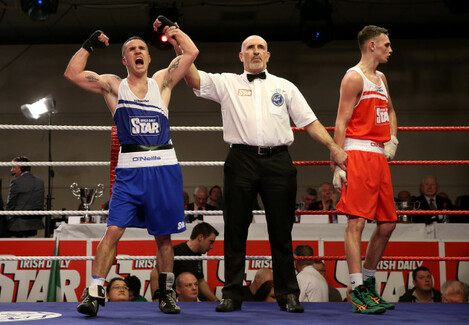 Joyce (left) defeated McComb in the 2014 final Source: Cathal Noonan/INPHO
The second of two big grudge battles on the card as the pair meet in a rematch of the 2014 final, which Joyce won.
McComb has shown great progress at senior level this year on the international stage, but many spectators considered him lucky to come through his semi-final against George Bates last weekend. Meanwhile, veteran Joyce has two paths to Rio to explore should he win this as he is also involved in AIBA's new APB professional league.
A tough one to call.
64kg: Dean Walsh (St Josephs/Ibars)
v Ray Moylette (St Annes)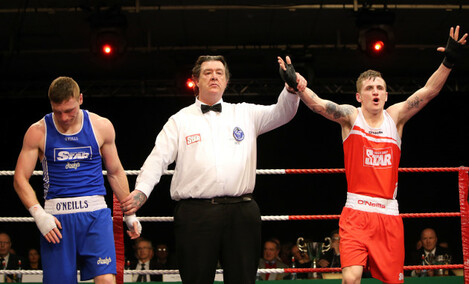 Walsh (right) defeated Moylette last January Source: Colm O'Neill/INPHO
The other big showdown on the bill as Walsh and Moylette meet in a repeat of their 2015 final battle that took place last January.
On that occasion, Walsh edged a split decision but it was a close call and Moylette rightly considered himself unlucky not to get the nod.
This rematch has additional significance as both men are determined to head to next year's qualifiers for Rio and Walsh is a slim favourite with the bookies.
69kg: Adam Nolan (Bray) v
Martin Stokes (Holy Family, Drogheda)
Nolan's Olympic fate is uncertain Source: Ryan Byrne/INPHO
Ballymena's Steven Donnelly has hit the Olympic qualification criteria in the World Series of Boxing competition thanks to results elsewhere, which means this bout is unlikely to have any Olympic significance.
But reigning champion Nolan has maintained that he wants to be sent to next year's qualifiers should he retain his title. The Bray-based Wexford Garda takes on Martin Stokes, who is the first senior finalist from Drogheda's Holy Family club since 2001.
75kg: Michael O'Reilly (Portlaoise) v
Conor Wallace (St Monicas, Newry)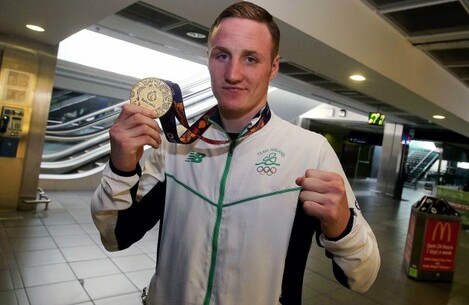 European Games champion O'Reilly Source: Donall Farmer/INPHO
World bronze medallist and European Games champion O'Reilly is one of Ireland's best Olympic hopes outside of the Fab Four already qualified, having been desperately unlucky to lose a box-off for Rio qualification at the World Championships last October.
The Portlaoise fighter will be a heavy favourite to see off final debutant Wallace in order to revive his Olympic chances.
81kg: Christopher Blaney (Navan)
v John Paul Delaney (Emerald A)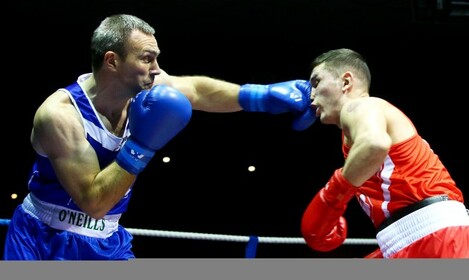 Source: Donall Farmer/INPHO
Joe Ward is qualified for Rio at the weight so first-time finalists Blaney and Delaney battle for domestic bragging rights at light-heavyweight.
91kg: Darren O'Neill (Paulstown)
v Bernard O'Reilly (Portlaoise)
O'Neill has revived his career at heavyweight Source: Ryan Byrne/INPHO
Back to Olympic permutations as former European middleweight silver medallist O'Neill attempts to continue his career revival as a heavyweight.
The Kilkenny man meets O'Reilly, brother of middleweight Michael, in what should be a hard-hitting affair, but O'Neill will be fancied to retain his title.
91+kg: Dean Gardiner (Clonmel) v
Thomas Carty (Glasnevin)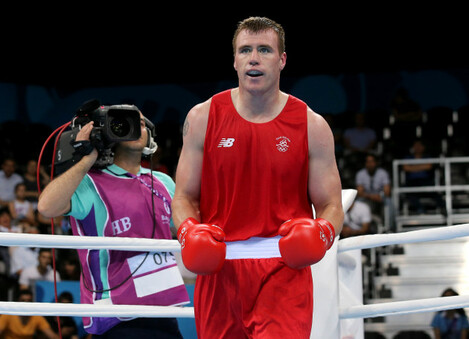 Gardiner fights for the first time at these championships Source: Ryan Byrne/INPHO
Another pair vying to be sent to next year's qualifiers and reigning champion Gardiner is another heavy favourite to retain his national crown.
However, this will be the Clonmel man's first fight at the championships as he received a bye to the semi-final before being awarded a walkover.