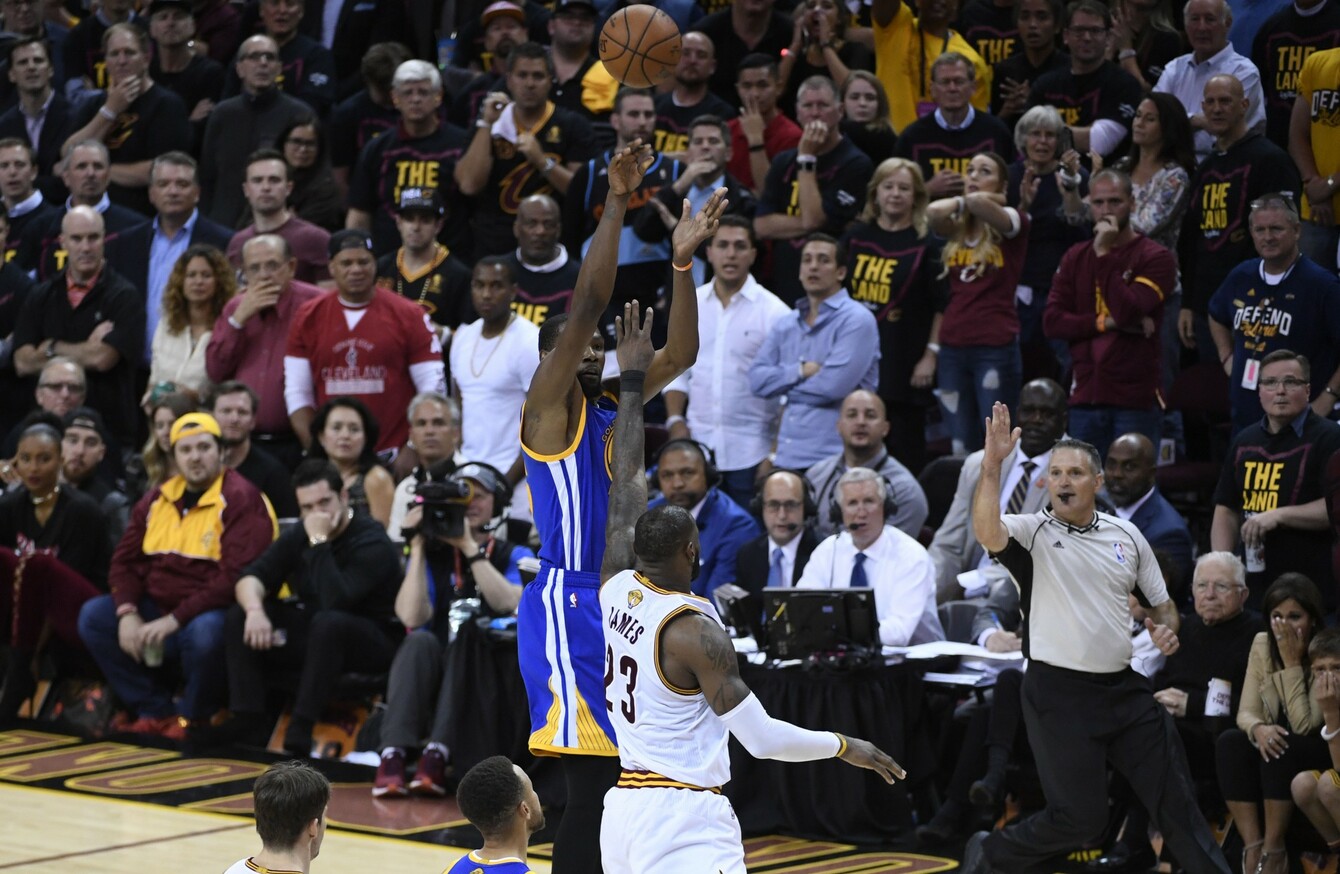 Kevin Durant hit's the game-changing shot.
Image: SIPA USA/PA Images
Kevin Durant hit's the game-changing shot.
Image: SIPA USA/PA Images
WITH ONE MINUTE to go in the third quarter of Game Three of the NBA finals overnight, Kyrie Irving scored to give the defending-champion Cleveland Cavaliers a seven-point lead.
It was the largest lead the Cavs have held in a series dominated by the Golden State Warriors and they stayed in front until 45 seconds remained in the fourth quarter.
Then Kevin Durant took over.
Down two, Durant pulled up for a three-pointer despite the best efforts of LeBron James, and never looked like missing:
Kevin Durant ices the #Cavaliers in Game 3 with back-breaking 3-pointer (by @buhler118) https://t.co/Rvm1HmWdiY pic.twitter.com/3927RfpD5c

— FanSided (@FanSided) June 8, 2017
The Warriors went on to win 118-113.
Though the above shot made-up just 10% of his 31 points on the night, they may well be the three points that kill the Cavs' hopes of defending their crown as no team has ever recovered from a 3-0 playoff deficit in 126 attempts.
Mind you, no team had ever recovered from 3-1 down in an NBA finals until Cleveland did last year.
And while anything is possible, you can't help but feel that nothing the Cavs will throw at the Warriors will be good enough as the 2015 champions look to become the first side to go 16-0 in the NBA playoffs.
Asked if he thought the Warriors had taken the best shot Cleveland had to give, James — who had  39 points, 11 rebounds and nine assists in 45 minutes – said:
"It's so hard to say, but for me personally, I gave everything I had, so win, lose or draw you live with the results."
This game wasn't just about LeBron and KD though.
Steph Curry had 26 points, 13 boards, six assists, five from beyond the arc and was flawless at the free-throw line, while Irving had 38 points for the Cavs.
However, he was 0-7 from the three, including this crucial miss:
Klay got some Christmas Day redemption pic.twitter.com/utAo2ItMip

— NBA on ESPN (@ESPNNBA) June 8, 2017
By such fine margins, NBA titles are won and lost.
Additional reporting via AFP