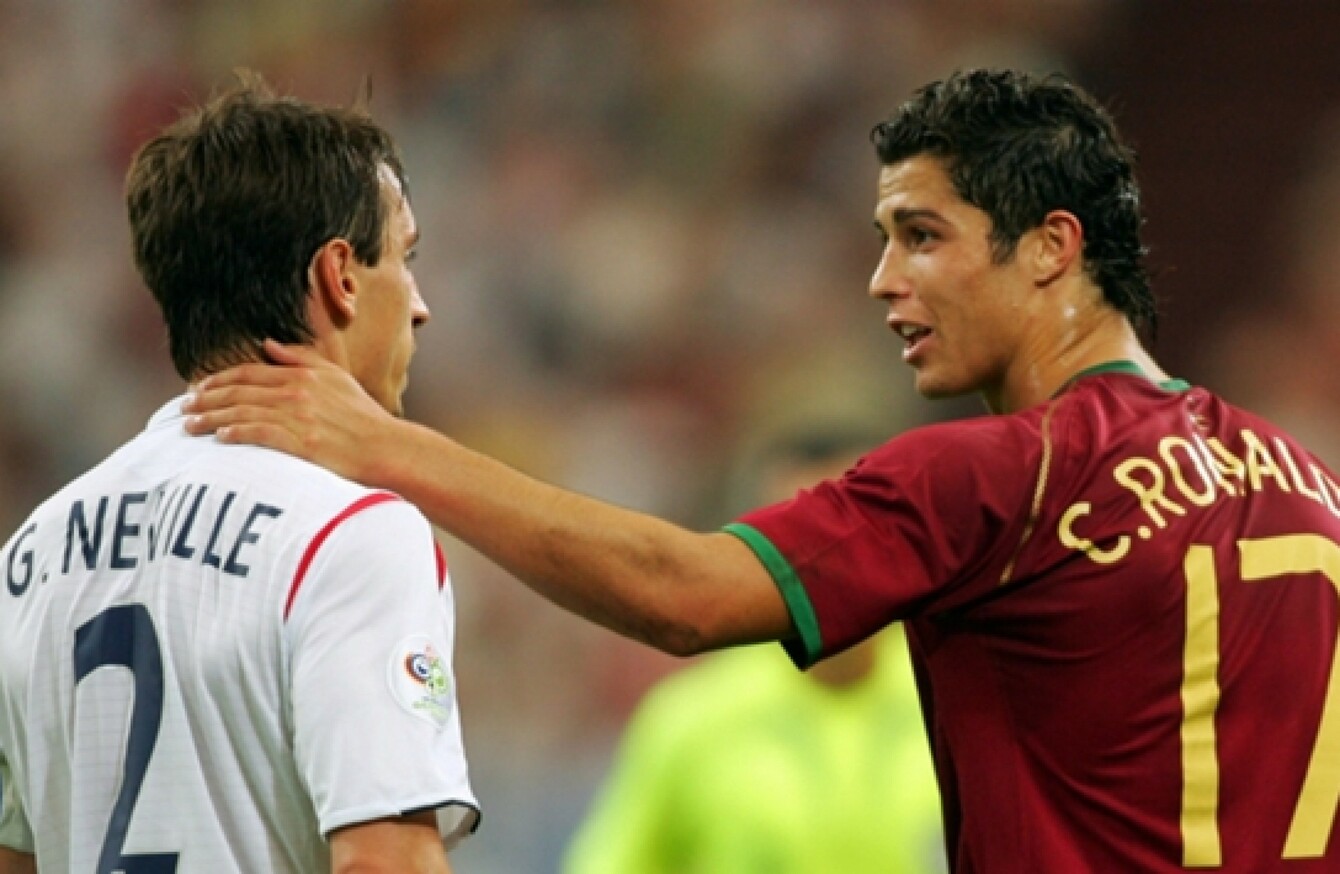 Gary Neville and Cristiano Ronaldo pictured during the 2006 World Cup.
Gary Neville and Cristiano Ronaldo pictured during the 2006 World Cup.
GARY NEVILLE INSISTS he never had any issue with Cristiano Ronaldo's infamous wink against England at the 2006 World Cup, with 'all fair in love and war'.
The former Manchester United defender was on the field as an Old Trafford colleague contributed to the dismissal of Wayne Rooney in a crunch quarter-final clash.
Without their talismanic forward on the field, England would go on to suffer more spot-kick misery against Portugal in a penalty shoot-out.
Unlike in 1998, though, when David Beckham's petulant red card ended up costing the Three Lions dear and saw him face a supporter backlash upon his return to British soil, Rooney was let off the hook.
Instead, it was the actions of Ronaldo which saw him become public enemy number one and a target of abuse for Premier League fans outside of Old Trafford.
Neville, though, maintains that he never felt wronged by the incident and never felt the need to criticise a club colleague.
A no-nonsense full-back in his day, he admits that he would happily bend the rules in order to benefit his team — putting him in a difficult position when it comes to the questioning of others.
"That was the time he was getting criticised the most by fans in this country after his famous wink at Wayne Rooney, but I would never criticise him for that," Neville said of Ronaldo in a column for Sky Sports.
I always felt all was fair in love and war when it comes to the football pitch. As long as it was legal and you were acting within the rules of the game, then a player should try to gain all competitive advantages possible to try and win."
Neville has also been singing the praises of a player he believes helped to set a 'magical' standard at United in the mid-to-late-noughties.
Ronaldo enjoyed a breakthrough period around that time, with his efforts helping the Red Devils to numerous major honours and himself to a record-breaking transfer to Real Madrid.
Neville added: "I've always said that Paul Scholes, Ryan Giggs and Roy Keane were the three great players I played with over a long period, but for three years from 2006 to 2009, Ronaldo set a standard you can only dream about.
It was a magical time when he was playing with Rooney and Carlos Tevez; I've never seen anything like it. It was amazing to watch and he was the pinnacle of it.
"After leaving United, he has gone on to become the best player in the world – and I think that's been proven by the Ballon D'Or wins."
The42 is on Snapchat! Tap the button below on your phone to add!