AFC Championship Game
Julian Edelman versus the Broncos secondary
THERE ARE JUST five defences in the NFL worse than the Denver Broncos when it comes to defending the pass and just four worse at stopping slot receivers from catching the football.
Step forward Julian Edelman with his 105 receptions and 1,506 yards this season which has been arguably the entirety of the Patriots pass offence given the loss of Welker (moved on), Gronk (injured, again) and Hernandez (on trial for murder),
Just how important is Edelman? Well, the former ironman had more receptions this season than the next two Patriots combined and last time he played the Broncos he made nine catches on 11 targets for 110 yards and two touchdowns. He was also responsible for four receiving first downs.
Of course, Edelman is not just a slot receiver — no more than Wes Welker was — but he does line up there more than half the time and the Broncos' task has been made even harder by the fact Chris Harris (ACL tear) will be replaced by Quentin Jammer who was burned badly by the Chargers last weekend.
Look (to the right of the GIF below) at how a simple stutter step from Keenan Allen completely fooled the 34-year old: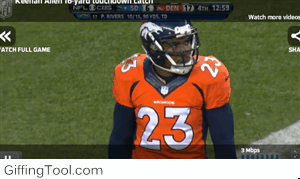 If the Patriots can get their run game going, Edelman could play a huge role in their play action passing attack, especially with the Broncos having to pair Jammer with Champ Bailey to try stop him, leaving the other Patriots receivers in single coverage.
The Broncos versus the cold
Don't worry, this isn't another 'Peyton Manning can't win in the cold weather' article — though that remains a concern — but rather the Broncos' offence and their terrible habit of going cold in the middle of games.
In their first loss of the season, against the Indianapolis Colts, the Broncos punted on five consecutive drives, four of which were three-and-outs. By the time Manning and the rest of the offence hit their stride again, they were 19 points down.
Against New England — where they had a 24-0 half time lead — the Broncos' scoring ability almost completely deserted them. On their final nine drives, in a game they went on to lose in overtime, Denver scored just once on top of punting six times, fumbling once and throwing an interception.
In their final loss of the season, against the Chargers at home, the Broncos punted on four consecutive possessions in the second and third quarters with three series lasting four plays and the other just five. If that wasn't worrying enough, they also had issues with drives stallings in some of their wins, notably when they went 21-7 down against Washington after going punt, punt, punt, fumble, interception in five of their opening six drives.
In a game as tight as tonight's is expected to be with the Patriots — where the winner could well be whoever gets the football last — a repeat of these cold streaks could spell disaster.
NFC Championship Game
49ers rush attack versus the Seattle run defence
While an awful lot of focus will be on Seattle's 'Legion of Boom' secondary, if the 49ers want to win this game they're going to have to score on the ground, and that's easier said than done.
When he ploughed through for six points from the one yard line last weekend, Khiry Robinson became the first player to score a rushing touchdown against Seattle since October 17 and, better still, no team has managed to score from further than three yards out against them all season.
The stinginess of their rush defence in not allowing scores is all the more remarkable when you consider the Seahawks have given up over 130 yards on the ground in five of their last ten games and 200 or more yards twice.
The last time these two played, the 49ers rattled off 163 yards on 33 attempts. However, 51 of them came of this run:
Two things were key to this play. Firstly, despite the fact the Seahawks anticipated the run, the 49ers managed to block nine defensive players with just seven offensive ones. Secondly, running back Frank Gore's speed caused Seattle's lone safety Earl Thomas, to miss his tackle.
Take that run out of the game, and the 49ers only gained an altogether more average 3.5 yards per attempt which, based on their expected 35 rushing attempts tonight, is a difference of nearly 50 yards.
Put simply, the closer the 49ers are to 5 yards per rush attempt, the closer they are to a Super Bowl.
Russell Wilson versus Vic Fangio (49ers defensive coordinator)
There's an argument that Russell Wilson is the best quarterback in the league as he's led his team to an NFC Championship game without, for most of the year, his two best receivers — Percy Harvin and Sidney Rice — and, more importantly his two best linemen, Russell Okung and Max Unger.
There was a lot of criticism levelled at Wilson last weekend after he attempted just 18 passes (completing nine) but with Marshawn Lynch in full on beast mode, he did enough to get his team over the line and averaged 5.3 yards when running with the football himself (admittedly from a low sample of just three attempts).
However, if there's one thing more worrying than the Russell Wilson running the football against you, it's the threat of Russell Wilson running the football against you, meaning Vic Fangio has to commit more players to keeping tabs on the Seattle QB. When you do that — as the 49ers did in week 14 — you can get burned badly.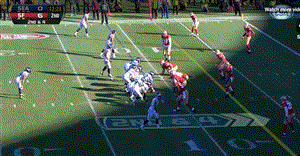 Ahmad Brooks, the 49ers best defensive player, is stuck in no-mans land. His job is to ensure Wilson doesn't either keep the ball and run a bootleg or throw a play action pass. Wilson does neither, simply hands the ball off to the brilliant Lynch and Seattle score.
It's so incredibly simple and yet it can result in a defence and defensive coordinators being paralysed by indecision. If Vic Fangio doesn't figure out how to counter it tonight, either Lynch or Wilson will beat his team with their legs.